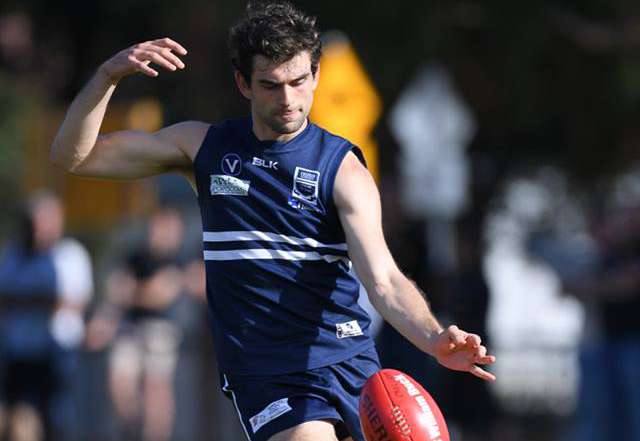 Jake Morris
After dispatching the Tigers and Sharks, respectively, Old Scotch and Caulfield Grammarians will take their unblemished records to battle as they go head-to-head in the most anticipated matchup of the year so far in Round 6. Elsewhere in Round 5, Monash Blues registered their first four-points of the year, Old Haileybury ended their four-game skid and University Blacks bounced back with a dominant display over Parkdale.
A bag of seven for Julian Dobosz in his first game of the year for Caulfield Grammarians led his side to a comfortable 82-point victory over Beaumaris in Round 5. Isaac Morrisby and William Barker also chipped in three apiece as the Fields used a blazing second half to pile on nine unanswered majors and runaway with the victory. The always dangerous Christopher Grigoriadis was held to just one goal for the afternoon for the Sharks, and despite the poor goal-kicking (3.14), credit must be given to the Fields back six for their play in limiting the prominent goal-scorer. This result sets up a battle of the heavyweights in Round 6 as the Cards come to Glenhuntly Oval for a mouth-watering matchup.
Continuing their blistering start to the year, Old Scotch collected win number five as they downed a gallant St Bedes/Mentone by 18 points. Lachlan Byrne-Jones and Thomas Downie each booted two while eight other Cards registered a major in a balanced scoring performance. Despite conceding only 66-points to the Tigers, this was the most an opponent has scored on them so far this year, with the four-goal to one final term being only the second time this season the Cards' were outscored in a quarter. Despite now dropping four in a row, this was arguably the Tigers most impressive performance of the season, and could be a sign of a change coming for Michael Hazell's men.
Thanks to an equisized second half which saw them turnaround a 19-point deficit, Old Haileybury returned to the winners list in style with an impressive showing over Old Geelong. A disappointing first half saw the Bloods' trail by three goals entering the main break, but electrifying midfield dominance, mixed with some costly misses from the Ogs fueled the fightback, allowing Daniel Ward and company to snatch their second victory on the year. John Nicolopoulos booted three in his first game for the season as eight other Bloods contributed on the scoresheet to help them register their highest total of the year so far. Mickey Nicholls and Christian Hatzis both booted two for the Ogs as their have now dropped three of their last four games, an undoubtedly disappointing start to their first season in Premier B since 1958.
After going winless in the opening month of the season, Monash Blues have lodged their first victory of 2019 after downing Fitzroy by 86 points in front of a home crowd at Frearson Oval. Averaging just over 49 points a game beforehand, the Blues piled on 117 points against the Roys in this outing; their highest score since September 2nd 2017. Thanks to three majors apiece from Matt Davidson and James Taylor, Mark Passador's men put together a clinical performance, and an all-round fantastic showing from a young side. After an impressive win last week, the Roys' followed up with a display that left a lot to be desired, registering only four majors through four individual goalkickers for the afternoon. Luke Baker (1) was adjudged his sides' best for the day, but many more will need to lift if the Roys want to right their season.
Bouncing back from their difficult loss at the hands of the Fields last week, University Blacks made short work of a competitive Parkdale Vultures side in Round 5 after downing them by 91 points. The Blacks left their opponents scoreless in the first term, which was furthered to just one major up until the final change of ends. Daniel Mccullough extended his lead on the goal kicking tally with another three here, while 10 of his teammates got on the scoreboard as well, putting this result beyond doubt by halftime. This was the lowest score the Blacks have allowed since April 28th 2018, a reminder that to go along with their firepower, their defensive structure is also one of the best in the competition. The Vultures ran into a locomotive hellbent on writing their wrongs from last week, and there wasn't a lot Owen Lalor's men could do to stop that. Dylan Glascott (2) bagged a couple and Thomas Redmond fought gallantly, in what was an otherwise dark day for the Vultures.