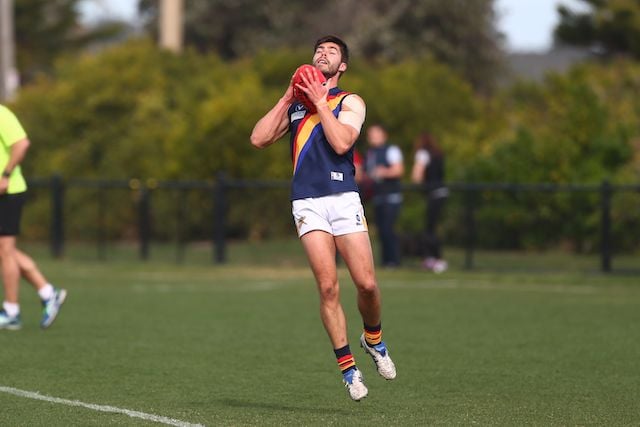 Beaumaris put the disappointment of relegation behind them as they commenced their season in Premier B with a comfortable 49-point win against Monash Blues at Banksia Reserve. With more than double the amount of scoring shots (33-14), the Sharks rarely looked threatened as they gradually increased their lead at each break. Jack Gabron-Uhe and Scott Braithwaite tore shreds for the Sharks, with the latter bagging four majors. Maddison Hardiman was the lone multiple goal scorer for the Blues, who will now regroup ahead of their clash against the other 2015 William Buck Premier side, Old Scotch, next week.
Parkdale Vultures move into the top four after Round One on the back of their 19-point victory against Hampton Rovers at Boss James Reserve. A six-goal to two opening term set the scene for the Vulture's win as Matthew Boland starred on his way to five majors for the match. Daniel Corp did his utmost to shift the momentum in the Rovers' favour with five of his own, but the Vultures' six-goal lead at the last break proved too lofty a margin to chase down.
It was a highly successful return to Premier B for Old Haileybury as the 2015 Premier C champions claimed their first win of the season with a three-goal come-from-behind victory against Old Brighton. Trailing by 26 points at the first break, the Bloods made gradual inroads into the Tonners' lead, before a six goal to two final quarter allowed the inspired Bloods outfit to run over the top. Lachlan Treverton led from the front for the Bloods, while Daniel Anthony bagged himself five majors for the Tonners.
After 35 years in the VAFA's top section, Old Scotch got their Premier B campaign off to a flyer with a 67-point victory against AJAX. With 18 goals from 40 scoring shots, the Cardinals looked assured from the first bounce and played accordingly for the entirety of the match as they added five goals in all but one quarter. Callum Goldby was a cut above in a best-on-ground performance, while Tim McMillan and Aiden Franetic kicked seven goals between them. Nick Marks was best for the Jackas in their losing performance.
St Bedes/Mentone Tigers hit the scoreboard on 45 occasions throughout their 85-point thumping of Fitzroy at Brindisi Street Oval. Following a subdued two-goal to three opening quarter, the Tigers kicked 16 goals in the remaining three terms, while keeping the Roys to just four. Mitch Coen dominated with four goals for the victors and Daniel Bisetto continued his sensational form from 2015 as the clear best for the Roys.