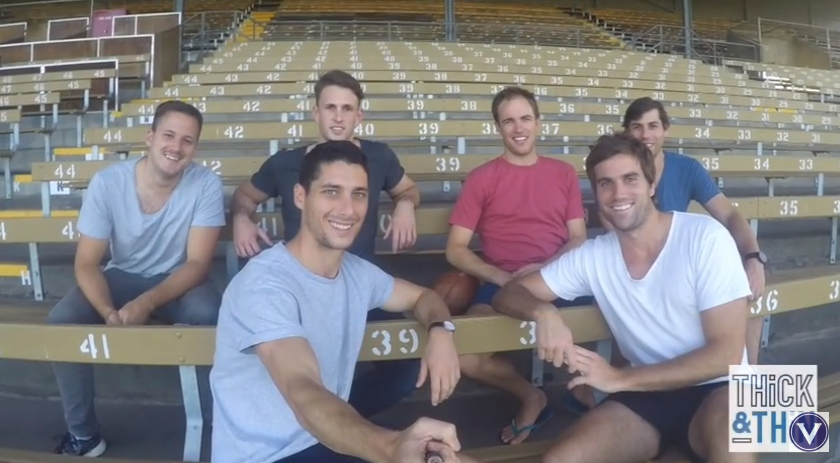 #StartTheConvo with Thick and Thin
Posted on -
VAFA News
,
Latest News
,
Premier
,
Premier B
,
Premier C
,
Division 1
,
Division 3
,
Division 4
,
Unders
,
Featured
,
Club XVIII
,
Umpires
VAFA players have always been an active group in the community, so it was no surprise when Scott Sherwen (skipper at Old Scotch) and Simon Hogan (Uni Blacks Premiership midfielder) approached the VAFA last year about their plans to commence a player driven program called Thick and Thin. The aim of the program was simple, encourage guys at the football club to start the conversation about how they were feeling.
"It's a simple idea and one that resonates with both Hoges and I, there are so many young men that leave their problems and thoughts locked away and they don't know where to start when it comes to dealing with what is going on in their world" Sherwen told vafa.com.au.
Simon Hogan who played 22 games for Geelong in the AFL before he retired in 2012, has had his own publicised battles with depression and now works at Headspace. Hogan saw an opportunity for clubs in the VAFA to play a key role in helping young men as they provide a safe-haven for players and for that matter umpires to talk about any issues they are experiencing.
"Football clubs are special place for all young men, the bonds players share are hard to match in any other environment and the opportunity for young men to support each other by simply talking can have a huge impact on an individuals wellbeing" said Hogan.
Thick and Thin is a campaign that all VAFA are encouraged to embrace and you can find out more about the team here. There is some great information and fact sheets on how to start the conversation provided by Headspace on the page and you can also watch the personal stories there too. One in 4 young people in Australia will experience a mental health issue at some point. With some 10,000 young men playing in the VAFA each week, mental health issues are likely to prevalent at all clubs.
"There are plans to raise some further awareness about Thick and Thin during the VAFA's Men's Health Week later this year, said Sherwen.
In the meantime, players of all clubs are encouraged to follow Thick and Thin on social media and use the hashtag #StartTheConvo.
You can watch the video below of how Thick and Thin came into being. The group has representatives from many different VAFA clubs across the sections and they recently held a launch night at the Clyde Hotel where 30 players from close to 20 clubs turned up in support of the initiative.