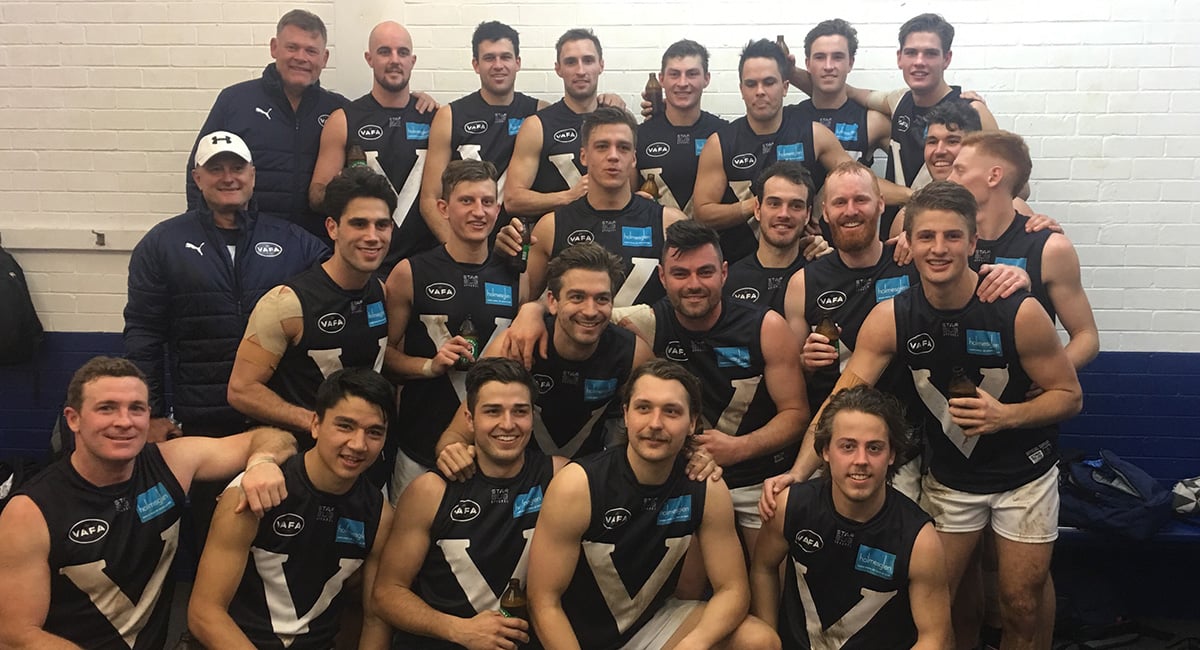 Nick Armistead
The Big V Premier B – Division 4 side made it two wins in two years when they defeated the Perth Football League by 31 points at Fremantle Oval.
In slippery and contested conditions, the Big V were made to work as they trailed by six points at the first break, with Perth using their elite speed to break lines and give themselves multiple chances inside 50.
Goals to Jack Wallace (Caulfield Grammarians) and Luke Barker (Yarra Old Grammarians) in the second term allowed the Big V to stem Perth's run, with Josh Cowan starring off half back and delivering the burley with precision.
After squandering opportunities in front of goal in the third term and finishing the quarter with 1.4 but six points in front, the Big V opened the flood gates in the fourth with goals to Will Harbinson, Cowan, Lachlan Byrne-Jones and Will Edwards. Cowan's, in particular, was a 55m bomb that sent the crowd into raptures.
Skipper Josh Steadman (University Blacks) battled manfully and came out on top in a sensational ruck dual with Kyle Cranley, while Kristian Height (Whitefriars) starred up forward and through the midfield. Height and Barker provided targets all day when inside 50, creating contests and following their aerial battle with outstanding efforts on the ground.
Nick Lewis (Ajax), Max Philpot (PEGS), James Sansom (Old Scotch), Edwards and Wallace found plenty of the ball, while Tom Warby (Mazenod) and Tom Kerr (Old Scotch) led a defensive unit that stood tall through lengthy periods of the match. Warby was awarded the Spirit of the Big V for his outstanding devotion to the program from its commencement.
The win makes it three from three for the Big V so far in 2019 as we look ahead to the senior match against AFL Victoria Country at Ikon Park next weekend.
PERTH FL: 2.3, 2.5, 4.5, 4.7 (31)
VAFA: 1.3, 3.7, 4.11, 8.14 (62)
BEST: Cowan, Warby, Edwards, Lewis, Sansom, Height
GOALS: Philpot, Cowan, Harbinson, Byrne-Jones, Edwards, Barker, Wallace, Mitchell
Best on Ground: Josh Cowan (St Bedes/Mentone Tigers)
Perth FL's Best VAFA Player: Will Edwards (Caulfield Grammarians)
VAFA's Best Perth FL Player: Ned Brennan (Fremantle CBC)
Spirit of the Big V: Tom Warby (Mazenod)