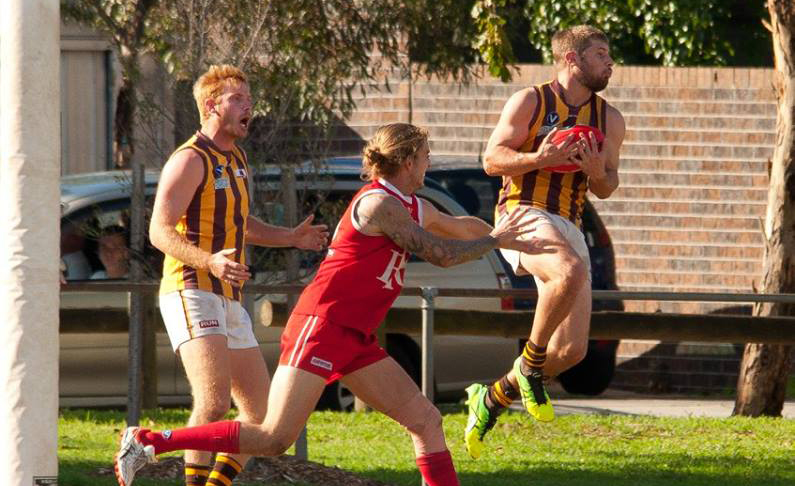 By Ren Thompson – Division 3 Scribe
The Saints are marching, the Cobras are striking, but it is the Hawks who look like the unstoppable force in Division 3. Three teams remain undefeated after round 4 while some were able to record this first win of the season, let's check out the games…
 South Melbourne Districts def. Aquinas
South Melbourne continued their strong start to the season defeating Aquinas, 109-53, in a dominant display of footy. The Swans held a 38-point break at the main break, and didn't look back as they ran out 56-point victors. 2016 has been a different story for the Swans after the disaster that was 2015. Steve Clarke has been incredible this season, and they are showing that they probably should be back up in the second division, but getting to the top two might be quite a challenge for them. For the Bloods it has been an inconsistent year so far, their only victory coming against Parkside. With Canterbury next on their fixture they will need to find some form midweek to be in with a shot.
UHS-VU AFC def. Power House AFC
The Vultures proved too strong for Power House recording their first win of the season with a 31-point victory at Brens Oval but a third quarter meltdown almost cost them the game. Whatever Power House head coach Ant Voyage said to his chargers at the main break worked. As the boys had an outstanding third quarter overcoming a 29-point deficit to take the lead at the end of the premiership quarter in an incredible display of footy. But with a best on ground performance by Esubalew Ramsey, and with Mitchell Sweeney kicking six goals, the Vultures kicked eight goals in the final term and took home the win. With Parkside up next they will feel confident to make it two in a row. Power House have played some good footy this year and if they can capture the magic they had in the third quarter for an entire game then they can win a lot of games. Hopefully it is bottled for when they face Glen Eira because they might need it.
Glen Eira AFC def. La Trobe University AFC
2016 has been kind to Glen Eira so far, the Saints have remained undefeated after they knocked off a La Trobe team that were far from their best, 107-77. The Saints built a commanding first half lead that proved to be insurmountable in the end for La Trobe. Julius Waras Carstensen continued his awesome form in a best on ground performance in the victory, while Alex Erwin-Ross was impressive kicking five goals. Jack Salau and Elliot Kelly played their hearts out for La Trobe but it wasn't enough. La Trobe now face a Swinny unit that gave Canterbury a scare. While Glen Eira look to remain perfect on the season, hosting an inconsistent Power House team.
Hawthorn AFC def. Parkside Football Club
The Hawks put on an absolute exhibition of exhilarating football and unfortunately for Parkside it was against them at Pitcher Park. Hawthorn was incredible amassing an absurd 34 goals in the 195 point drubbing. Led by Luke Piccolo and Sam Gold who snagged a bag of eight goals each, with great support from David Tremewen kicking six of his own. The Hawks were on a different planet taking the top spot on the ladder in the process. Justin Ross was valiant for the Red Devils, kicking five goals and was Parkside's best but it was a tough day for the club. Up next the Red Devils travel to face the UHS-VU Vultures, while the Hawks travel to face a frustrated Elsternwick looking to extend their reign at the top.
Albert Park AFC def. Elsternwick AFC
Justin Hunter starred again for the Wickers booting four, but it wasn't enough to get the job done against the Falcons as Matthew Lawford put together a best on ground performance kicking four goals of his own, and leading Albert Park to a narrow 10 point win, 100-90. Nathan Cattle and Jack Amies continued their good run of form this season starring in the victory. With the win Albert Park lift themselves out of the danger zone, while the Wickers fall down the ladder and with a match-up against Hawthorn next week the task of rising from the bottom doesn't get any easier.
Canterbury Football Club def. Swinburne University AFC
The Canterbury Cobras came storming home in the final period to steal a victory against Swinburne in the game of the round. Overcoming a twenty point deficit to win, 94-91, in a sensational game. Swinburne had the Cobras on the ropes because of the stellar play from Benjamin Lewis and Zac Scrase who dominated all day and Thomas Kennedy's efforts kicking four goals. But the Cobras never counted themselves out and Tom Lowden and Martin Astbury led the resurgence that saw them remain undefeated on season 2016. A devastated Swinny now have three losses on the trot and will need to draw inspiration from the fact that through three quarters they were the better team, as they attempt to lift from near the bottom of the ladder.
Preview
Round 5 is poised to define Division 3, we see some tough match-ups between South Melbourne and Albert Park, Swinburne and La Trobe, while our leading three clubs look to extend their unbeaten runs. But it won't be all so simple, especially for Glen Eira as they host Power House in what is shaping as being the game of the round. Looking forward to seeing another interesting and competitive round in the heart of the VAFA.
Round 5 Tips
Aquinas OC vs Canterbury Football Club
UHS-VU AFC vs Parkside Football Club
Elsternwick AFC vs Hawthorn AFC
South Melbourne Districts vs Albert Park AFC
Glen Eira AFC vs Power House AFC
Swinburne University AFC vs La Trobe University AFC