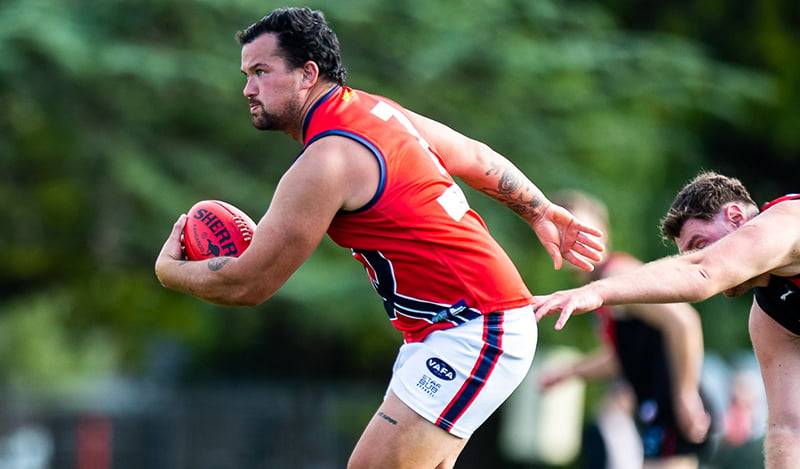 Zac Jennings
Round 12 produced a real mixed bag of results in Division 4, including a 100+ point drubbing, a finals berth emerges and a one-point victory payback from a previous encounter in 2021.
In what would be a repeat of margins from their Round 7 clash, Box Hill North found itself on the winning end of a one-point margin this time around in its clash with Swinburne University. While the Razorbacks jumped out to a 21-point lead at quarter time, the Demons were able to reduce the deficit to six heading into the main break. The second half began in a similar fashion, with Swinburne in control of the scoreboard, taking a 27-point lead into the final term. However, a six goal to one final term would see the Demons storm home to claim an impressive comeback victory and its second for the season. Nicholas Boothman booted four majors for Box Hill North, while Xavier Fry was judged best afield for the Demons. Tom Millard was best on ground for Swinburne, with Harrison Bernando kicking three goals.
After a week off, Box Hill North will face an almighty challenge in Round 13, as it hosts premiership contenders South Melbourne Districts at Elgar Park, while Swinburne University will hit the road to take on St. Johns.
Masala-Dandenong kept its finals hopes alive by kicking the opening six goals in its win over Eley Park. The 38-point buffer was enough to hold off the fast-finishing Sharks, with the Tigers eventually winding up 7-point winners. Leaping out of the blocks, Masala were outscored for the remaining three quarters as Eley Park also looked to keep its slim finals hopes alive. However, the 28-point three quarter time deficit was just out of reach for the Sharks, as they booted four goals to one in the final term, with Masala holding on for a crucial, fourth win of the season. Jesiah McGarvie kicked four goals for Eley Park, with Victor Hortin named best on ground in the comeback effort.
Masala will host third placed LaTrobe University in what may be a season-defining contest for the Tigers, as Eley Park head to Todd/Holmes Oval to face ladder leaders Elsternwick.
A seven-goal haul from Oliver Dufficy has helped fuel the rampaging form of South Melbourne Districts in their emphatic 110-point win over La Trobe University. Steadily hitting the scoreboard throughout, the Bloods 51-point half time lead was strengthened six-goal to zip third term, extinguishing any flicker of hope of an unlikely LaTrobe comeback. Dermot Murphy and Jack Cotton were the standouts for South Melbourne, with Andy Castles best afield for La Trobe. Bryce Dowler was the only multiple goal scorer for La Trobe, booting two.
South Melbourne Districts will travel to Elgar Park to take on Box Hill North, with La Trobe heading out to Lois Twohig Reserve in a clash with Masala-Dandenong.
And finally, Elsternwick remains top of the table after a comfortable 42-point victory over fellow finals contenders St. Johns. After a tight first half, the Wickers kicked six unanswered goals in the third term to hold a 50-point lead at the final break, setting up their ninth win of the season. Julian Yeatman kicked six goals in what was a best on ground performance for Elsternwick, with Nicholas Lowrie adding three goals to take his season tally to an impressive 49 from 10 games. Aaron Thornton kicked three for the JOC's, with Vaughan Savage named best afield.
Elsternwick will host Eley Park in a clash at Todd/Homes Oval, as St. John's return home to take on Swinburne University.