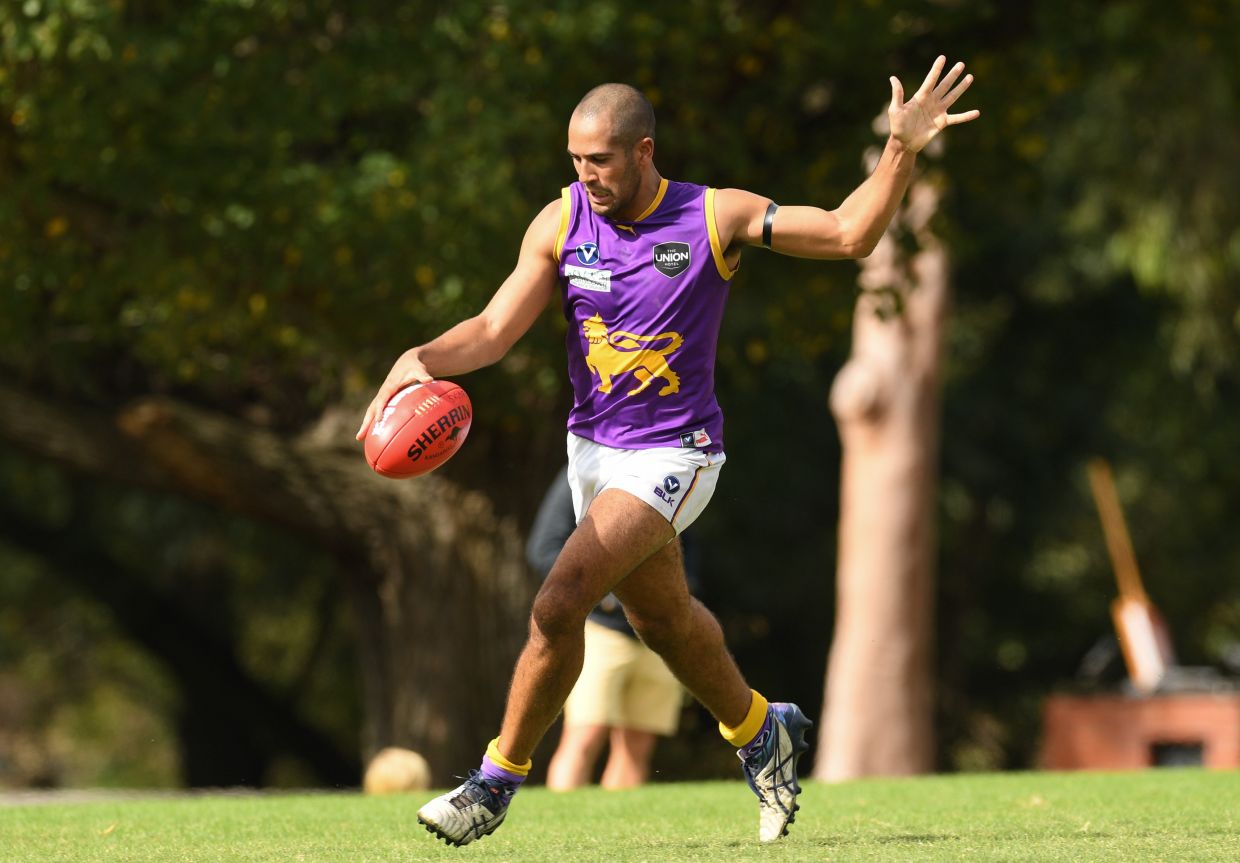 Alisha Min
As if a draw with the T's in Round 6 wasn't gripping enough, the Old Brighton faithful beheld another enthralling contest at Brighton Beach Oval in Round 7 as their side turned a 13-point 3QT deficit into a one-point win over Old Melburnians. OMs jumped the gates early in this contest, with four individual goal kickers impacting the scoreboard in the opening term, before the Tonners bounced back with four of their own in the second to make it a five-point ballgame in their favour at the half. Wayward goal kicking was OM's ultimate demise as they booted 9.17 to the Tonners 11.6. With a goal and 30 disposals to his name, Nic Pavlou was again prolific for the Tonners outfit, while teammate Thomas Yorgey saw plenty of it with 28. William Lewis was dominant in Old Brighton's forward line with five goals, two of which came late in the fourth.
An improved final term from Old Trinity simply wasn't enough to overcome their 40-point 3QT deficit against Collegians as they fell short by 14 points. Sam Hibbins (28 disposals), Fredrick Sullivan (1 goal, 26 disposals) and Viv Michie (1 goal, 18 disposals) were outstanding for Collegians and Nik Papadopoulos returned to the line-up with two goals. For the determined T's outfit, Alexander Emery (1) was named best while Alex Polidoros (3), Jakob Steinhart (2 goals, 21 disposals) and Brandon Wood (2) impacted the scorebaord.
University Blues (2nd) flexed their muscle with a compelling 54-point victory over De La Salle (9th) at the Uni Oval. Cam O'Shea (1 goal, 40 disposals), Dan Batarilo (2 goals, 28 disposals), Marc James (24 disposals) and James Carr (2 goals, 23 disposals) shone the brightest for Uni Blues. In what was a challenging afternoon for De La, Hugh Nicholson (33 disposals) and Geordie Nagle (28 disposals) combined for 61 disposals, while five goals between Michael Griechen (1), Andrian Indovino (2), Liam Wood (1) and Dimitryi Fasoulis (2) in the final term kept things respectable.
Unperturbed by St Kevin's OB's enviable record at TH King Oval, St Bernard's were looking a worthy challenger for the reigning premiers at the half when they led by a goal. In true SKOB fashion, however, they exploded with 14.6 to the Snow Dogs 2.7 to run out 65-point winners. For St Bernard's, who will now return to the Snake Pit on the back of four consecutive losses, Nathan Kazuro (2 goals, 26 disposals), Angus Grigg (3), Mitchell Mahady and Zachary O'Halloran were standouts. A plethora of contributors enabled this victory for SKOB, none more noteworthy than Billy Lloyd (35 disposals), Jack Holden (24 disposals), and 2017 Rising Star winner Lachlan Sullivan (3 goals, 22 disposals).
Coming off their first loss of the season, Old Xaverians responded the best way possible in Round 7 with a round-high 80-point win over Old Carey. With only three points separating the two sides after the opening quarter, Xavs hit their straps from thereon in, booting 5.5 in the second while keeping Carey to a solitary point which furthered to an eventual 14.20 v 3.6 by the final siren. William Hams (1 goal, 27 disposals), Rohan Bewick (3 goals, 20 disposals) and Fraser Pearce were amongst Old Xaverians' most influential in the match, while Old Carey's Matthew King (34 disposals), Morgan Evans and Cooper Leon (26 disposals) were gallant.