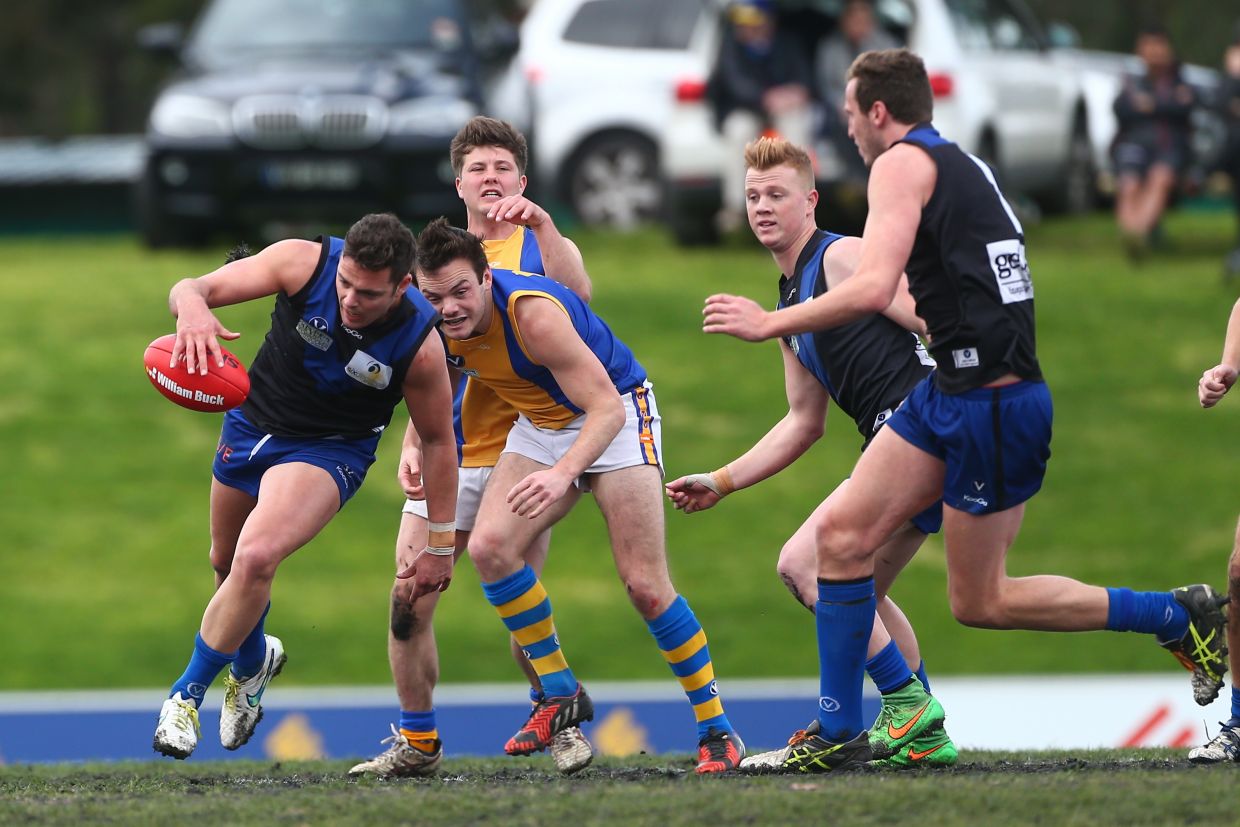 By Nick Armistead
University Blues are looking ominous leading into the 2016 season after the talented young Club gained the services of ex-AFL players, Kieran Harper and Clayton Hinkley.
Lodging applications for Harper and Hinkley's transfers on Wednesday night, the Blues will be looking forward to the prospect of the duo's AFL experience assisting the 2015 preliminary finalists in taking the next step in the upcoming season.
Despite playing 40 games over five years for North Melbourne, Harper is just 23 years old and will play a key role in an already formidable Blues midfield consisting of Jeremy Mugavin and Marshall Rippon.
"We're pretty excited because Mugavin and Rippon and these sort of guys are a year older now and getting to their absolute prime in footy," Blues Senior Coach Quinton Gleeson told VAFA Media.
"The last couple of years we've been in a fortunate position where we've had James Walker (ex-Fremantle midfielder) as a coach and everyone really enjoys each others' company and they're getting reward for their efforts."
Should reigning Woodrow Medallist, Ross Young, and midfield star, Pete Summers, decide to play on again in 2016, the Blues' engine room will only improve after they claimed three of the top six positions in last year's Woodrow Medal count.
The Blues' inpouring of talent does not end with Harper and Hinkley as they also welcome Tim Geappen from Swan Districts. Thomas Mackenzie (knee) and Jack Townley (neck) return from injury, while young gun Tim Blakey comes back after a year on exchange at UCLA.
"We're looking forward to getting Tom Mackenzie back as his last game for us he kicked six in the B-Grade Grand Final but did his knee at the start of last year in a practice match," Gleeson said.
"Jack Townley comes back after breaking his neck last year so we've got a good influx of players coming back internally, as well as topping up externally."
Despite the extrinsic excitement and expectation surrounding this year's additions, Gleeson knows how quickly things can turn around.
"We used 46 players or something last year so injuries play a massive part of the season," he said.
"We hardly set the world on fire. Although we finished third in the end, we took a good chunk of seven or eight games on the trot to get us there.
"And we did lose five in a row in the middle of the season so there's no doubts we have to get better as well."
The Blues will kick off their 2016 campaign when they clash with Old Melburnians at Sportscover Arena on April 9.