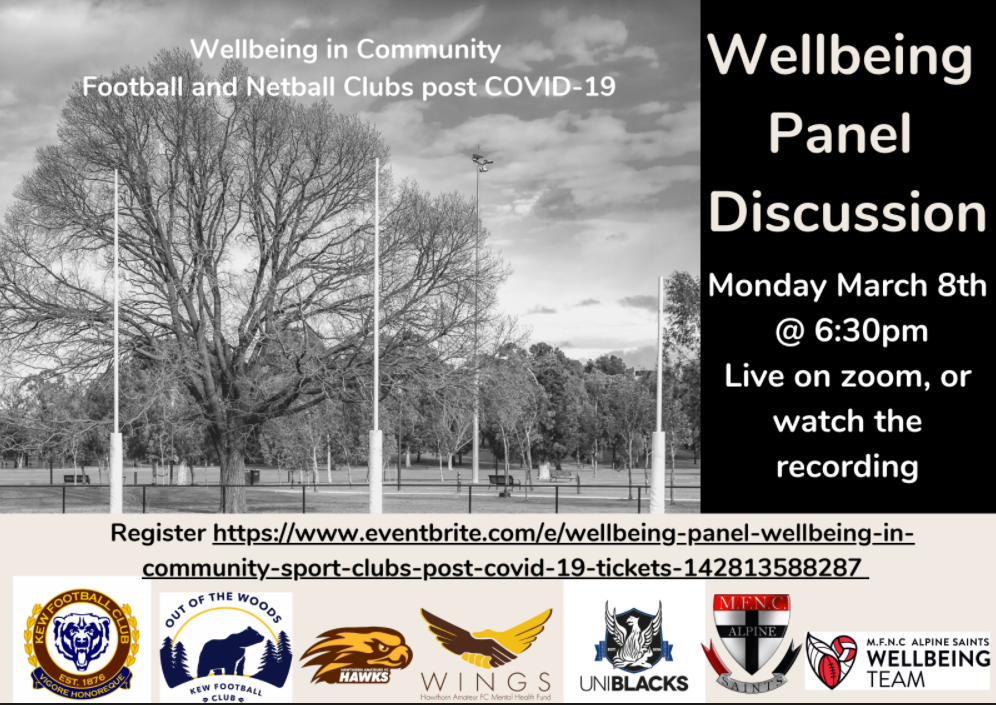 Three VAFA clubs are coming together on Monday night for an important panel discussion on wellbeing in community sporting clubs post COVID-19.
Kew FC, Hawthorn AFC, and University Blacks are teaming up with Myrtleford FNC to discuss the importance of mental health and wellbeing to community sports clubs and the impact of COVID.
The overarching conversation will look to answer the question 'how can clubs create sustainable programs to address mental health issues in players and officials?'
Some of the questions the panel will be answering include:
Why is mental health and wellbeing so important in community football clubs?
What are the barriers to creating a mental health/wellbeing program at clubs and how do we overcome those?
What part of the COVID-19 pandemic was toughest for your club?
All three VAFA clubs administer their own mental health programs within their clubs, including Hawthorn's Wings Program, Kew's newly formed Out of the Woods Program and the Blacks' involvement with VAFA Partner, Thick 'n' Thin.
The event will take place on Zoom on Monday 8 March at 6:30pm.
You can register your interest via this link: https://www.eventbrite.com/e/wellbeing-panel-wellbeing-in-community-sport-clubs-post-covid-19-tickets-142813588287