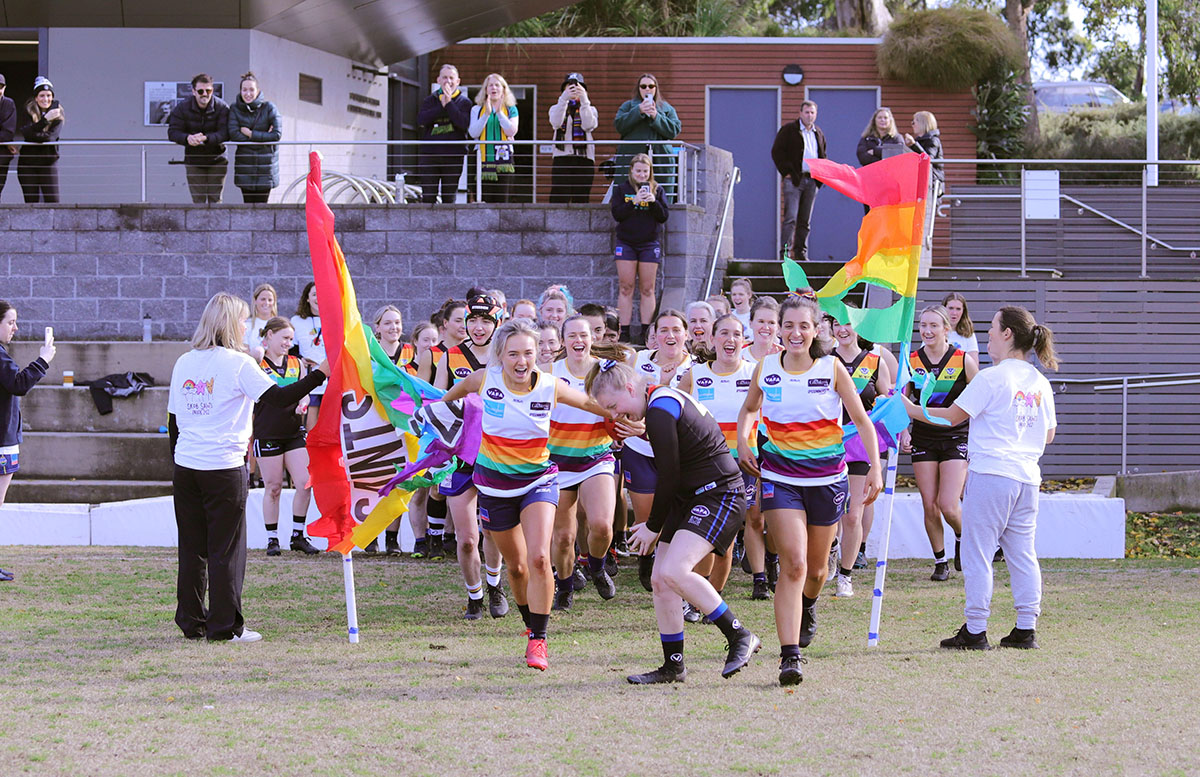 The St Kevin's Old Boys Football Club celebrated its inaugural pride round for its three women's teams on Saturday and one of many highlights was the VAFA community coming together after a forfeit left the day one team short.
Stephanie Augustes was instrumental in the organisation of the day and after joining the club's committee this year, her aim was to organise a pride round and get it up and running for the years to come.
While it came with its challenges with fixture changes, date changes and shipping delays, everything was ready to go in the week leading up to the triple header at TH King Oval.
The club's inaugural pride round has had widespread impact, enabling important and open conversations. Jason Ball was invited down to the club to speak to the playing group in the lead up, which was extremely well received.
SKOB Saints senior player Grace Mills designed t-shirts with all funds raised going towards the club's charity of choice, Minus 18.
With a sponsored pride guernsey, luncheon, fundraising avenues and special banners, the day was set to be a success.
Unfortunately, Old Xaverians were forced to forfeit their reserves team the day before the big day due to several players becoming unavailable.
Initial devastation occurred, however deep down, organisers of the day knew they would wear their special pride guernseys on Saturday.
In true VAFA women's football community spirit and with the help of SKOB Saints' head coach Tommy Purcell, four VAFA clubs put their hand up to offer a scratch match as they knew the importance of the day.
West Brunswick, Melbourne University, Monash Blues and Mazenod went above and beyond to find players that could form one team to play as the Pride Allies.
With West Brunswick coaching the team, Melbourne University lending us their pride jumpers, Mazenod providing a trainer and Monash having lots of players putting their hand up, it was truly a team effort on the day in the name of pride.
Stephanie said, "the community spirit on Saturday in the reserves match was one of the most incredible things I have ever been a part of."
"We were so grateful for these clubs as they knew the significance of the day for us and the broader community" she said.
The SKOB Saints Thirds played against Melbourne University who also offered St Kevin's a home game so the day could be played as a triple header, while the seniors played Old Xaverians and had a great contest.
SKOB Saints Head Coach Tommy Purcell said, "It was the best day I have experienced in 30 years of coaching."
"The call was put out Friday afternoon and to see all the Clubs rally and support Pride Round as a VAFA community was so powerful."