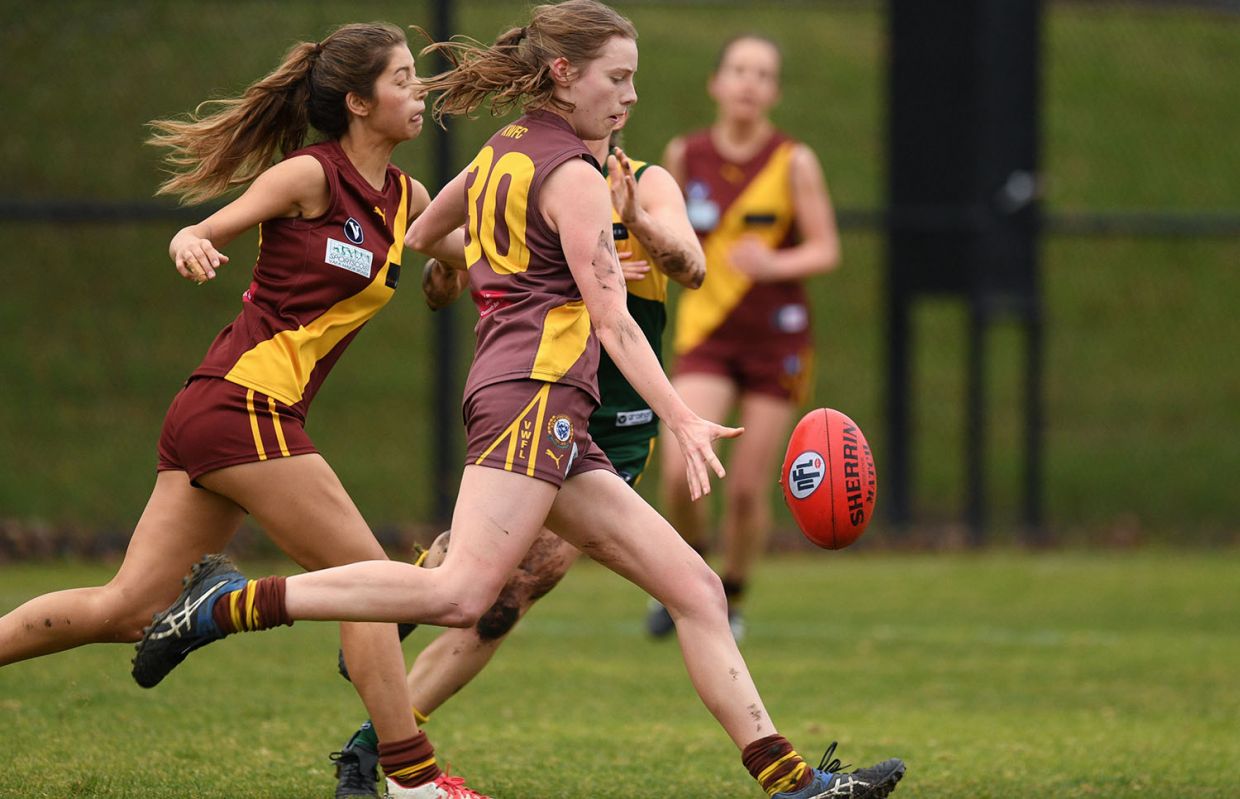 The VAFA's 20-player women's squad has been finalised ahead of Saturday's international rules exhibition match against Victoria GAA.
19 individual clubs will be represented on the day with St Mary's Salesian the only team that has two players, Alice Angley and Joelly Firmin.
Seven of this year's William Buck Premier teams boast representatives; including, Alex Hynes (SKOB), Natalie Gills (Marcellin), Sarah Kenny (West Brunswick), Emma Delaney (Fitzroy-ACU), Jade Tancred (MUWFC), Michaela Harding (Kew – pictured) and the Saints duo.
Two-time grand final BOG winner, Penny Brown (Hawthorn AFC), will be roaming the midfield alongside fellow Big V star Sasha Long (Beaumaris) and 2018 Division 1 leading goal kicker, Eliza Cooper (SBMT). See the full team below.
The women's game kicks off at 2pm at Elsternwick Park and will be followed by the men's match at 4pm. For more information on this Saturday's Ireland comes to Bayside festivities, click HERE
| | |
| --- | --- |
| Name | Club |
| Emma Stafford | OLD BRIGHTON |
| Eliza Cooper | ST BEDES/MENTONE TIGERS |
| Cheree Peters | SOUTH MELBOURNE DISTRICTS |
| Grace Mills | MONASH BLUES |
| Abbey Mills | UHS-VU |
| Sasha Long | BEAUMARIS |
| Alexandra Hynes | SKOB SAINTS |
| Grace Knox | OLD XAVERIANS |
| Natalie Gills | MARCELLIN |
| Cassie Rowe | MCCFC |
| Erin Carroll | ST BERNARD'S |
| Sarah Kenny | WEST BRUNSWICK |
| Hannah Elliott | WILLIAMSTOWN CYMS |
| Emma Delaney | FITZROY-ACU |
| Jade Tancred | MELBOURNE UNIVERSITY WFC |
| Joelly Firmin | ST MARY'S SALESIAN |
| Penny Brown | HAWTHORN AFC |
| Charlotte Pooley | COLLEGIANS |
| Michaela Harding | KEW |
| Alice Angley | ST MARY'S SALESIAN |
| Kylie Crowley | POWER HOUSE AFC |