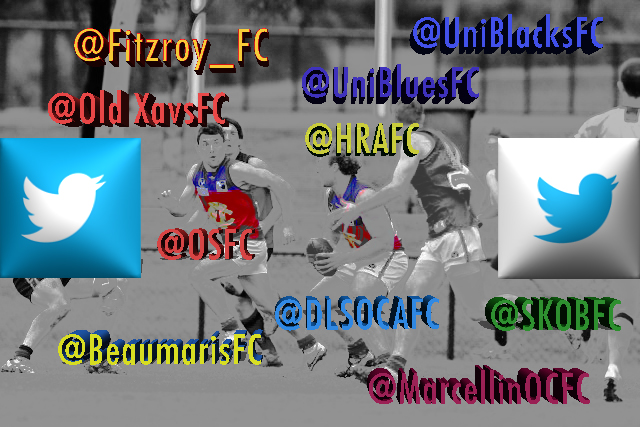 The latest numbers on the VAFA Twitter ladder are in and it's all Fitzroy once again. For the third straight year (since the ladder was introduced), the Roys stand above all others with 2319 followers. They cracked the 2000 mark in 2015 and increased their total by 11% with another 237 followers over the past 12 months.
The chasing pack also hasn't changed from 2015 as Old Xaverians, Uni Blues, Uni Blacks, St Kevin's and De La Salle round out the top six.
After climbing eight positions and into the top 10 last year, St Mary's Salesian continued their strong social media form as they moved from ninth to seventh on the back of a 15% increase in followers, leapfrogging Hampton Rovers and Old Scotch.
The big mover over the past year has been PEGS who climbed 14 spots from 27th to 13th. PEGS consistently provided match day updates each weekend, while also re-tweeting relevant articles to their supporters. West Brunswick also made significant ground (up 8) with the introduction of a women's team helping increase their numbers.
Mazenod, Glen Eira and Westbourne Grammarians were the only three senior premiership-winning clubs who made ground in 2016 as the remaining four either fell or remained the same (OX).
Williamstown CYMS (508) were the biggest movers in 2015 as they increased their following by 38%, only to fall back again this year, down 13 places to 38. The CYs were joined by Beaumaris as the two who suffered the biggest drops as the Sharks created a new account they are yet to have used.
Manningham Cobras and South Mornington remain as the only Clubs without Twitter accounts.
The top 10 has five clubs from William Buck Premier, three from Premier B, one from Premier C and one from Division 1.
| | | | | | |
| --- | --- | --- | --- | --- | --- |
| 2016 Rank | Name | Twitter Handle | Followers | 2015 Rank | Change |
| 1 | Fitzroy | @Fitzroy_FC | 2319 | 1 | – |
| 2 | Old Xaverians | @OldXavsFC | 1631 | 2 | – |
| 3 | University Blues | @UniBluesFC | 1000 | 3 | – |
| 4 | University Blacks | @UniBlacksFC | 933 | 4 | – |
| 5 | St Kevin's Old Boys | @SKOBFC | 892 | 5 | – |
| 6 | De La Salle | @DLSOCAFC | 859 | 6 | – |
| 7 | St Mary's Salesian | @smsafc | 808 | 9 | Up 2 |
| 8 | Hampton Rovers | @HRAFC | 803 | 7 | Down 1 |
| 9 | Old Scotch | @OSFC | 794 | 8 | Down 1 |
| 10 | Marcellin OC | @MarcellinOCFC | 778 | 10 | – |
| 11 | Old Trinity | @oldtrinityfc | 777 | 11 | – |
| 12 | St Bernards OC | @stbernardsfc | 755 | 12 | – |
| 13 | PEGS | @PEGS_FC | 752 | 27 | Up 14 |
| 14 | AJAX | @ajax_footy | 731 | 17 | Up 3 |
| 15 | Hawthorn | @HawthornAFC | 680 | 16 | Up 1 |
| 16 | Therry Penola | @TherryPenola | 651 | 14 | Down 2 |
| 17 | VAFAUA | @vafaua | 651 | 19 | Up 2 |
| 18 | Old Carey | @OldCareyFC | 633 | 15 | Down 3 |
| 19 | Richmond Central | @RichmondCentral | 624 | 18 | Down 1 |
| 20 | Chadstone | @ChadstoneFC | 618 | 23 | Up 3 |
| 21 | Caulfield Grammarians | @cgfcfooty | 600 | 21 | – |
| 22 | South Melbourne Districts | @SouthMelbDFC | 598 | 24 | Up 2 |
| 23 | Old Geelong | @OldGeelong | 595 | 20 | Down 3 |
| 24 | Old Haileyburians | @OldHaileyburyFC | 584 | 22 | Down 2 |
| 25 | Prahran Assumption | @PAFC2Blues | 577 | 26 | Up 1 |
| 26 | West Brunswick | @WestBrunswickFC | 570 | 34 | Up 8 |
| 27 | Kew | @KewFC | 565 | 33 | Up 6 |
| 28 | Point Cook | @PointCookFC | 559 | 29 | Up 1 |
| 29 | Ivanhoe | @Ivanhoeafc | 550 | 27 | Down 2 |
| 30 | Glen Eira Saints | @GESaints | 540 | 34 | Up 4 |
| 31 | Masala | @MasalaFC | 531 | 32 | Up 1 |
| 32 | Brunswick NOBSPC | @NOBSPCBrunswick | 530 | 31 | Down 1 |
| 33 | La Trobe Uni | @LaTrobeUniFC | 517 | 36 | Up 3 |
| 34 | Old Ivanhoe Gr | @OIGFC | 489 | 30 | Down 4 |
| 35 | Old Paradians | @oldparadiansafc | 488 | 38 | Up 3 |
| 36 | Aquinas OC | @aquinasfc | 483 | 37 | Up 1 |
| 37 | St Bedes Mentone Tigers | @sbmt_tigers | 472 | 43 | Up 6 |
| 38 | Williamstown CYMS | @TheCYsTweet | 464 | 25 | Down 13 |
| 39 | Ormond | @Ormond_AFC | 457 | 41 | Up 2 |
| 40 | Eley Park | @eleyparkfc | 448 | 40 | – |
| 41 | Mazenod OC | @MazenodOCFC | 425 | 48 | Up 7 |
| 42 | Peninsula OB | @PiratesFooty | 412 | 44 | Up 2 |
| 43 | Elsternwick | @wickersFC | 399 | 46 | Up 3 |
| 44 | Monash Gryphons | @MonashGryphons | 397 | 42 | Down 2 |
| 45 | UHS-VU | @UHSVU | 394 | 39 | Down 6 |
| 46 | Westbourne Grammarians | @WestbourneGFC | 385 | 47 | Up 1 |
| 47 | MHSOB | @MHSOBFC | 381 | 44 | Down 3 |
| 48 | North Brunswick | @NorthBrunnyFC | 376 | 50 | Up 2 |
| 49 | Box Hill North | @BHNFC | 358 | 52 | Up 3 |
| 50 | Preston Bullants | @PBAFC | 357 | 49 | Down 1 |
| 51 | Old Melburnians | @OldMelbFC | 345 | 51 | – |
| 52 | Collegians | @collegianslions | 320 | 57 | Up 5 |
| 53 | Parkside FC | @Parkside_FC | 314 | 54 | Up 1 |
| 54 | Old Camberwell | @oldcamberwell | 311 | 53 | Down 1 |
| 55 | Swinburne University | @Swinburne_FC | 304 | 56 | Up 1 |
| 56 | Bulleen Templestowe | @thebullants | 301 | 55 | Down 1 |
| 57 | Monash Blues | @MonashBlues | 278 | 60 | Up 3 |
| 58 | Albert Park | @albertparkfc | 222 | 61 | Up 3 |
| 59 | St Johns OC | @StJohnsOCFC | 221 | 59 | – |
| 60 | Whitefriars | @friarsfooty | 218 | 64 | Up 4 |
| 61 | Yarra Valley | @YarraOGFC | 183 | 63 | Up 2 |
| 62 | Parkdale Vultures | @Parky_Vultures | 174 | 68 | Up 6 |
| 63 | Emmaus St Leos OC | @emmausstleos | 157 | 65 | Up 2 |
| 64 | Old Mentonians | @OldMentoniansFC | 133 | 62 | Down 2 |
| 65 | Old Brighton | @old_brightonFC | 123 | 58 | Down 7 |
| 66 | Canterbury | @CFC_Cobras | 115 | 67 | Up 1 |
| 67 | Power House | @PowerhouseAFC | 108 | 66 | Down 1 |
| 68 | Oakleigh | @OAFC_Krushers | 103 | 69 | Up 1 |
| 69 | Old Eltham Collegians | @ElthamTurtles | 70 | 71 | Up 2 |
| 70 | St Francis Xavier | @sfxoc | 67 | 70 | – |
| 71 | Mt Lilydale OC | @MtLilydale | 46 | 72 | Up 1 |
| 72 | Beaumaris | @BeaumarisFC | | 13 | Down 59 |
| 73 | Manningham Cobras | | | 73 | – |
| 74 | South Mornington | | | 74 | – |