As the Elsternwick Park surface is currently being redeveloped, Bayside Council has assigned the VAFA Umpires to train at Dendy Park Athletics Track, Brighton (See below map).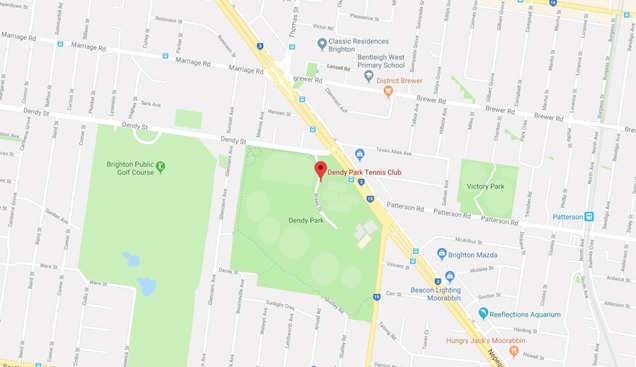 TRAINING DATES @ DENDY PARK ATHLETICS TRACK, BRIGHTON.
WEDNESDAY (6.15pm to 7.30pm approx.)
January 31
February 7, 14, 21, 28
March 7, 14, 21, 28
SUNDAY (9.30am to 11am approx.) 
February 11, 18, 25
March 4, 18.
*** CHANGEROOM & TOILET ACCESS HAS BEEN GRANTED BY DENDY PARK TENNIS CLUB FOR ALL SESSIONS – 100m WALK FROM THE ATHS TRACK ***
–          Umpires may not park their vehicles in tennis club car park.
–          Umpires are responsible for all bags and valuables and are encouraged to take these to the athletics track after use of the changerooms.
–          Runners Only. No Boots or Spikes.
–          Please also bring a water bottle.
GOAL UMPIRES – Official Pre-Season starts on March 7 however are encouraged to attend earlier sessions.
Contacts;
Gavin De Kretser 0477 8754 044
Haydn O'Connor 0427 333 729
We are also introducing an Alternative Running Group to meet at Princes Park, Carlton for anyone who would like to go for a run with other VAFA Members, meeting at this location. 
RUNNING GROUP @ PRINCES PARK, CARLTON (MEET AT CARLTON FC CARPARK)
SUNDAY (9.30am meet)-
February 11, 18, 25
March 4.
Contacts; Daniel Simons 0413 846 297 or Haydn O'Connor 0427 333 729
If anyone would be interested in facilitating the Running Group Sessions (as per program organised by Gavin De Kretser), please contact [email protected]
Given the circumstances of the exciting re-development of Elsternwick Park, the VAFA Umpiring Department thank all Umpires for their understanding of the training venues & times.
Information about Club Umpires & Club Umpire Sessions will be sent to Club Secretaries shortly.