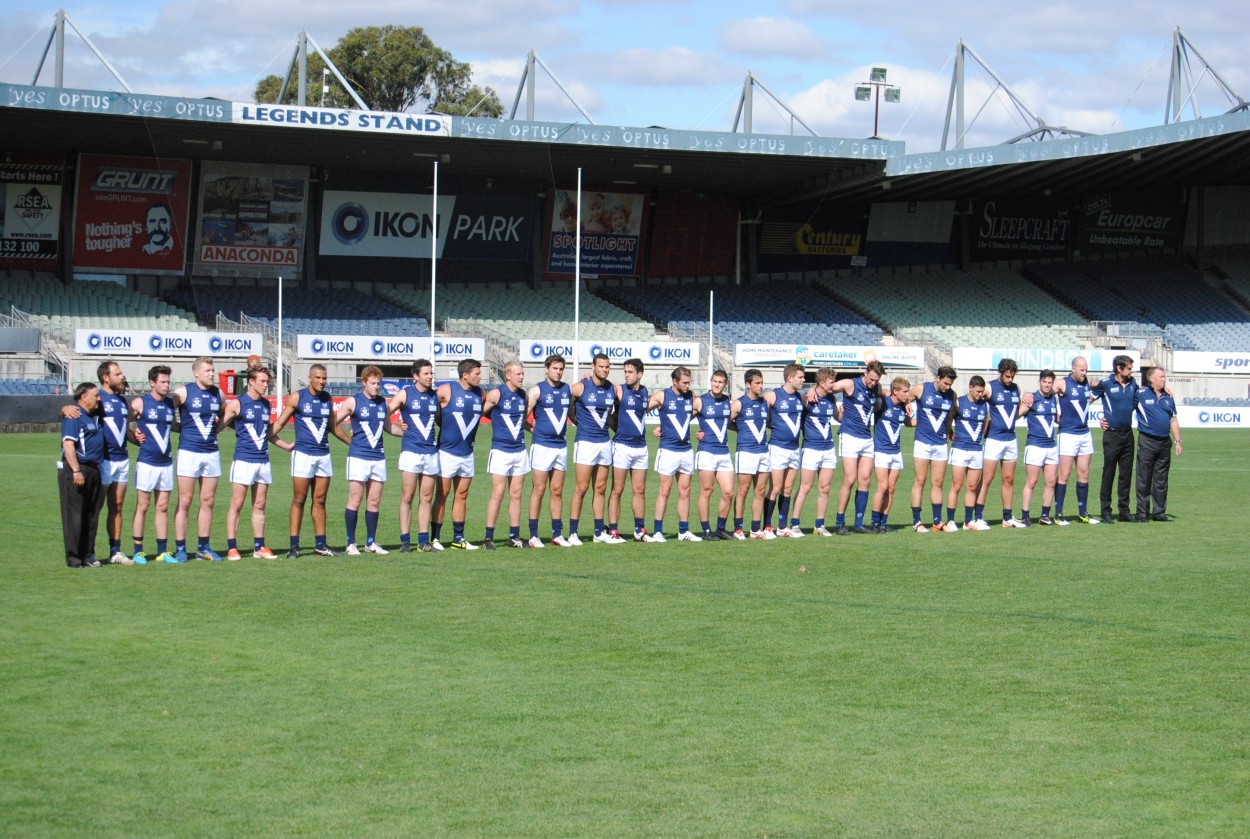 Nick Armistead
The Big V senior representative side will look to gain a one-match advantage in their head-to-head battle with AFL Victoria Country (formerly VCFL) when they meet at Ikon Park this Saturday.
The two sides share a competitive history with both having won eight games each from their 16 encounters.
Of their 16 clashes, the inaugural match in 1984 took place at Queen Elizabeth Oval in Bendigo, where the Big V came home with a hard-fought 19-point victory. It was a game that set the tone for future battles as the two teams were inseparable at five wins apiece after their first 10 encounters.
Most recently, the VAFA created its own history when they defeated the Country by a record-high 82 points at Frankston City Oval two years ago. It isn't, however, the largest winning margin between the two sides after the VCFL dismantled the VAFA by 97 points in 1997.
Prior to their last match-up, the Country had the wood over the Ammos with four of a possible six wins from 2005-'16. During this period, they strung together the longest winning streak when they triumphed in three straight matches between 2005 and 2009.
When they win, they win big, posting an average winning margin of 44 points in their eight victories. On the other hand, of the Big V's eight victories, four of the matches have been won by eight points or less, giving them an average winning margin of 25.75.
The AFL Vic Country squad is made up of the best senior players across the state (excluding metro areas). This year's contest will be no different, with arguably their strongest list in recent years set to take to Ikon Park under second-time coach Danny Frawley. But as highlighted below, it is nothing the Big V hasn't overcome before.
Further information on past encounters can be viewed below:
| | | | | | | | |
| --- | --- | --- | --- | --- | --- | --- | --- |
| Match ID | Year | Opponent | Location | VAFA | Margin | Opposition | W/L |
| 170 | 2017 | AFL Vic Country | Frankston (Frankston City Oval) | 24.8.152 | 82 | 10.10.70 | W |
| 168 | 2015 | AFL Vic Country | Bendigo (Queen Elizabeth Oval) | 8.7:55 | 62 | 17.15:117 | L |
| 164 | 2013 | AFL Vic Country | Melbourne (St Kilda CG) | 11.16:82 | 3 | 11.13:79 | W |
| 161 | 2011 | VCFL | Shepparton (Deakin Reserve) | 13.14:92 | 6 | 13.8:86 | W |
| 159 | 2009 | VCFL | Melbourne (St Kilda CG) | 15.16:106 | 4 | 17.8:110 | L |
| 156 | 2007 | VCFL | Ballarat (Eastern Oval) | 11.10:76 | 1 | 11.11:77 | L |
| 155 | 2005 | VCFL | Melbourne (Elsternwick Park) | 8.14:62 | 29 | 13.13:91 | L |
| 153 | 2003 | VCFL | Cobram (Barooga Football Ground) | 14.11:95 | 26 | 10.9:69 | W |
| 150 | 2001 | VCFL | Melbourne (Elsternwick Park) | 23.14:152 | 60 | 14.8:92 | W |
| 147 | 1999 | VCFL | Geelong (Shell Stadium) | 13.12:90 | 38 | 19.14:128 | L |
| 142 | 1997 | VCFL | Melbourne (Elsternwick Park) | 8.9:57 | 97 | 23.16:154 | L |
| 140 | 1995 | VCFL | Morwell (Morwell Oval) | 11.12:78 | 8 | 10.10:70 | W |
| 135 | 1993 | VCFL | Melbourne (Elsternwick Park) | 13.14:92 | 2 | 13.12:90 | W |
| 124 | 1987 | VCFL | Lavington (North Albury) | 7.13:55 | 64 | 18.11:119 | L |
| 118 | 1985 | VCFL | Mildura (City Oval) | 7.15:57 | 60 | 18.9:117 | L |
| 113 | 1984 | VCFL | Bendigo (Queen Elizabeth Oval) | 15.10:100 | 19 | 11.15:81 | W |