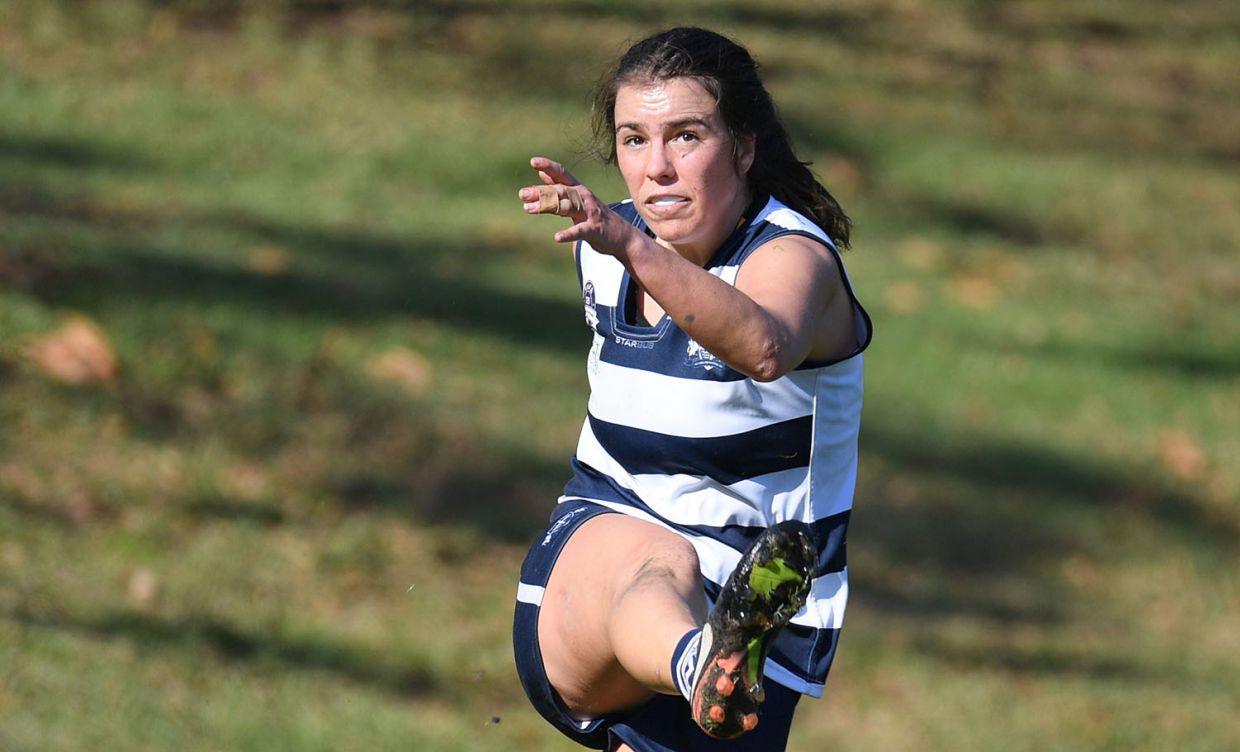 The VAFA Wilson Women's Premier B fixture has been released ahead of the 2019 season.
New-comers La Trobe University and RMIT WFA will be up against it as they face Old Xaverians and Caulfield Grammarians in Round 1; the two teams that played William Buck Premier in 2018.
Monash Blues and Old Geelong will meet for the first time since last year's Premier B (Blue) first semi-final where the Blues ran out nine-point winners, while Old Camberwell and Collegians will clash after going 1-1 in their two meetings last season.
See the full fixture below:
| | | |
| --- | --- | --- |
| Round 1 | Venue | Time |
| Saturday, Apr 06 | | |
| La Trobe University vs. Old Xaverians | La Trobe University | 5:50pm |
| Monash Blues vs. Old Geelong | Frearson Oval | 4:00pm |
| Old Camberwell vs. Collegians | Gordon Barnard Reserve Oval 2 | 2:00pm |
| RMIT vs. Caulfield Grammarians | Bundoora Oval | 2:00pm |
| | | |
| Round 2 | Venue | Time |
| Saturday, Apr 13 | | |
| Caulfield Grammarians vs. Old Camberwell | Glenhuntly Oval | 11:40am |
| Collegians vs. Monash Blues | Albert Park Oval 1 | 1:45pm |
| Old Geelong vs. La Trobe University | Como Park | 4:45pm |
| Old Xaverians vs. RMIT (Sunday 14 April) | Xavier College | 11:40am |
| | | |
| Round 3 | Venue | Time |
| Saturday, Apr 27 | | |
| Caulfield Grammarians vs. Old Xaverians | Glenhuntly Oval | 11:40am |
| Collegians vs. La Trobe University | Ross Gregory Oval Albert Park | 2:00pm |
| Monash Blues vs. RMIT | Frearson Oval | 4:00pm |
| Old Camberwell vs. Old Geelong | Gordon Barnard Reserve Oval 2 | 2:00pm |
| | | |
| Round 4 | Venue | Time |
| Saturday, May 04 | | |
| La Trobe University vs. Monash Blues | La Trobe University | 1:10pm |
| Old Geelong vs. Caulfield Grammarians | Como Park | 11:40am |
| Old Xaverians vs. Old Camberwell (Sunday 5 May) | Xavier College | 11:40am |
| RMIT vs. Collegians | Bundoora Oval | 2:00pm |
| | | |
| Round 5 | Venue | Time |
| Saturday, May 11 | | |
| Caulfield Grammarians vs. Monash Blues | Glenhuntly Oval | 11:40am |
| Old Camberwell vs. La Trobe University | Gordon Barnard Reserve | 2:00pm |
| Old Geelong vs. RMIT | Como Park | TBC |
| Old Xaverians vs. Collegians (Sunday 12 May) | Xavier College | 11:40am |
| | | |
| Round 6 | Venue | Time |
| Saturday, May 18 | | |
| Collegians vs. Old Geelong | Albert Park Oval 1 | 1:45pm |
| La Trobe University vs. Caulfield Grammarians | La Trobe University | 1:10pm |
| Monash Blues vs. Old Xaverians | Frearson Oval | 4:00pm |
| RMIT vs. Old Camberwell | Bundoora Oval | 2:00pm |
| | | |
| Round 7 | Venue | Time |
| Saturday, May 25 | | |
| Caulfield Grammarians vs. Collegians | Glenhuntly Oval | 11:40am |
| La Trobe University vs. RMIT | La Trobe University | 6:00pm |
| Old Camberwell vs. Monash Blues | Gordon Barnard Reserve | 2:00pm |
| Old Geelong vs. Old Xaverians | Como Park | TBC |
| | | |
| Round 8 | Venue | Time |
| Saturday, Jun 01 | | |
| Collegians vs. Old Camberwell | Harry Trott Oval | 4:45pm |
| Monash Blues vs. La Trobe University | Frearson Oval | 4:00pm |
| Old Xaverians vs. Caulfield Grammarians (Sunday 2 June) | Xavier College | 11:40am |
| RMIT vs. Old Geelong | Bundoora Oval | 2:00pm |
| | | |
| Round 9 | Venue | Time |
| Saturday, Jun 15 | | |
| Caulfield Grammarians vs. La Trobe University | Glenhuntly Oval | 11:40am |
| Old Camberwell vs. Old Xaverians | Gordon Barnard Reserve | 2:00pm |
| Old Geelong vs. Collegians | Como Park | 11:40am |
| RMIT vs. Monash Blues | Bundoora Oval | 2:00pm |
| | | |
| Round 10 | Venue | Time |
| Saturday, Jun 22 | | |
| Collegians vs. RMIT | Albert Park Oval 1 | 1:45pm |
| La Trobe University vs. Old Camberwell | La Trobe University | 2:00pm |
| Monash Blues vs. Caulfield Grammarians | Frearson Oval | 4:00pm |
| Old Xaverians vs. Old Geelong (Sunday 23 June) | Xavier College | 11:40am |
| | | |
| Round 11 | Venue | Time |
| Saturday, Jun 29 | | |
| La Trobe University vs. Collegians | La Trobe University | 1:10pm |
| Old Camberwell vs. Caulfield Grammarians | Gordon Barnard Reserve | 2:00pm |
| Old Geelong vs. Monash Blues | Como Park | 11:40am |
| RMIT vs. Old Xaverians | Bundoora Oval | 2:00pm |
| | | |
| Round 12 | Venue | Time |
| Saturday, Jul 13 | | |
| Caulfield Grammarians vs. RMIT | Glenhuntly Oval | 11:40am |
| Monash Blues vs. Collegians | Frearson Oval | 4:00pm |
| Old Geelong vs. Old Camberwell | Como Park | 11:40am |
| Old Xaverians vs. La Trobe University (Sunday 14 July) | Xavier College | 11:40am |
| | | |
| Round 13 | Venue | Time |
| Saturday, Jul 20 | | |
| Caulfield Grammarians vs. Old Geelong | Glenhuntly Oval | 11:40am |
| Collegians vs. Old Xaverians | Harry Trott Oval | 4:45pm |
| Monash Blues vs. Old Camberwell | Frearson Oval | 4:00pm |
| RMIT vs. La Trobe University | Bundoora Oval | 2:00pm |
| | | |
| Round 14 | Venue | Time |
| Saturday, Jul 27 | | |
| Collegians vs. Caulfield Grammarians | Ross Gregory Oval Albert Park | 2:00pm |
| La Trobe University vs. Old Geelong | La Trobe University | 1:10pm |
| Old Camberwell vs. RMIT | Gordon Barnard Reserve | 2:00pm |
| Old Xaverians vs. Monash Blues (Sunday 28 July) | Xavier College | 11:40am |