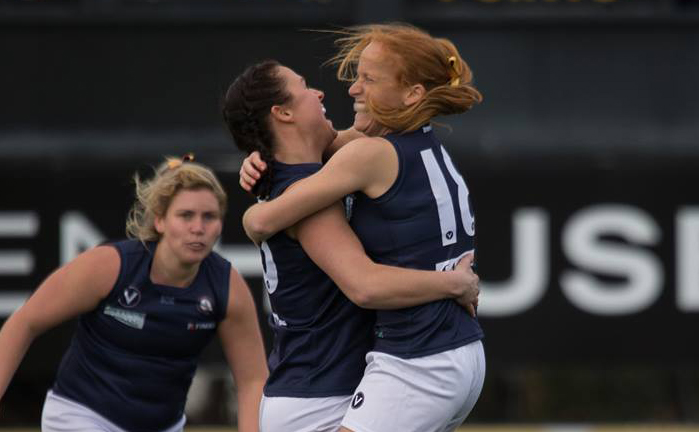 The VAFA Wilson Women's Premier C fixture has been announced ahead of the April 6 season debut.
North Brunswick will enter their first-ever women's team in this season's newly-formed Premier C, facing South Melbourne Districts at Allard Park.
Brunswick Renegades, who featured in Premier B (Blue) last season, will travel to Canterbury for their opening match, while St Bedes/Mentone Tigers and Old Melburnians face off at Southern Road Reserve.
After failing to register a win in 2018, Mazenod will be keen to kick-start their 2019 campaign in style when they play Yarra Old Grammarians at Doncaster Reserve.
| | | |
| --- | --- | --- |
| Round 1 | Venue | Time |
| Saturday, Apr 06 | | |
| Canterbury vs. Brunswick Renegades | Canterbury Sports Ground | 2:00pm |
| North Brunswick vs. South Melbourne Districts | Allard Park | 4:40pm |
| St Bedes/Mentone Tigers vs. Old Melburnians | Southern Road Reserve | 2:00pm |
| Yarra Old Grammarians vs. Mazenod | Doncaster Reserve | 4:45pm |
| | | |
| Round 2 | Venue | Time |
| Saturday, Apr 13 | | |
| Brunswick Renegades vs. Old Melburnians | AG Gillon Oval | 2:00pm |
| Canterbury vs. St Bedes/Mentone Tigers | Canterbury Sports Ground | 2:00pm |
| North Brunswick vs. Mazenod | Allard Park | 2:00pm |
| South Melbourne Districts vs. Yarra Old Grammarians | TBC | 2:00pm |
| | | |
| Round 3 | Venue | Time |
| Saturday, Apr 27 | | |
| Mazenod vs. South Melbourne Districts (Sunday 28 April) | Central Reserve North | 2:00pm |
| North Brunswick vs. Canterbury | TBC | 2:00pm |
| St Bedes/Mentone Tigers vs. Brunswick Renegades | Southern Road Reserve | 2:00pm |
| Yarra Old Grammarians vs. Old Melburnians | Doncaster Reserve | 4:45pm |
| | | |
| Round 4 | Venue | Time |
| Saturday, May 04 | | |
| Brunswick Renegades vs. Mazenod | AG Gillon Oval | 2:00pm |
| Old Melburnians vs. Canterbury | Elsternwick Park | 11:40am |
| South Melbourne Districts vs. St Bedes/Mentone Tigers | Oval 12 Albert Park | 2:00pm |
| Yarra Old Grammarians vs. North Brunswick | Doncaster Reserve | 4:45pm |
| | | |
| Round 5 | Venue | Time |
| Saturday, May 11 | | |
| Brunswick Renegades vs. South Melbourne Districts | AG Gillon Oval | 2:00pm |
| Canterbury vs. Mazenod | Canterbury Sports Ground | 2:00pm |
| Old Melburnians vs. North Brunswick | Elsternwick Park | 11:40am |
| St Bedes/Mentone Tigers vs. Yarra Old Grammarians | Southern Road Reserve | 2:00pm |
| | | |
| Round 6 | Venue | Time |
| Saturday, May 18 | | |
| Mazenod vs. St Bedes/Mentone Tigers | Central Reserve North | 2:00pm |
| North Brunswick vs. Brunswick Renegades | Allard Park | 2:00pm |
| South Melbourne Districts vs. Old Melburnians | Oval 12 Albert Park | 2:00pm |
| Yarra Old Grammarians vs. Canterbury | Doncaster Reserve | 4:45pm |
| | | |
| Round 7 | Venue | Time |
| Saturday, May 25 | | |
| Brunswick Renegades vs. Yarra Old Grammarians | AG Gillon Oval | 2:00pm |
| Canterbury vs. South Melbourne Districts | Canterbury Sports Ground | 2:00pm |
| Old Melburnians vs. Mazenod | Elsternwick Park | 11:40am |
| St Bedes/Mentone Tigers vs. North Brunswick | Southern Road Reserve | 2:00pm |
| | | |
| Round 8 | Venue | Time |
| Saturday, Jun 01 | | |
| Canterbury vs. Old Melburnians | Canterbury Sports Ground | 2:00pm |
| Mazenod vs. Brunswick Renegades (Sunday 2 June) | Central Reserve North | 2:00pm |
| North Brunswick vs. Yarra Old Grammarians | Allard Park | 2:00pm |
| St Bedes/Mentone Tigers vs. South Melbourne Districts | Southern Road Reserve | 4:45pm |
| | | |
| Round 9 | Venue | Time |
| Saturday, Jun 15 | | |
| Mazenod vs. Canterbury (Sunday 16 June) | Central Reserve North | 2:00pm |
| Old Melburnians vs. Brunswick Renegades | TBC | 11:40am |
| South Melbourne Districts vs. North Brunswick | Oval 12 Albert Park | 2:00pm |
| Yarra Old Grammarians vs. St Bedes/Mentone Tigers | Doncaster Reserve | 4:45pm |
| | | |
| Round 10 | Venue | Time |
| Saturday, Jun 22 | | |
| Brunswick Renegades vs. St Bedes/Mentone Tigers | AG Gillon Oval | 2:00pm |
| Canterbury vs. Yarra Old Grammarians | Canterbury Sports Ground | 2:00pm |
| North Brunswick vs. Old Melburnians | Allard Park | 2:00pm |
| South Melbourne Districts vs. Mazenod | Oval 12 Albert Park | 2:00pm |
| | | |
| Round 11 | Venue | Time |
| Saturday, Jun 29 | | |
| Brunswick Renegades vs. North Brunswick | AG Gillon Oval | 2:00pm |
| Mazenod vs. Yarra Old Grammarians (Sunday 30 June) | Central Reserve North | 2:00pm |
| Old Melburnians vs. St Bedes/Mentone Tigers | Elsternwick Park | 11:40am |
| South Melbourne Districts vs. Canterbury | Oval 12 Albert Park | 2:00pm |
| | | |
| Round 12 | Venue | Time |
| Saturday, Jul 13 | | |
| Canterbury vs. North Brunswick | Canterbury Sports Ground | 2:00pm |
| Old Melburnians vs. Yarra Old Grammarians | Elsternwick Park | 11:40am |
| South Melbourne Districts vs. Brunswick Renegades | Oval 12 Albert Park | 2:00pm |
| St Bedes/Mentone Tigers vs. Mazenod | Southern Road Reserve | 2:00pm |
| | | |
| Round 13 | Venue | Time |
| Saturday, Jul 20 | | |
| Brunswick Renegades vs. Canterbury | AG Gillon Oval | 2:00pm |
| Mazenod vs. Old Melburnians (Sunday 21 July) | Central Reserve North | 2:00pm |
| North Brunswick vs. St Bedes/Mentone Tigers | Allard Park | 2:00pm |
| Yarra Old Grammarians vs. South Melbourne Districts | Doncaster Reserve | 4:45pm |
| | | |
| Round 14 | Venue | Time |
| Saturday, Jul 27 | | |
| Mazenod vs. North Brunswick (Sunday 28 July) | Central Reserve North | 2:00pm |
| Old Melburnians vs. South Melbourne Districts | Elsternwick Park | 11:40am |
| St Bedes/Mentone Tigers vs. Canterbury | Southern Road Reserve | 2:00pm |
| Yarra Old Grammarians vs. Brunswick Renegades | Doncaster Reserve | 4:45pm |