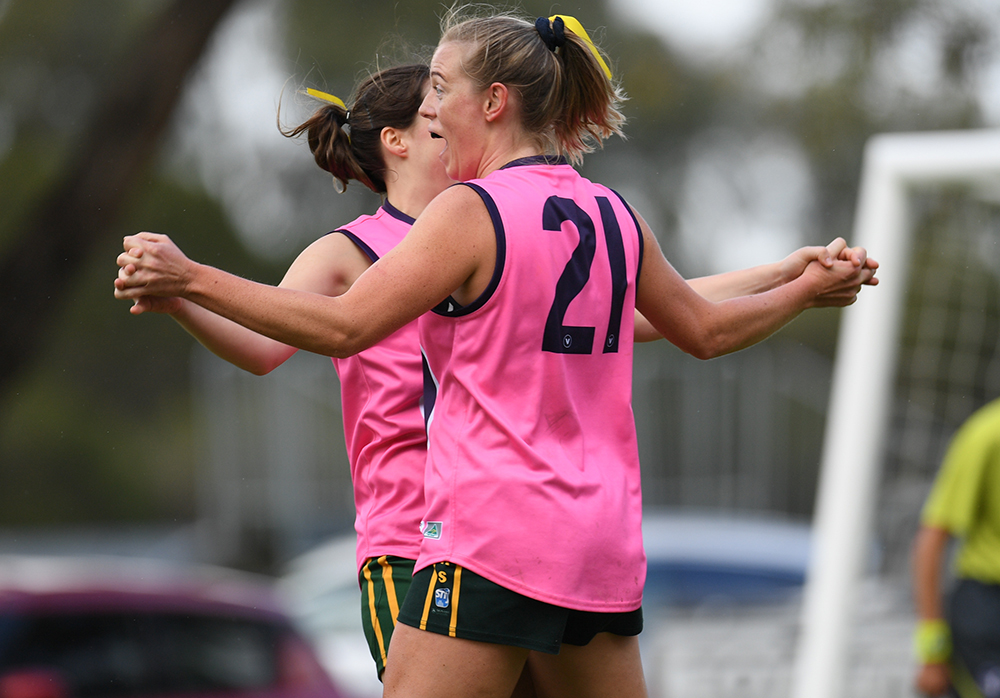 Alisha Min
William Buck Premier
SKOB Saints v West Brunswick
Form: WWWWL (SKOB) v WWLLL (WB) |  Head to Head: 2-0  |  Tip: SKOB Saints
Thoughts: A number of factors would indicate SKOB Saints have the upper-hand heading into this Grand Final match against West Brunswick; their higher finish (2nd v 4th), their 2-0 ascendancy in head to head clashes during the home & away season plus their week off during the Preliminary Final. All this could come to nought Sunday afternoon though, with the Magpies charging full steam ahead after taking out Marcellin (3rd) and Old Trinity (1st) en route to their third senior Grand Final appearance in three years (2017 – Development Division 1, 2018 – Premier B Blue). Neither team has tasted senior premiership silverware since joining the VAFA Wilson Women's competition in the inaugural 2017 season, though this is the Saints second opportunity to do so in the William Buck Premier Women's section (2017 loss to Marcellin). A tried-and-tested big game player, expect Big V legend Sarah Cameron to shine for SKOB, while the return of Bree Doyle from a foot injury will do nothing but enhance their side's odds. Meanwhile, the dogged determination of Yo Jones and Mel Lindsay will be at the fore for the gutsy Westies.
William Buck Premier Reserve
West Brunswick v Melbourne University
Form: WWWWW (WB) v WLWWW (MU) |  Head to Head: 2-1  |  Tip: West Brunswick
Premier B
Old Xaverians v Caulfield Grammarians
Form: WWWWW (OX) v WLWWW (CG) |  Head to Head: 1-2  |  Tip: Old Xaverians
Thoughts: Old Xaverians only lost on three outings during the home & away season this year, two of which were at the hands of their Grand Final rivals, Caulfield Grammarians. Finding the perfect time to chip away at the ledger though, Xav's Indiarna Ellis, Caitlin Hickey and Gabby Golds were on fire during their 16-point victory over the Fields in the semi's – a reflection of their super consistent season's which have seen them named in the best a combined 15 times during the year. Not without their own guns though, the Fields' will be loaded and ready to fire via goalkicking machine Kate Macqueen (25 majors for the year), Irena Malliaras, Chelsea Fisher and Jessica Hartley in their bid to replicate their two-point and five-point victories from Round 3 & 8, respectively. An initial congratulations is in order for Old Xaverians and Caulfield Grammarians, who's place in the Premier B Grand Final sees them promoted to William Buck Premier for 2020. For Xavs, this is a return to the section they called home in 2017 & 2018 (finished 7th in both years), while the Fields occupied 8th in that highest section in 2018.
 Premier B Reserve
Old Geelong v Old Xaverians
Form: WWWWW (OG) v WLWWW (OX) |  Head to Head: 1-2  |  Tip: Old Geelong
Premier C
Brunswick Renegades v Yarra Old Grammarians
Form: WLWWW (BR) v WLWWW (YOGs)  |  Head to Head: 2-1  |  Tip: Yarra Old Grammarians
Thoughts: Our top two sides in Premier C will meet once more in the ultimate decider on Sunday afternoon, and as the win/loss ratio suggests, this match will be a fight until the very end. In their three clashes during the year, the Bushrangers had the Renegade's measure in Round 14 by nine points, but the Gade's were triumphant in Round 7 by 11 points and the second Semi-Final by four points. As one of the most established women's football team in the VAFA, the Renegades have absolutely lifted from their 10th place finish in 2017 (Development Division 4) and 7th in 2018 (Premier B Blue) to feature in their first ever VAFA Wilson Women's Grand Final. Not dissimilar to Brunswick, the YOGs have improved drastically from 8th in 2017 (Development Division 2) and 5th in 2018 (Division 3), and will look to cap off a tremendous season with the Premier C premiership.
Premier C Reserve
Mazenod v Canterbury
Form: WWWWW (Maz) v WWWLW (MB) |  Head to Head: 1-1  |  Tip: Mazenod
Division 1
Scotch Stars v Old Brighton
Form: WWWWD (SS)  v WLWLW (OB)  |  Head to Head: 2-0 + DRAW  |  Tip: Scotch Stars
Thoughts: As any Division 1 enthusiast would readily confess, Scotch Stars have been the team to beat for the season's entirety. Stringing together 13 wins for the season, with a draw the outcome of lighting issues in their Round 11 clash against Old Brighton, the stars of Scotch in Lily Goss (20 goals), Anna Hayes and Mia Cowan, have truly shone. There's no time like the present, however, and the Tonners will have one last try to overthrow the Stars at Keysborough on Sunday. Coming off a confidence boosting 45-point win over Beaumaris in the Preliminary Final, and with Ava Hales and Annie Grant finding brilliant form in the process, Old Brighton will lay it all on the line in their first ever Grand Final outing since joining the competition in 2018 (Premier B White). Scotch were Premier B White Grand Final favourites in 2018, but were pipped by Old Haileybury (4th) in the final dance. Will that play any affect here, or can the Stars claim the 2019 Division 1 flag?
Division 2
Therry Penola v Williamstown CYMS
Form: WWWWW (TP) v WLDWW (W)  |  Head to Head: 2-1   |  Tip: Therry Penola
Thoughts: From bottom of the ladder in 2017 (Development Division 3), sixth place in 2018 (Division 1), to minor premiers and inaugural Grand Final appearance in 2019 (Division 2) – Therry Penola have come a long way in three short years! They face a huge hurdle known as Williamstown CYMS on their path to premiership glory, and the CY's have upped the ante since finishing fourth in Division 2 last year with this appearance – also a maiden Grand Final. For the Lions (1st), Bridget Costello and Eliza German have been pictures of consistency, featuring in the best nine times apiece throughout the year, while the CY's (2nd) Peta Glaister, Kacie Cook and Shannon Egan will lead from the front.
Division 3
Preston Bullants v Hampton Rovers
Form: WWWWL (PB) v WWWWW (HR)  |  Head to Head: 1-1  |  Tip: Preston Bullants
Thoughts: After finishing second following the minor rounds, on equal premiership points as UHS-VU (1st) but a lesser percentage, Preston Bullants have landed back-to-back Grand Final appearances but this time they'll hope to go one better than runner-up. In their 2018 Grand Final, Westbourne Grammarians (4th) had their measure by 11 points, and this time around they'll have to break the momentum of a rolling Hampton Rovers (3rd). One of these side's will claim their first ever VAFA Wilson Women's premiership flag on Sunday, and you can bet the Bullants' Anita Ovenden and Alli Fisher, and the Rovers' Mandy Naylor and Taylan Merrick, will be dominant in the big dance.
Division 4
Glen Eira/Old McKinnon v Ajax
Form: WWWLW (GE) v WWWLW (A)  |  Head to Head: 2-0  |  Tip: Glen Eira/Old McKinnon
Thoughts: Much like Scotch Stars in Division 1, Glen Eira/Old McKinnon have been irrefutable in Division 4 for the best part of season 2019. Dropping just one match along the way, the Gryphons finals campaign began with a 23-point victory over Richmond Central (2nd), who Ajax would go on to beat in the Preliminary Final by way of 26 points to feature in this final stanza. With a field of contributors, Glen Eira's Maddy Lister stands out as one of Glen Eira's greatest contributors, while Lindi Nankin and Maddy Smart are a potent combination for the Jackettes. Regardless of the final result, both clubs will be unquestionably thrilled with their team's Grand Final efforts – all in their inaugural year in the VAFA competition!