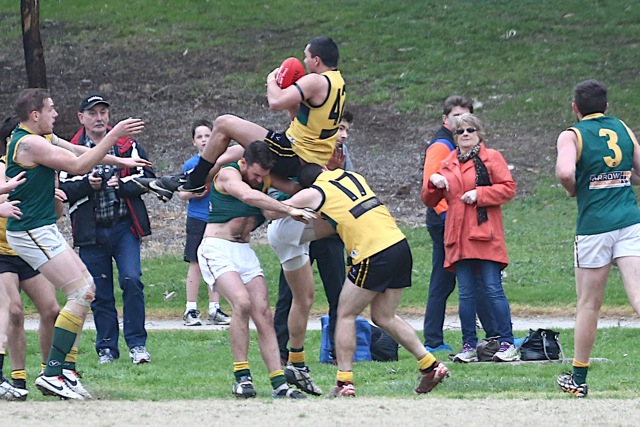 Weddings, parties, anything… Footy is back! Division 1 Preview
Posted on -
Bulleen Templestowe
,
Kew
,
Brunswick NOBSPC
,
Old Geelong
,
Old Mentonians
,
Ormond
,
Prahran Assumption
,
St Mary's Salesian
,
Whitefriars OC
,
Yarra Old Grammarians
,
Latest News
,
Division 1 Men's
,
Featured
Will Balme

@balmey21
As the most annoying month on the Australian sporting calendar comes to a close (minus the dullest World Cup on record), finally, FINALLY, April is upon us and with it, the excitement and anticipation of another season of footy. It's hard to explain to a lay person just how footy-itis wriggles into your veins and infects your bloodstream until you simply can't attend another wedding, party, anything without mentioning your thoughts on how the Tiges will go this season, who you picked in your fantasy side and who on earth is going to play Centre Half Forward for the Yarra Valley Bushrangers. 'The Yarra Valley Bushrangers? Who are they?' The previously uninterested bartender mutters. 'You don't know the Yarra Valley Bushrangers? By gee, next you'll be telling me that you hadn't heard Mal Michael is playing at Ormond this season!!' You excitedly tell the bartender as he wanders off to pour you another dry martini.
You may be as gobsmacked as I am to be told that there are people out there who do not care about the fate of Division One in the VAFA this season. Fortunately for those who enjoy reading about footy as much as existential angst, I do care and I have happily found myself covering the season's coming and goings for 2015. First of all, I have to say that Division 1 looks like one helluva prospect in terms of a competitive season. Last season Williamstown and Therry Penola left the Division for greener pastures in Premier C. They were both clearly the premier sides in the competition which leaves the proverbial door open for new royalty to sit on the throne. Will it be NOBS/St Pats and Old Geelong to naturally progress from finalists to Premier C competitors? Can Mal Michael's surprise introduction into the Ormond hierarchy spark a renaissance from the South-siders? Or will the new faces of Kew and St Marys' challenge the hierarchy?
Of course, currently it is all speculation and innuendo. Without much substance minus a list of clearances, practice match results and the larking from enthusiastic supporters of their respective clubs, it is hard to know how things will pan out in 2015. Starting with the finalists from last year, it is hard to go past the depth of Old Geelong in regard to their status as a major contender. Players from La Trobe (in particular Jack McMeel is one to watch out for), St Mary's Salesian and a spattering of players from across the country have entered the fray. After pushing Therry Penola in the Grand Final, Old Geelong will be #thirsty to go one better in 2015. NOBS/St Pat's will be a worthy top of the table rival for Old Geelong and have done extremely well out of their recruitment drive.
The middle ranked sides from last year were Old Mentonians, Prahran Assumption and Yarra Valley. Old Mentonians and Yarra Valley have both been relatively quiet in transfer season, instead backing their ability to build from within. Yarra Valley reported strong practice match hit outs and their bigger bodies will worry smaller sides. Prodigal son Will Ponsford returns from Old Scotch with the big hope that he will make an immediate impact in their midfield. For Old Mentonians, the big question is whether Darcy Brown has listed the OMs as his feeder club as he seeks VFL game time. Overall, they've been relatively subdued in the off season. Prahran Assumption appears to have regained big guns for 2015, including Luke Giansiracusa. I believe their strength and discipline will see them return to the top 4.
Ormond is the much talked about story of the off-season. Mal Michael! Mal Michael is playing for Ormond. Does anything else really need to be said? Okay, okay, let's not get carried away. One Mal does not maketh a team, but it has certainly led to an avalanche of transfers back to the south-east. With a new coach in Ashleigh Lever, Ormond make no bones about their desire to go straight back to Premier.
The teams who have risen from the depths are St Mary's Salesian and Kew Football Club. Kew won their second consecutive flag last season over SMS by 9 points in a thrilling contest. Whilst they have had departures, they've kept the bulk of their list and added a couple of exciting young prospects including former Old Carey Grammarians winger Luke Marriott. A tough start to the year will separate the men from the pups. St Mary's Salesian has lost key players from their Grand Final team including Nick Latsas to Old Camberwell, Braedon McLean to St Kevins' and key forward Alastair Dwyer to retirement. However, the depth is strong at the club and they know how to play the cheeky little postage stamp down in Glen Iris rather well.
Bulleen Templestowe and Whitefriars are unknown quantities. Bulleen staved off relegation by the skin of their teeth and the 'R' word is still right on the tip of a lot of tongues. Club great Greg Williams has departed and the ins are less than impressive. It will take a consolidated effort to turn their ailing fortunes around. Hayden Cotsford is a big loss for the Friars after a sensational 2014 and he isn't the only one searching for greener pastures. Despite this, club faithful have stressed that the depth of their youth will see them avoid relegation.
Willie Bee's Match of the Round: Round 1 
As always, round one matchups make us salivate. While each game has its own delightful narrative accompanying a tough contest, I like the look of Prahran Assumption heading to Alec Gillon Oval to take on NOBS/St Pats. Last time they met, Prahran pantsed the Old Boys, but I doubt there be more than a kick in it this time. A potential Grand Final preview this early in the season! NOBS/St Pats by 3 points.
Round 1 Tips 
NOBS/St Pats v Prahran Assumption
Yarra Valley OB v St Mary's Salesian
Old Mentonians v Bulleen Templestowe
Kew v Old Geelong
Whitefriars OC v Ormond