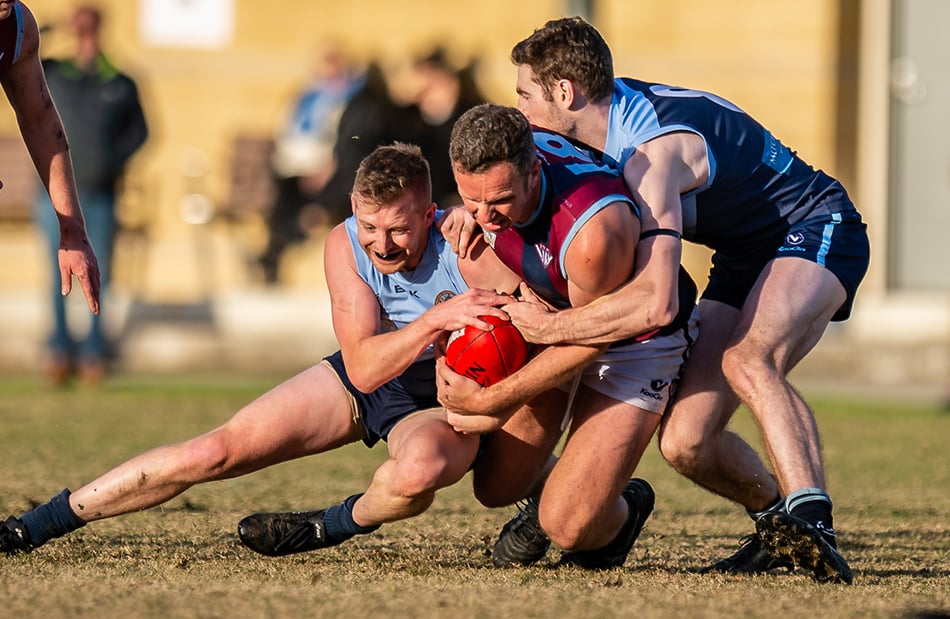 St Mary's Salesian made it two wins in a row while simultaneously breaking Brunswick hearts as they ran out two-point winners at Gillon Oval. The Saints trailed at every break and by seven at three quarter time before kicking two goals to one in a tight final term. William Coten and Michael Kinsella were best afield for the Saints while David Marchione kicked a game-high three goals up forward for the NOBS.
Therry Penola moved into fifth spot on the ladder following their own thrilling three-point victory over Prahran Assumption. The Lions trailed by 19 points at half time but kicked six goals to two on the back of standout performances from Brenton Egglestone and Jacob Atley. Kane O'Halloran booted two goals and took his season tally to 13. Zachary Podmore and Rory Brodie both continued their hot form for the Two Blues. Despite the loss, Prahran remain in fourth spot on the ladder.
Whitefriars secured their spot inside the top four when they defeated Oakleigh by 13 points at Scammel Reserve. In another low-scoring affair, the Friars kicked themselves to victory in the second term when they piled on five unanswered goals. Alex Marcello led the way in front of goal with three majors, while James Connellan and James Harkins did the bulk of the damage around the ground. Aaron Cloke booted three goals for the Krushers.
The undefeated run continued for Old Camberwell as they held off PEGS to the tune of 18 points at Gordon Barnard Reserve. Just one point separated the sides at half-time before the ladder leaders kicked away with seven goals to four in the second half. Riley Verbi is unstoppable in front of goal and kicked anther six to take his season tally to 21, while James Allen was BOG. Thomas Saggio and Riley Simmons kicked three each for the Bombers.
After falling to Oakleigh last week, Kew returned to their winning ways with a comfortable 56-point win over Old Peninsula at Harry McDonald Oval. The Bears led by 10 points at quarter time and built on their lead over Q2 and Q3 before the Pirates fought back and outscored Kew in the final term. Ned Waters (6) and Richard Wilton (4) caused havoc in goals for Kew, while Joshua Goudge was best for the Pirates for the second week in a row.