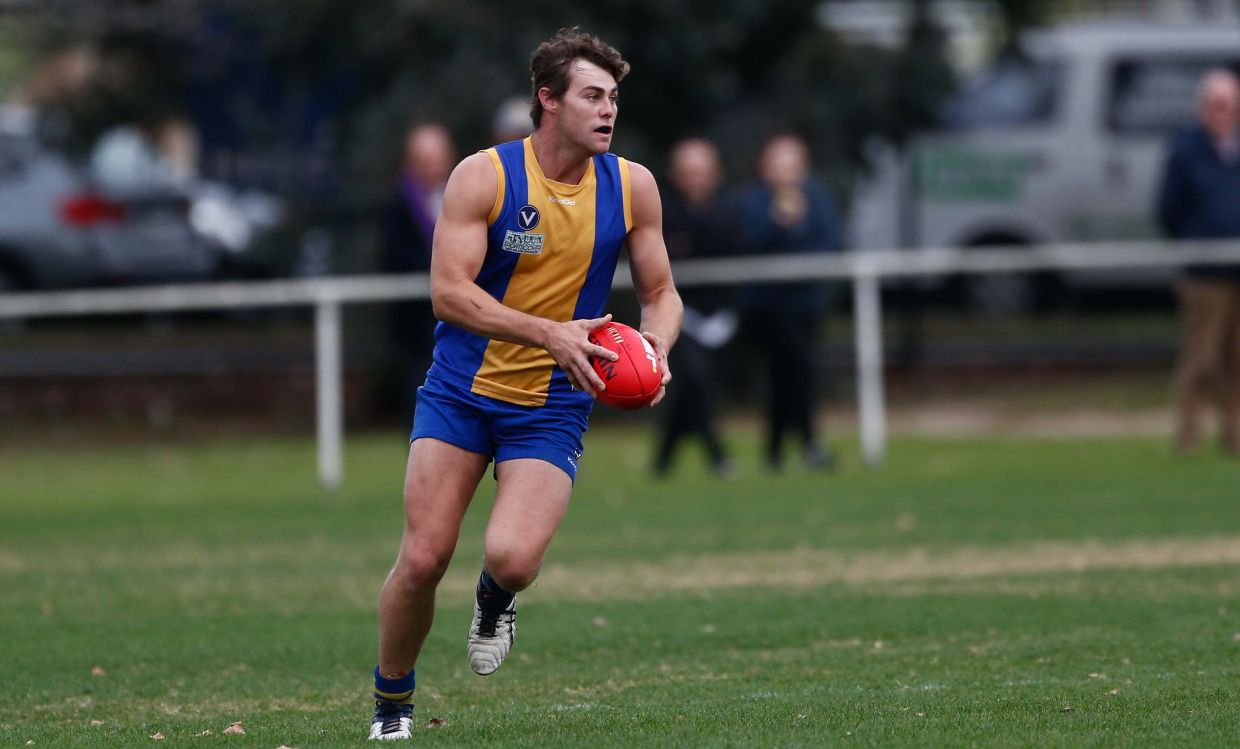 Nick Armistead – @NickArmistead
FB
Sam Critchley (SKOB)
Tom Humphrey (DLS) – C
Connor Lappin (Blues)
CHB
Courtney Hylton (Coll)
Josh Freezer (OM)
Jason Tutt (DLS)
C
Tom Jok (SKOB)
Ross Young (Blues)
Hugh Curnow (Blacks)
CHF
Kieran Harper (Blues)
Mitch Brown (SKOB)
Lachlan Sullivan (SKOB)
FF
Lochie Dornauf (Blacks)
Tim Geappen (Blues)
Stephen Milne (Beau)
RUCK
Nick De Steiger (OM)
Gerard Gleeson (SKOB)
Tom Paule (OM) – VC
I/C
Sam Hibbins (Coll)
Jaryd Robertson (SBMT)
Brendan Iezzi (OT)
Denis Symeopoulos (OX)
Bede Mahon (Blacks)
Jeremy Taylor (Blues)
Coach
James Walker (Blues)
One of the most exciting and high-class seasons in recent memory, the William Buck Premier Team of the Year has been an ongoing and difficult challenge.
St Kevin's (13) and Collegians (5) occupied top spot on the ladder through the entire home and away fixture, while University Blues ended their season in second. As such, 13 of the 25 representatives come from those three teams; including James Walker (Blues) as Coach of the Year.
All 10 clubs are represented with Blues (6), SKOB (5), OM's (3) and Blacks (3) boasting the highest number of selections. The forward line is made up of four of the top six goal kickers, with Matt Handley (OX) and Jay Schulz (SKOB) unlucky to miss as Tim Geappen claimed the key position role with goals in all but one game and at least four on seven occasions. Lachie Ferguson (Coll) would have been a shoe-in had he not missed six games through injury.
12 of the 25 played in the record-breaking Big V senior side earlier this year, while Lachie Sullivan has been shortlisted for the Men's Rising Star Award on the back of 22 goals and 12 times in the best as a starting midfielder for the top-ranked side in the VAFA.
Only five players were named in the same side last year, with Tom Humphrey, Tom Paule, Bede Mahon, Lochie Dornauf and Nick De Steiger earning selection again. Humphrey is the only player to be named three years in a row.
Any one of Walker, Shane Joyce (Collegians) or Shannon Grant (SKOB) could have been selected as the number one coach, with Walker winning over based on the noticeable improvement of the Blues from Round 1 to 18. The Blues were a different team in Round 1 as they were becoming accustomed to Walker's game style and they were comprehensively beaten by St Kevin's at TH King Oval. Fast-forward to the second half of the year and the Blues were the most successful club, winning nine of the last 10. Their only blip during that run was a Round 14 tie against the Lions.
The internal improvement of George Cameron, Ryan Eade, Connor Lappin, Riley McMahon and Richard Langham has been a key factor to the Blues' impressive season alongside a fit and firing Kieran Harper and Tim Geappen.
De La Salle's Tom Humphrey has been selected as captain for the first time with his ability to exude leadership and control the game from the defensive 50 second-to-none. He is a General down back and can swing forward and kick goals while providing more moments of inspiration than any other player. If building a VAFA team from scratch, he's first picked.
Other key selections:
Nick De Steiger (RUCK): De Steiger played 13 games for OM's interspersed with Footscray's VFL side and was named in the best nine times. Athletic and with assured hands above his head, De Steiger was a key cog of the Redlegs' eight wins and the dominant ruck alongside Anthony Lynch at both club and representative level.
Courtney Hylton (HBF): Hylton has the innate ability to play a multitude of positions but I've settled for a back flank due to his ability to shut key forwards/mids out of the game when required. He has been named in the Lions' best 13 times from 19 games and is key to the Lions' success.
Mitch Brown (CHF): The VAFA is void of genuine centre half forwards due to the style of football played and the size of most grounds. As such, Mitch Brown has been selected as the ultimate utility, having lined up in every third of the ground throughout the season. Due to his elite mobility for a player his size, Brown is the perfect candidate for the CHF position after kicking 16 goals while playing largely up the ground.
Interchange: The extended bench has five onballers, one key position utility and a whole heap of versatility. Robertson is the sole big man after having starred for the Tigers in a difficult season where he was named in the best seven times. Symeopoulos took his game to a new level in 2017, using his elite acceleration and ball-winning ability to lead the Xavs in what was ultimately a disappointing season for the reining premiers. Iezzi (12 TIB) and Mahon (10 TIB) fought valiantly in losing sides but their in-tight ball-winning ability and clearance work this year should not be underestimated.