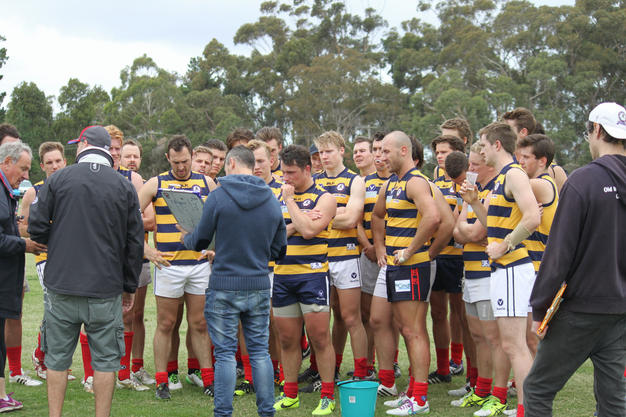 You are kidding yourself if you think there's an easy week in William Buck Premier, according to Old Melburnians senior coach Nathan Brown.
'Browny' joined Joe Pignataro, Nick Armistead & Brian Waldron on the For the Love of the Game podcast yesterday and was thoroughly impressed with the standard of the opening two weeks of the 2019 William Buck Premier season.
"I just think the comps gone up again, it's a pretty stunning competition," he said.
"There's absolutely no easy week and you're kidding yourself if you think is."
A raft of high-profile recruits joined the VAFA competition during the off-season; including, Jarrad Waite (North Melbourne to St Kevin's OB), Brendon Goddard (Essendon to Caulfield Grammarians), Rohan Bewick (Brisbane to Old Xaverians), Billy Hartung (North Melbourne to SBMT), Josh Green (Essendon to Uni Blues) & Jackson Paine (Brisbane to Old Melburnians) among others.
They join the likes of Mitch Brown (SKOB), Ayce Cordy (Uni Blues), Taylor Hunt (Collegians), Viv Michie (Collegians); all of whom were part of the William Buck Premier competition in 2018.
Browny pointed to the two sides that have come into William Buck Premier in 2019 – Old Carey and St Bernard's – who he believes have helped lift the standard yet again.
"We were fortunate enough to play Carey in a practice match and it was tight all day, all game, they were excellent. Some of their young players were outstanding," he said.
"St Bernard's, they keep winning. They've come up and they're a juggernaut. Bomber Riley, he's a beauty and he's got them absolutely humming."
Going into the Easter weekend, Old Melburnians are full of confidence after a 30-point win over Collegians at Wesley College in Round 2 and they will host Uni Blues at Elsternwick Park next weekend.
"They're full of talent as well," Brown said of the Blues.
"I've certainly looked at them, they have got some real talent. Cam O'Shea star, Tom Young star, Quinny, the Harper brothers, isn't Ayce just a jet? The list goes on for them, they are high-end talent those boys."
To listen to the latest For the Love of the Game podcast and Browny's full interview – https://player.whooshkaa.com/episode?id=360933
To watch the latest edition of the VAFA Tragics – https://www.youtube.com/watch?v=okotDqjUYDI&t=748s