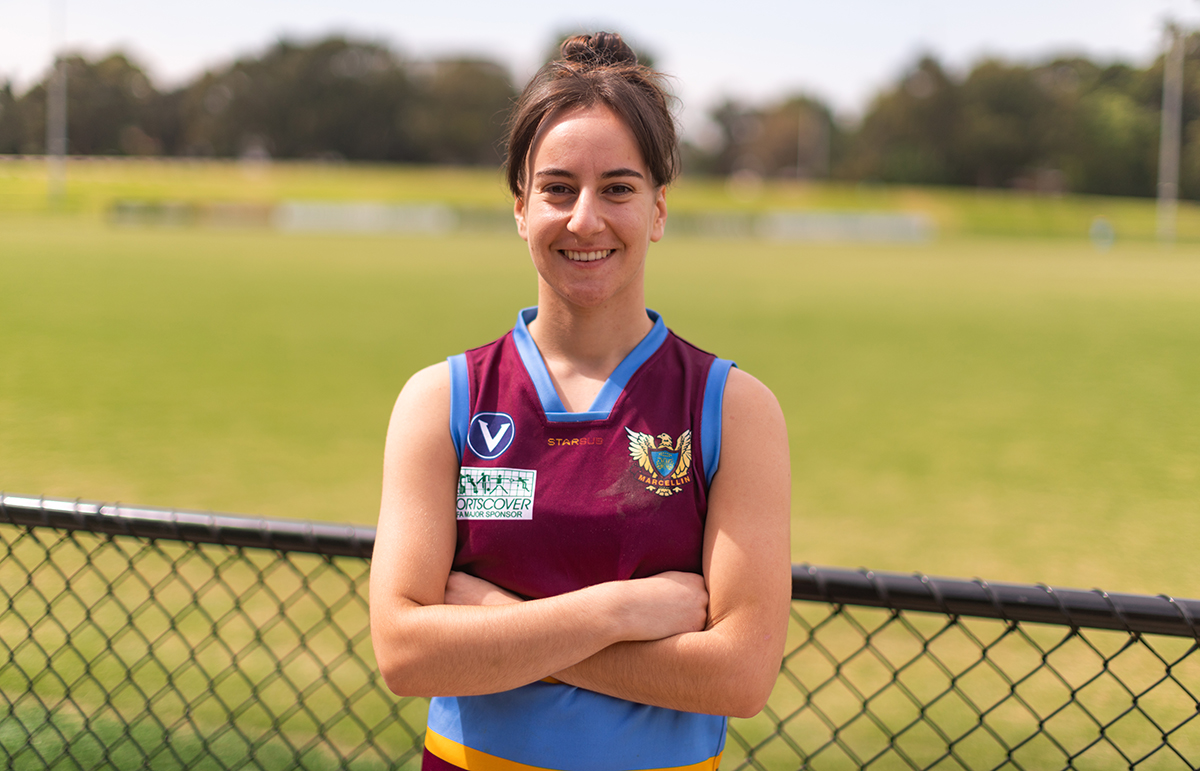 Lana Ryan
Caulfield Grammarians
2019 was a successful year for Caulfield Grammarians, taking home the premiership flag in Premier B with a 14-point victory over Old Xaverians. Now back in William Buck Premier, Caulfield are looking to continue their winning streak and will hit the ground running with new additions Beth Supple (Glen Eira), Vanessa Tyer (Old Geelong), Ash Rich, Shanae Carter and Paulina Tragarz. The loss of Alice Edmonds will be noticed but the Fields will be a strong contender.
Kew FC
Finishing up 6th on the ladder last season, Kew have their sights set on finals come 2021. With a considerable turnover this year, including new addition Lucy Brusamarella from Eastern Football Netball League, the squad is sitting strong. Ball-magnet Michaela Harding will be returning to the field, and no doubt superstar Lily Barr will also add some serious value if her incredible VAFA Media Day showcase is anything to go by. Be sure to keep an eye on Kew in 2021.
Marcellin OC
Losing the semi-final by a painful 5 points to eventual runners-up West Brunswick, Marcellin are ready to make some noise this season. They have a huge advantage with 2019 rising star nominee and Division 2 lead goal kicker Cecilia Baldassarre joining the side from Old Ivanhoe. No doubt the score boards will be lighting up with Shaylee Taylor, lead scorer in William Buck Premier for two consecutive seasons, staying on to shine in the forward line. This stellar pair will undoubtedly make Marcellin one to watch in 2021.
Old Trinity
Missing out on grand final appearance with a nine-point loss to West Brunswick in the prelim, Old Trinity will be looking to show their strength come Round 1. Two key VFL signings will cause some headaches, with Collingwood VFL gaining ruck and reining William Buck Premier best & fairest Imogen Barnett and Big V captain Vanessa Murphy also listed at VFL level. The arrival of fresh talent Sarah Poulton to the squad should offer the T's assistance as they look to build on their minor premiership and take the next step this year.
Old Xaverians
Falling short by 14 points in the Premier B Grand Final, Old Xaverians have made their way back to William Buck Premier. Two big additions from AFLW will change things up this season, with former North Melbourne Head Coach Scott Gowans now on board as well as former Carlton and Brisbane AFLW star Bella Ayr hitting the field. Despite losing Riley Christgoergl to Aquinas, new additions in Kate Salemme, Zoe Purcell and Ella Kennedy (Old Scotch) are sure to bolster the list.
SKOB Saints
2019 was a very successful year for SKOB Saints, taking home the coveted William Buck Premier flag. With plenty of youngsters coming through the club, there's a lot of fresh talent around the more experienced heads. The loss of Big V ruck Ali Hynes to St Kilda VFLW will be felt by the squad, but the retention of star forwards Sarah Cameron (co-captain) and Margaret Gleeson (vice-captain) will help them in their quest for back-to-back silverware.
St Mary's Salesian
St Mary's Salesian just narrowly missed out on finals last season after coming up from Premier B and are hopeful to take it all the way this time around. Exciting new additions at Ferndale Park include Adelaide product Nicola Burns and Abbey Goullet, with Big V forward Stephanie Lawrence looking to crack into the William Buck Premier high scorers' list for a second year running while playing for Carlton VFL. Looking to improve upon their seven wins in 2019, St Mary's could be a real contender this season.
West Brunswick
It's all happening at West Brunswick with an exciting influx of fresh talent. Attracting the likes of Lily Kerr, Grace Farrant (St Bernard's), Georgia Cornell, Olivia Woods as well as Alice Long and Sarah Robinson from Old Geelong. Hungry to take home the title after falling 9 points short in the 2019 premiership, despite the departure in Jessica Roberts, West Brunswick are primed to make a move this season.