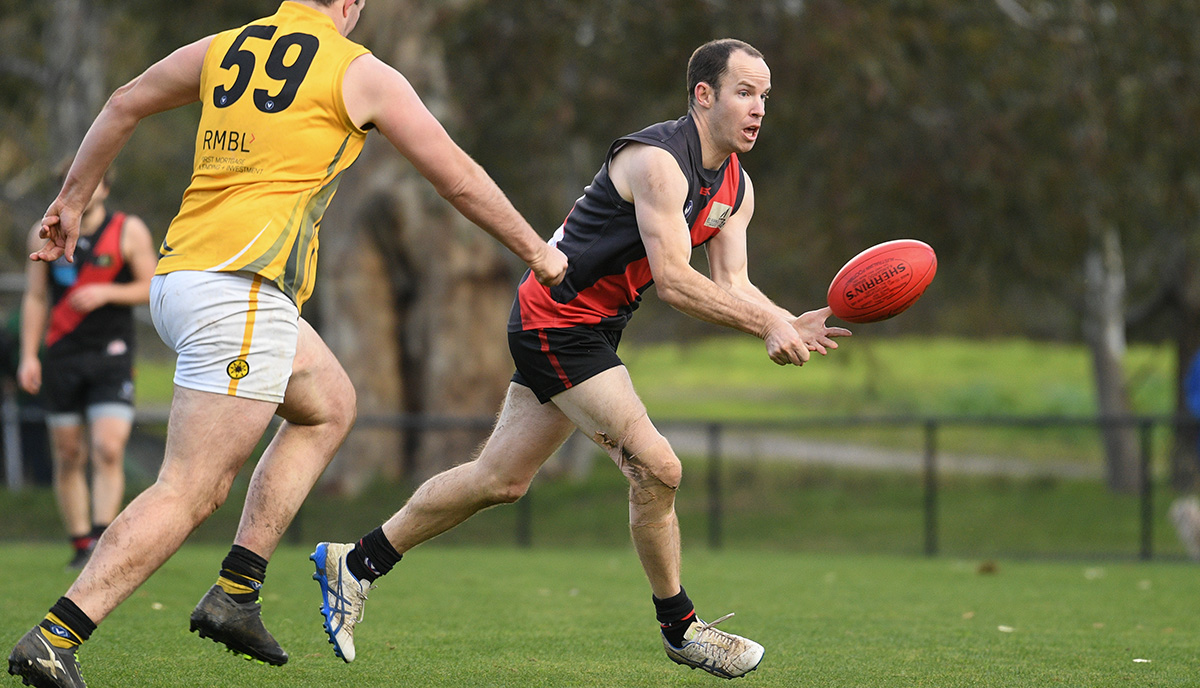 Connor Hoetzel
Elsternwick have kept touch with the top two with a comfortable 34-point triumph over Masala Dandenong in Round 12. After a shaky first quarter on their new deck at Elsternwick Park, where the Wicks kicked 1.8, the Bombers steadied the ship to lead at half time by 13 points. A strong third quarter saw the lead extend out to 34 points, before the last quarter was split evenly, seeing the final margin stay the same. Elsternwick were led by three goals to Justin Hunter, and a further two to Julian Yeatman, while Max Reid was also influential, being named their best on ground. Up next, Elsternwick travel to La Trobe, where they can all but assure their place in finals, and make the job for the Trobers that much harder. Masala Dandenong will take on South Melbourne at home.
South Melbourne Districts took down South Mornington in comprehensive fashion, registering a 70-point win. Starting out strong, the Swans booted eight goals in the first quarter and went stronger from then on, finishing the game with a solid display of 18 goals. Ciaran Clancy was the dominant force up front for South Melbourne, slotting six individual goals, to be named the second best Swan. Jason Clifford (3) was also outstanding, and named best on ground as a result. South Mornington's Matthew Wells kicked three goals, and Jason Bland put up a fight for the Tigers, being named their best. Next week, South Mornington host Albert Park, while South Melbourne change their Tiger foes, hitting the road against Masala.
Albert Park rolled home with an 81-point win over finals hopefuls La Trobe University. After being locked up at half time, the Falcons helped themselves to a 19 point win at three quarter time, before exploding in the final quarter, kicking 10.3 to LaTrobe's 0.1. Seven goals from Thomas Wilson proved dominant, while the supporting cast of Ben Plozza (3) and Alistair Lupo (3) provided a further six goals. Adrian Snowden was named the Falcons best player. Six individual goal scorers contributed to the Trobers final scoreline, with Thomas Mooney being named best closely followed by teammate Joel McCarten. Up next, Albert Park travel down the Peninsula to take on South Mornington, while La Trobe face off against Elsternwick in a game to keep their season alive.
St Francis Xavier took on Box Hill North in a first versus last match up in Round 12. The X-Men led for the entire match, keeping Box Hill North goalless in the first half, before a third quarter resurgence from the Box Hill side saw them get within 24 points. Despite this, St Francis re-took control in the final quarter, again keeping the Devils scoreless in the final quarter while scoring five goals themselves, to run out winners with a 61-point margin. Harrison Coe booted six goals, to keep his impressive season rolling along, while Stefan Cosas was named the best for the X-Men. Jake Lacriarde was named Box Hill North' BOG. Next week, St Francis Xavier take on Eley Park away, while Box Hill North rest up with a bye.
Preview
South Mornington host flag fancies Albert Park in Round 13. For the Falcons, they sit in second spot on the ladder, and should they keep winning, their electrifying percentage should keep them heading towards the lucrative top two finish. South Mornington has had a season to forget, but a big scalp here will do wonders for the respect they are searching for.
Masala Dandenong take on South Melbourne, with both teams all but out of the finals race considering they sit four and three wins out of fourth spot, respectively. This game should be hotly contested as both teams are desperate for more wins on the board. The Swans are coming off a thumping win, and will look to keep the ball rolling this week.
La Trobe University host Elsternwick in a game that has massive implications on the shape of this seasons finals fixtures. Should the Trobers win, they will sit one win out of fourth, but if they lose, could fall to three wins away, making finals all that more difficult to reach. Elsternwick will face a big task in taming the beast that the Uni side can be.
In the final contest, Eley Park host the red hot St Francis Xavier. Eley Park, coming off a bye, and two weeks off due to representative football week, will be hungry, and a win will see them locked into the top four. The X-Men have so far beaten all comers, excluding an early season mishap, and look to build their strength and dominance as the favourites to take out the Division 4 silverware.