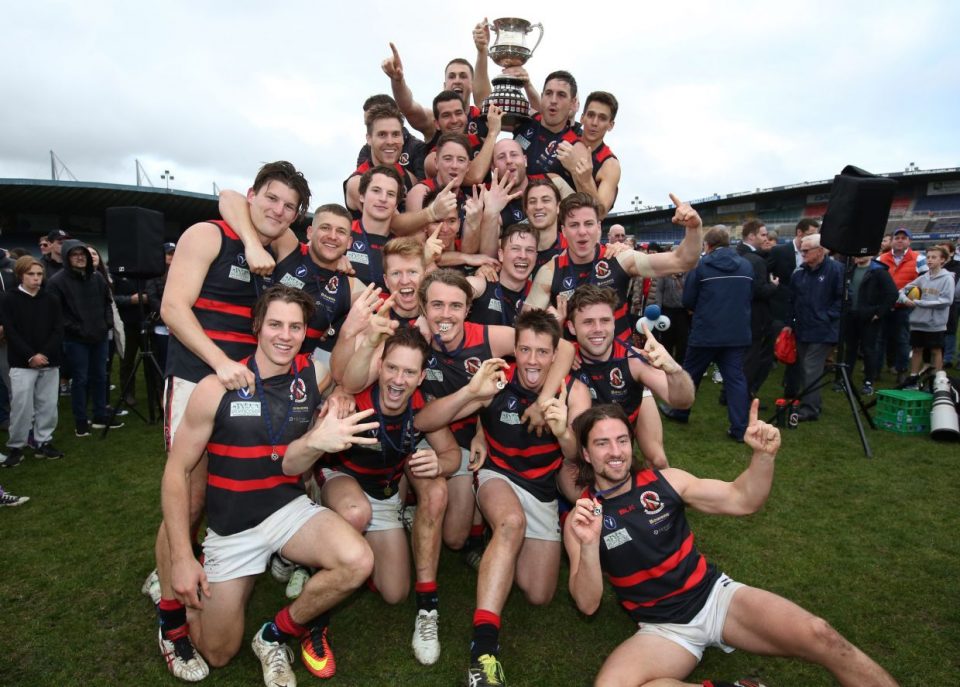 Old Xaverians were crowned 2016 William Buck Premier champions after they held off Old Trinity in a seven-point thriller at Ikon Park.
Led by Jock Nelson medallist, Caydn Beetham, and Nick Wynne, Xavs held strong in the clutches of the fourth term as they repelled a number of the T's inside 50 thrusts.
The T's were unable to capitalise on their chances in front of goal, but Callum Pohl, Fergus Stewart and Luke Pacconi were sensational in defence. They held their opponents for the majority of the match until leading goal kickers, Matt Handley and Brendan Goss, kicked two sealers in the last quarter.
The T's held a four-point lead at the first break before Xavs made a point of hitting the contest first and controlling possession in a three-goal to one second term. For all of their dominance in that time, Xavs didn't have the ascendancy on the scoreboard, leaving it open for the T's and their well-known short bursts of scoring.
The T's stuck with Xavs throughout the third and reclaimed the lead via Ed Weatherson's second major early in the fourth. However, Goss and Handley quickly eliminated the deficit with two quick goals and Xavs never looked back as they blew the margin out to 15 points.
Louis Denton was hard at the contest all game, winning crucial contested ball in the dying stages of the match and feeding it out to his runners. After just two games in the seniors throughout the season, Lachlan Keith kicked two important majors for Xavs as he proved to be a real x-factor.
Brendan Iezzi led the T's valiantly as he battled the physical presence of the Xavs and continued to send the ball inside 50. Luther Juric, Jack Hunt and Gabe Hamilton were each named in the T's best for their performances across four quarters.
The win is Xavs' 20th A-Grade/William Buck Premier flag in their storied history, while the T's will look for their first when they return in 2017.