The talent of our clubs was on show yesterday at the inaugural VAFA Media Awards Luncheon at Elsternwick Park.
Eight awards were handed out with St Bernard's Media Manager, Joe Pignataro, claiming the double for Best Use of Digital Media (Series) for the St Bernard's Footycast, and the Winning Edge VAFA Media Personality of the Year. Joe voluntarily hosted, produced, recorded and edited the VAFA Podcast for 25 episodes throughout the season alongside co-hosts Nick Armistead and Brian Waldron. Such was the professional product Joe pieced together, it was nominated for an AFL Victoria Media ward last week for Best Radio Program.
The talented media team at Fitzroy claimed two awards for the second year in a row. Newly-elected vice-president Kate Nolan won the Best Online News Story for 'Rory hands over the captaincy' while stand-in club photographer Peter Casamento claimed the Best Photograph (Action) Award for 'The Gatorade Flows'.
Former scribe and Williamstown CYMS stalwart Darren 'Smokie' Dawson won the Best Online Feature Story category with his piece on the survival of the CYs when they joined the VAFA 35 years ago.
In two hotly-contested categories, Hawthorn AFC won the Best Use of Digital Media (Feature) for their WINGS Mental Health Video, while Parkdale Vulture were named the Best Use of Social Media with Roaming Moloney and their Instagram articles.
St Kevin's OB Simon Olsen took out the coveted Best Photograph (Character of the Game Award) for his photo of Old Trinity champion Brendan Iezzi being clapped off the field from fellow VAFA star Anthony Lynch after his final game for the T's.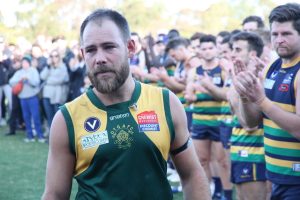 The 2018 VAFA Scribes were each recognised individually for their outstanding service to the Association throughout the year, writing weekly match reports for their individual sections both in the Amateur Footballer record and online.
List of winners
Best Online News Story – 'Rory hands over the captaincy' (Kate Nolan)
Best Online Feature Story – 'Into the Ammos' (Darren Dawson)
Best Use of Digital Media (Feature) – WINGS Mental Health Video (Hawthorn AFC)
Best Use of Digital Media (Series) – St Bernard's Footycast
Best Use of Social Media – Parkdale Vultures
Best Photograph (Action) – The Gatorade Flows (Peter Casamento)
Best Photograph (Character of the Game) – Respect (Simon Olsen)
Winning Edge VAFA Media Personality of the Year – Joe Pignataro