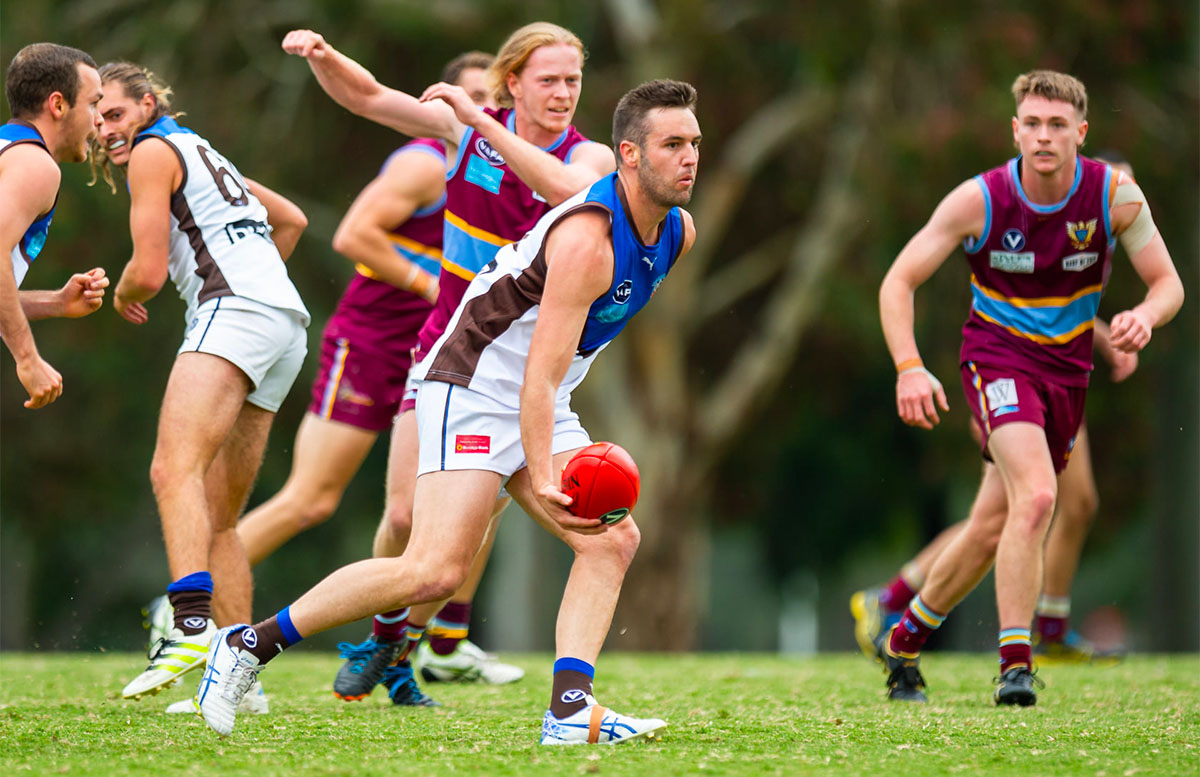 The VAFA Premier C Men's fixture has been announced for the 2022 season, in what will be an 11-team competition.
As previously communicated, the VAFA Board decided Premier C Men's will consist of 11 teams in 2022, with the addition of Parkdale Vultures from Premier B Men's. Following consultation with all clubs, the preferred model is a 22 round/20 match season.
While the season gets underway on the same date as other divisions, Saturday April 2, the 22 round season means the final round will be played on Saturday September 3. This year's minor premiers Monash Blues open their season at home against Old Geelong.
See the full fixture below.
Fixture is subject to change – refer to GameDay for most recent fixture and results.
| | | |
| --- | --- | --- |
| Round 1 | Venue | Time |
| Saturday, Apr 02 | | |
| Hampton Rovers vs. Marcellin | Boss James Reserve | 2:00pm |
| Mazenod vs. Ormond | Central Reserve North | 2:00pm |
| Monash Blues vs. Old Geelong | Freason Oval Monash University | 3:30pm |
| Old Mentonians vs. Old Ivanhoe | Keysborough Playing Fields | 2:00pm |
| Preston Bullants vs. UHS-VU | W.R Ruthven Reserve | 2:00pm |
| Parkdale Vultures | Bye | Bye |
| | | |
| Round 2 | Venue | Time |
| Saturday, Apr 09 | | |
| Marcellin vs. Old Mentonians | Marcellin College | 2:00pm |
| Mazenod vs. Old Geelong | Central Reserve North | 2:00pm |
| Old Ivanhoe vs. Hampton Rovers | Chelsworth Park | 2:00pm |
| Ormond vs. Parkdale Vultures | E.E Gunn Reserve | 2:00pm |
| UHS-VU vs. Monash Blues | Brens Oval (TBC) | 2:00pm |
| Preston Bullants | Bye | Bye |
| | | |
| Round 3 | Venue | Time |
| Saturday, Apr 23 | | |
| Hampton Rovers vs. UHS-VU | Boss James Reserve | 2:00pm |
| Marcellin vs. Mazenod | Marcellin College | 2:00pm |
| Old Mentonians vs. Ormond | Keysborough Playing Fields | 2:00pm |
| Parkdale Vultures vs. Old Ivanhoe | Gerry Green Reserve | 2:00pm |
| Preston Bullants vs. Monash Blues | W.R Ruthven Reserve | 2:00pm |
| Old Geelong | Bye | Bye |
| | | |
| Round 4 | Venue | Time |
| Saturday, Apr 30 | | |
| Mazenod vs. Preston Bullants | Central Reserve North | 2:00pm |
| Monash Blues vs. Hampton Rovers | Freason Oval Monash University | 2:00pm |
| Old Ivanhoe vs. Old Geelong | Chelsworth Park | 2:00pm |
| Ormond vs. Marcellin | E.E Gunn Reserve | 2:00pm |
| Parkdale Vultures vs. Old Mentonians | Gerry Green Reserve | 2:00pm |
| UHS-VU | Bye | Bye |
| | | |
| Round 5 | Venue | Time |
| Saturday, May 07 | | |
| Hampton Rovers vs. Preston Bullants | Boss James Reserve | 2:00pm |
| Monash Blues vs. Parkdale Vultures | Freason Oval Monash University | 2:00pm |
| Old Geelong vs. Marcellin | Como Park | 2:00pm |
| Old Ivanhoe vs. Ormond | Chelsworth Park | 2:00pm |
| UHS-VU vs. Mazenod | Brens Oval (TBC) | 2:00pm |
| Old Mentonians | Bye | Bye |
| | | |
| Round 6 | Venue | Time |
| Saturday, May 14 | | |
| Hampton Rovers vs. Old Mentonians | Boss James Reserve | 2:00pm |
| Old Geelong vs. Preston Bullants | Como Park | 2:00pm |
| Old Ivanhoe vs. Monash Blues | Chelsworth Park | 2:00pm |
| Parkdale Vultures vs. Mazenod | Gerry Green Reserve | 2:00pm |
| Marcellin vs. UHS-VU (Sunday 15th May) | Marcellin College | 2:00pm |
| Ormond | Bye | Bye |
| | | |
| Round 7 | Venue | Time |
| Saturday, May 21 | | |
| Mazenod vs. Hampton Rovers | Central Reserve North | 2:00pm |
| Old Geelong vs. Ormond | Como Park | 2:00pm |
| Old Mentonians vs. Monash Blues | Keysborough Playing Fields | 2:00pm |
| Preston Bullants vs. Marcellin | W.R Ruthven Reserve | 2:00pm |
| UHS-VU vs. Parkdale Vultures | Brens Oval (TBC) | 2:00pm |
| Old Ivanhoe | Bye | Bye |
| | | |
| Round 8 | Venue | Time |
| Saturday, May 28 | | |
| Monash Blues vs. Mazenod | Freason Oval Monash University | 2:00pm |
| Old Ivanhoe vs. Preston Bullants | Chelsworth Park | 2:00pm |
| Old Mentonians vs. Old Geelong | Keysborough Playing Fields | 2:00pm |
| Ormond vs. UHS-VU | E.E Gunn Reserve | 2:00pm |
| Parkdale Vultures vs. Marcellin | Gerry Green Reserve | 2:00pm |
| Hampton Rovers | Bye | Bye |
| | | |
| Round 9 | Venue | Time |
| Saturday, Jun 04 | | |
| Mazenod vs. Old Ivanhoe | Central Reserve North | 2:00pm |
| Monash Blues vs. Ormond | Freason Oval Monash University | 2:00pm |
| Old Geelong vs. Hampton Rovers | Como Park | 2:00pm |
| Preston Bullants vs. Parkdale Vultures | W.R Ruthven Reserve | 2:00pm |
| UHS-VU vs. Old Mentonians | Brens Oval (TBC) | 2:00pm |
| Marcellin | Bye | Bye |
| | | |
| Round 10 | Venue | Time |
| Saturday, Jun 11 | | |
| Marcellin vs. Monash Blues | Marcellin College | 2:00pm |
| Old Ivanhoe vs. UHS-VU | Chelsworth Park | 2:00pm |
| Old Mentonians vs. Preston Bullants | Keysborough Playing Fields | 2:00pm |
| Ormond vs. Hampton Rovers | E.E Gunn Reserve | 2:00pm |
| Parkdale Vultures vs. Old Geelong | Gerry Green Reserve | 2:00pm |
| Mazenod | Bye | Bye |
| | | |
| Round 11 | Venue | Time |
| Saturday, Jun 18 | | |
| Hampton Rovers vs. Parkdale Vultures | Boss James Reserve | 2:00pm |
| Mazenod vs. Old Mentonians | Central Reserve North | 2:00pm |
| Preston Bullants vs. Ormond | W.R Ruthven Reserve | 2:00pm |
| UHS-VU vs. Old Geelong | Brens Oval (TBC) | 2:00pm |
| Marcellin vs. Old Ivanhoe (Sunday 19th June) | Marcellin College | 2:00pm |
| Monash Blues | Bye | Bye |
| | | |
| Round 12 | Venue | Time |
| Saturday, Jun 25 | | |
| Marcellin vs. Preston Bullants | Marcellin College | 2:00pm |
| Monash Blues vs. UHS-VU | Freason Oval Monash University | 2:00pm |
| Old Ivanhoe vs. Parkdale Vultures | Chelsworth Park | 2:00pm |
| Old Mentonians vs. Hampton Rovers | Keysborough Playing Fields | 2:00pm |
| Old Geelong | Bye | Bye |
| | | |
| Round 13 | Venue | Time |
| Saturday, Jul 02 | | |
| Hampton Rovers vs. Old Ivanhoe | Boss James Reserve | 2:00pm |
| Mazenod vs. Monash Blues | Central Reserve North | 2:00pm |
| Old Geelong vs. Old Mentonians | Como Park | 2:00pm |
| Parkdale Vultures vs. Ormond | Gerry Green Reserve | 2:00pm |
| UHS-VU vs. Marcellin | Brens Oval (TBC) | 2:00pm |
| Preston Bullants | Bye | Bye |
| | | |
| Round 14 | Venue | Time |
| Saturday, Jul 09 | | |
| Marcellin vs. Hampton Rovers | Marcellin College | 2:00pm |
| Monash Blues vs. Preston Bullants | Freason Oval Monash University | 2:00pm |
| Old Ivanhoe vs. Mazenod | Chelsworth Park | 2:00pm |
| Old Mentonians vs. UHS-VU | Keysborough Playing Fields | 2:00pm |
| Ormond vs. Old Geelong | E.E Gunn Reserve | 2:00pm |
| Parkdale Vultures | Bye | Bye |
| | | |
| Round 15 | Venue | Time |
| Saturday, Jul 16 | | |
| Hampton Rovers vs. Ormond | Boss James Reserve | 2:00pm |
| Mazenod vs. Marcellin | Central Reserve North | 2:00pm |
| Old Geelong vs. Old Ivanhoe | Como Park | 2:00pm |
| Parkdale Vultures vs. Monash Blues | Gerry Green Reserve | 2:00pm |
| Preston Bullants vs. Old Mentonians | W.R Ruthven Reserve | 2:00pm |
| UHS-VU | Bye | Bye |
| | | |
| Round 16 | Venue | Time |
| Saturday, Jul 23 | | |
| Monash Blues vs. Marcellin | Freason Oval Monash University | 2:00pm |
| Old Geelong vs. Parkdale Vultures | Como Park | 2:00pm |
| Old Mentonians vs. Mazenod | Keysborough Playing Fields | 2:00pm |
| Ormond vs. Old Ivanhoe | E.E Gunn Reserve | 2:00pm |
| UHS-VU vs. Preston Bullants | Brens Oval (TBC) | 2:00pm |
| Hampton Rovers | Bye | Bye |
| | | |
| Round 17 | Venue | Time |
| Saturday, Jul 30 | | |
| Old Geelong vs. Monash Blues | Como Park | 2:00pm |
| Old Ivanhoe vs. Marcellin | Chelsworth Park | 2:00pm |
| Ormond vs. Old Mentonians | E.E Gunn Reserve | 2:00pm |
| Parkdale Vultures vs. UHS-VU | Gerry Green Reserve | 2:00pm |
| Preston Bullants vs. Hampton Rovers | W.R Ruthven Reserve | 2:00pm |
| Mazenod | Bye | Bye |
| | | |
| Round 18 | Venue | Time |
| Saturday, Aug 06 | | |
| Hampton Rovers vs. Mazenod | Boss James Reserve | 2:00pm |
| Marcellin vs. Parkdale Vultures | Marcellin College | 2:00pm |
| Monash Blues vs. Old Mentonians | Freason Oval Monash University | 2:00pm |
| Preston Bullants vs. Old Geelong | W.R Ruthven Reserve | 2:00pm |
| UHS-VU vs. Old Ivanhoe | Brens Oval (TBC) | 2:00pm |
| Ormond | Bye | Bye |
| | | |
| Round 19 | Venue | Time |
| Saturday, Aug 13 | | |
| Hampton Rovers vs. Monash Blues | Boss James Reserve | 2:00pm |
| Mazenod vs. Parkdale Vultures | Central Reserve North | 2:00pm |
| Old Geelong vs. UHS-VU | Como Park | 2:00pm |
| Old Mentonians vs. Marcellin | Keysborough Playing Fields | 2:00pm |
| Ormond vs. Preston Bullants | E.E Gunn Reserve | 2:00pm |
| Old Ivanhoe | Bye | Bye |
| | | |
| Round 20 | Venue | Time |
| Saturday, Aug 20 | | |
| Marcellin vs. Old Geelong | Marcellin College | 2:00pm |
| Monash Blues vs. Old Ivanhoe | Freason Oval Monash University | 2:00pm |
| Parkdale Vultures vs. Hampton Rovers | Gerry Green Reserve | 2:00pm |
| Preston Bullants vs. Mazenod | W.R Ruthven Reserve | 2:00pm |
| UHS-VU vs. Ormond | Brens Oval (TBC) | 2:00pm |
| Old Mentonians | Bye | Bye |
| | | |
| Round 21 | Venue | Time |
| Saturday, Aug 27 | | |
| Old Geelong vs. Mazenod | Como Park | 2:00pm |
| Old Ivanhoe vs. Old Mentonians | Chelsworth Park | 2:00pm |
| Ormond vs. Monash Blues | E.E Gunn Reserve | 2:00pm |
| Parkdale Vultures vs. Preston Bullants | Gerry Green Reserve | 2:00pm |
| UHS-VU vs. Hampton Rovers | Brens Oval (TBC) | 2:00pm |
| Marcellin | Bye | Bye |
| | | |
| Round 22 | Venue | Time |
| Saturday, Sep 03 | | |
| Hampton Rovers vs. Old Geelong | Boss James Reserve | 2:00pm |
| Marcellin vs. Ormond | Marcellin College | 2:00pm |
| Mazenod vs. UHS-VU | Central Reserve North | 2:00pm |
| Old Mentonians vs. Parkdale Vultures | Keysborough Playing Fields | 2:00pm |
| Preston Bullants vs. Old Ivanhoe | W.R Ruthven Reserve | 2:00pm |
| Monash Blues | Bye | Bye |