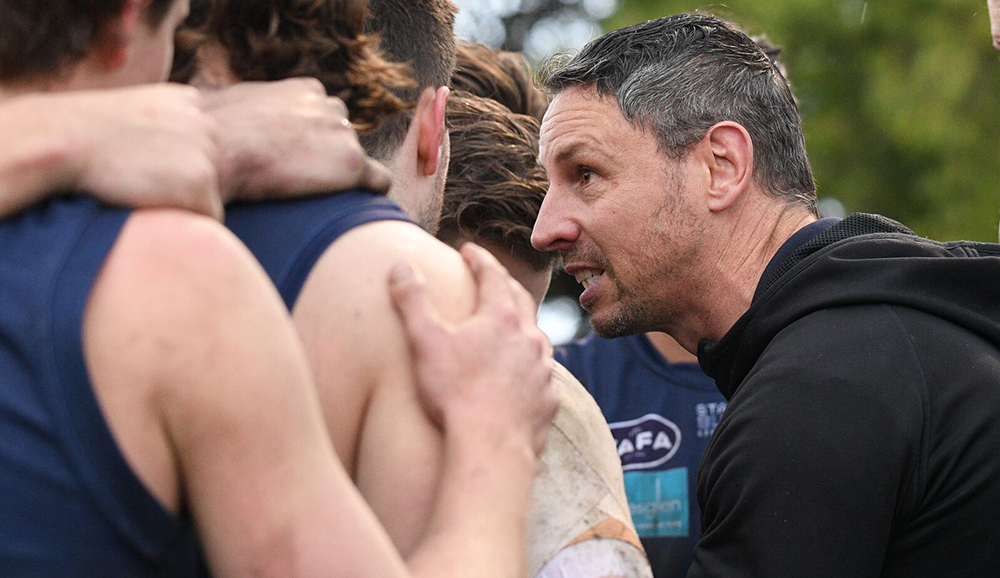 Nathan Brown announced he will be stepping down as Old Melburnians Senior Coach following their Round 18 match today against University Blues. The longest serving current Senior Coach, having been in the role for eight years, Brown did an exclusive on the pre-game show ahead of today's Match of the Day broadcast with RSN Carnival.
Having spent time at the elite level, and with no prior connection to the VAFA, Brown made his way to OM's following a chance encounter.
"I was working at the Rialto at the time, looking after their big cleaning contract, and I came across some of the OM's boys and they were looking for a coach, and it just married up."
Though senior premierships have eluded Brown during his tenor, he did steer the club to a remarkable 2015 Premier B Grand Final against St Kevin's OB, which in turn saw them promoted to William Buck Premier where they have remained ever since.
Brown expressed his confidence in the state of affairs at Old Melburnians, particularly his confidence in the current playing list which had been cultivated over the last five years.
"There's a really nice little list, probably our best list we've ever put together and that took time as well. That's lots of follow up and catch up with these young boys that have arrived from five years ago, it doesn't just happen overnight. Majority of them are OM's boys."
Though finals are the hallmark of many coaching success stories, Brown's achievements at the club on and off the field are a credit to his dedication, and directed the decision to step down at the end of the season.
"Regardless of if we would've got in the finals, I would've loved nothing more then to guide these young boys to an A Grade final, and I still would've left."
An emotional Brown, who addressed the club directly on Friday afternoon, has a great regard for the family culture at OM's and could not speak more highly of all the people involved. He also reflected on his own journey since being part of the OM's community, including his own kid's growth, and despite leaving with a heavy heart, he summarised his influence and decision perfectly:
"You go to a place, and a mark of good people is to walk out the door and leave it a better place, and that's what I'm doing."
The VAFA congratulates Nathan on his remarkable coaching career at Old Melburnians, and wish him all the very best in his future endeavours.