Lana Ryan
Many players have pre-game routines before running out onto the ground, and our VAFA women are no exception. Over the past few years we have seen some fun, fresh and unconventional rituals take place which have entertained and delighted coaches and spectators alike. Here are the top 7 pre-game moments we didn't expect to see but absolutely loved.
7. VAFA's got talent
The changerooms are always buzzing with a mixture of anticipation, nerves and excitement prior to the first bounce. What better way to get pumped for the upcoming game than to bust out the speakers and start an impromptu dance session. Williamstown CYMS could be seen partying it up ahead of their match with Old Mentonians, tearing up the d-floor to some banger tunes. Also, there may have been some lighting issues on the ground, but the Beaumaris girls more than made up for it by lighting up the Banksia Reserve changerooms against Hawthorn AFC last year with their own Shark Party. Make sure you follow the girls on Instagram where all the action happens.
6. Spread central
SKOB Saints took pre-game snacks to a whole new level before their Grand Final showdown in 2019. The standard orange slices and Allen's snake lollies were upstaged by a plethora of dishes including homemade muffins, gourmet bagels and delicious slices. This spread could gain the cravat-wearing Matt Preston's tick of approval.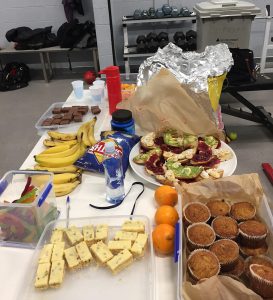 5. Cake Time
Old Trinity took a very different approach to pre-game nutrition during the 2017 Lightning Premiership weekend. A loud and enthusiastic rendition of 'happy birthday' could be heard by all of Elsternwick Park as the girls ran onto the field with cake and birthday candles to celebrate their teammate's special day. It was an unexpected entrance to say the least, with our VAFA women showing the love and making it an unforgettable birthday celebration #squadgoals
4. Braid Brigade
The hair braid has become an iconic staple in the women's competition. This pre-game custom is both practical in keeping those luscious locks from being a distraction, as well as symbolic in preparing for gameday and getting ready to do battle on the field. In 2017 an unusual event took place with the players from Old Geelong (pictured) crossing changerooms with St Mary's Salesians to braid each other's hair in a rare pre-game moment of comradery before the gloves were taken off and the competition began. Who knows, maybe we'll see players from the men's competition fixing each other's man buns.
3. The joke's on you
 Going up against Emily Conroy on the field is no laughing matter, the same cannot be said pre-game. Before the Round 3 match last year, the Monash Blues girls could be seen huddled around the centre circle to enjoy an impromptu Conroy comedy special. Stand-up may not be the usual pre-game entertainment, but it provided some LOLs and helped calm the pre-game jitters.
2. Who let the dogs out?
Adorable pooches dressed to the nines in club colours prove that footy fashion isn't just reserved for our players. The 'Panther Pups' of Old Carey could be seen sporting handmade scarves, with North Brunswick also getting the knitting needles out to make custom apparel for their furry followers. Brunswick Renegades got creative repurposing beanies into stylish jerseys to be modelled by their top supporters, hats off for creativity! We love to see these canine mascots supporting from the sidelines and getting the girls pumped up pre-game.
Fast and furious 50
The pre-game banner has been a treasured football tradition since the 1930s, with community football clubs usually saving them for players celebrating key milestones – who has time to make them every week? Our VAFA women never miss an opportunity to get creative pre-game and the banner run is no exception. Instead of the conventional jog, North Brunswick's Mish Booth lead her teammates out onto Allard Park while riding a motorised mobility scooter for her 50th game. And it was red which clearly made it go faster! An iconic and unforgettable way to celebrate her big day.