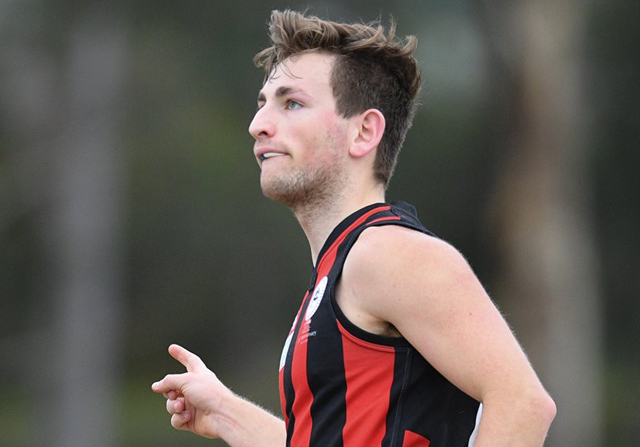 Connor Hoetzel
A comprehensive victory for Albert Park has seen them fly into the top two in Division 4. The Falcons took care of business as they travelled to take on Masala Dandenong, who after a hot start to the year have slumped to another loss, this time by a considerable 59 points. Joshua Beets was again impressive in front of goals, tallying five for the day, while James Brick was handy, kicking three and claiming the man of the match honours. The Tigers weren't without their own goal scoring prowess, as both Samuel Freeman and Benjamin Abraham kicked four goals. Brandon Kelly earned himself back to back BOG honours. Masala now look ahead to the daunting prospect of St Francis Xavier in Round 10, whom they have already toppled this season in a thrilling contest, the Tigers will take confidence from this and could give their season new life. Albert Park take on South Melbourne Districts in the Lakeside Derby, and are pushing towards a deep run if they can keep their form.
La Trobe University kept their season rolling on with a comfortable 37-point win at home against South Mornington. A six-goal haul from Bailey Zimmermann turned out to be the difference, with fellow Trober Thomas Mooney kicking two and being named best on. The Tigers were led by Josh Dale who was named best, and Jordan Waite kept his place as one of the go-to players up front after his bag of four. Next week, the Trobers are forced to rest with a bye and four automatic points, while South Mornington take on Elsternwick at home in search of their next win.
A scintillating 10 goal opening quarter for St Francis Xavier was enough to push the X-Men on to a 49-point triumph over Eley Park. Harrison Coe was electric up front, kicking a whopping seven goals, while Coe's right hand man, Stephen Richards-Gill, played his part well by booting four goals of his own. Lafranchi was the X-Men's best on ground, and from there it was enough for St Francis Xavier to secure their spot on top of the ladder. In a rarity for a football game, Blake Walter kicked 10 goals in a losing side, but was rewarded with the BOG honours for his efforts. Walter's 10 was assisted by four goals from William Whyte, as together they contributed 84 points of the Sharks' 100pt total. Next week, St Francis Xavier take on Masala in a replay of the early season contest that was impressive in every sense. If this game is half the game that one was, then we are all in for a thrilling ride. Eley Park will host Box Hill North next week and are looking to regain their status in the upper echelons of the division.
The final game of the round was Elsternwick hosting Box Hill North, in a thumping 100-point victory for the Wicks. Julian Yeatman booted seven goals, solidifying himself as one of the division's leading goal-scorers, and Justin Hunter chipped in a bag of six of his own to stamp the authority of Elsternwick as a threat with double trouble up front. Van Der Pluym was dominant for the Bombers, being named their best on ground. For Box Hill North, Damon Earp kicked two goals, and Sean Buncle was the best on ground. The next round sees Elsternwick travelling down south to the Mornington Peninsula to take on South Mornington, and Box Hill North take on Eley Park.
Preview
South Mornington host Elsternwick next week, and are looking to bounce back from what has been a disappointing season to date. Elsternwick are sitting in a deadlock between three other teams on 24 points, all tied between second and fifth place. The Wicks have to be making sure they pick up these wins to ensure they play deep into the finals.
Albert Park host South Melbourne Districts in a contest between two close neighbours. Albert Park sit in second, but a loss here could send them crashing out of the top four all together. On the flip side, South Melbourne are sitting a game off the logjam and will be keen to insert themselves into finals contention.
St Francis Xavier will be looking to cement their place as the competition benchmark, but a Masala side that had their number earlier in the season won't be beaten easily. Masala are now desperate to win, and what better way to do that then by taking down the ladder-leaders.
The final game of the round is between Eley Park, who have fallen from second to fifth in the past week, and Box Hill North, who have struggled all year. Box Hill will be in dire need of a win to give their season some life, and will be avidly trying to avoid a winless season. Eley Park should win this, but like Elsternwick, they need to make sure they win the ones they are expected if they are any chance of playing later on in the year.