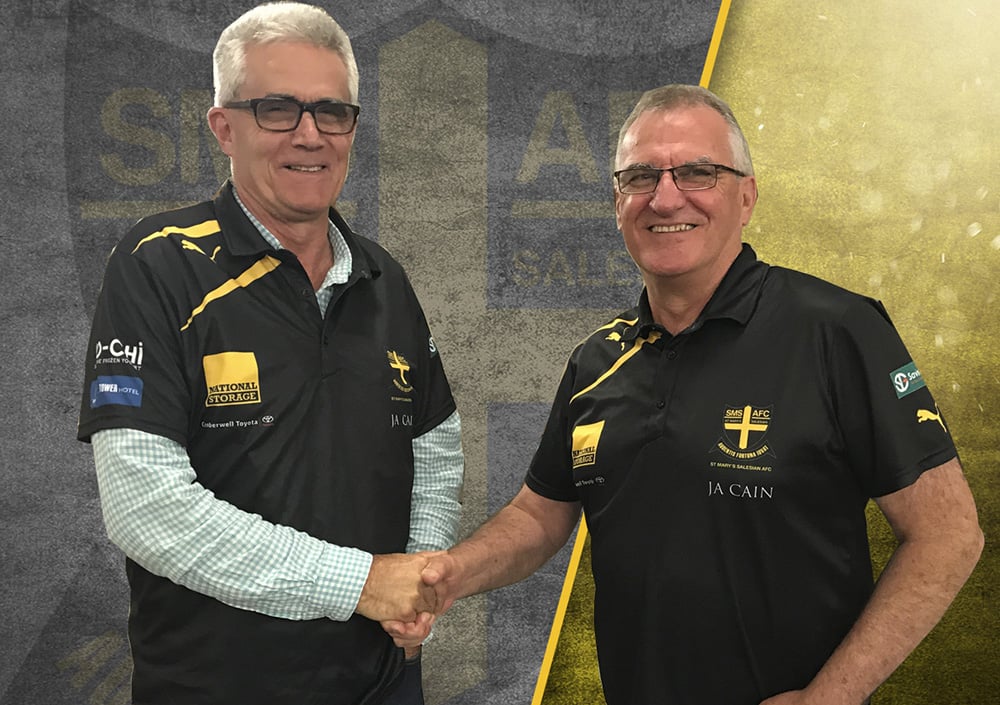 Originally posted by St Mary's Salesian
St Mary's Salesian AFC is delighted to announce that Greg Baum has been elected as our new club president, taking over from David Malcolm who has stepped aside after six years in the top job.
"Greg's profile, experience and passion for St Mary's Salesian is the perfect mix to take over from David," secretary Peter Leman said.
"This is a very exciting appointment for our club."
Greg is well known as the chief sports columnist and associate editor with The Age and is one of the country's finest sports writers. He has covered cricket in three continents, summer and winter Olympic Games, Commonwealth Games, World Cups of soccer and cricket, and more than 30 AFL grand finals.
He has been a regular match-day supporter at Ferndale Park since coming down to the club in 2011 to support son Nick, and has become a very popular and respected member of the Saints family.
"I am honoured and flattered to have been asked to take on the President's job",  Greg said at the club's Annual General Meeting.
"Our 2019 Committee is in place, pre-season starts on Monday, our coaching panel is appointed and there is exciting recruiting news – so there is lots to look forward to in 2019."
The news comes off the back of David Malcolm formally concluding his time as club President, a position he has held since 2012. Sporting organisations are the lifeblood of local communities, as they improve individual health, well-being, trust and social connectedness. Without the dedication of hardworking volunteers, clubs would not be able to function.
During his tenure as President he has overseen one under 19's premiership, two Reserves premierships, two Women's Seniors premierships and seen the club jump from the bottom of Division 2 to Premier C.
While many may know of David only as President, his contribution to the club has been enormous. Before playing, David held the role of boundary umpire for the Reserves in the mid-1960's. David commenced his playing career in the Under 15's before playing 152 Senior & Reserves games, playing a total of 185 games. In 1978 he became our 21st Club Life Member. David had 20-year hiatus from the club after the 1985 season to concentrate on raising his family. He returned in 2004 and re-joined the Committee. Between 2005 and 2009 he was the Chairman of Selectors and then between 2009 and 2011 the Football Manager.
When David accepted the role of President of the club in 2012, he continued a proud family tradition. His Grandfather, George Malcolm, was club president in the years 1936 to 1938 and again from 1946 to 1956. His father, Don Malcolm was club president in the years 1974 to 1977 and again from 1987 to 1988. His parents, Don and Joan are Life Members.
During his tenure, Dave achieved many significant advancements for the club. He was instrumental in negotiating and coordinating the merger with Salesian College Old Boys in 2008. The club grew from 2 to 3 teams and played in the Division 2 competition. He oversaw the recommencement of our Under 18's and Under 19's programme in 2009. He oversaw the establishment of our Women's football sides, which has seen the club be the biggest women's football club in the VAFA with three teams. The pavilion has been redeveloped twice, with the club raising $25,000 towards the first upgrade which David coordinated. He commissioned the development of our strategic plan, re-established our mission statement and club values. Our club is financially stable, with David leading the way in attracting and retaining sponsors and government grants. Our relationships with the council, state government, the local community, opposition clubs, and the VAFA administration is as strong as any time in our history.
Apart from the significant contribution David has made on and off the field, David is instrumental in setting and maintaining the club standards and values. He spends countless hours every week ensuring that the club runs smoothly, and coordinates everything from coaching selection, recruitment, sponsorship and government grants, through to the day to day operations of the football club.
More important than all these achievements is Dave's relationship to all the players. He has been a terrific leader, mentor and friend. He's helped a countless number of players find work, begin their careers, provide guidance and support. We'd also like to thank his wife, Sue, for all her hard work at the club. Sue has regularly helped during Thursday nights, club functions and events.
With a few more hours in the week, Dave will be spending more time with his children Kate (and partner Craig) and Andrew (and partner Mish) and his grandchildren Hudson, Harrison, Archer and Rennie.
David is looking forward to having some time to contribute to the development of our past player networks, and of course he will be a most welcome supporter on match days and at the famous Legends Table.
Playing Record
Seniors Premiership 1979
Reserves Captain 1979
Reserves Captain Coach 1980 – 1981
Coaching Record
Under 15's 
1977 – 1978
Reserves Coach 
1978 (Took over mid-year)
1980 – 1981 (Captain Coach)
Seniors Coach
1982 – 1985 (Runners Up in 1984)
Under 19's Coach
2013 Premiership