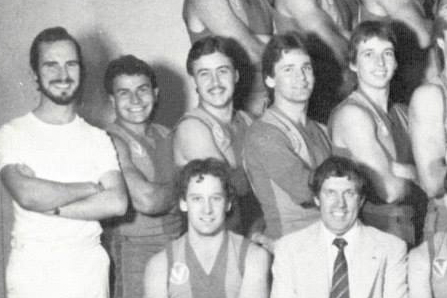 VAFA Life Member and Historian, John Bell, has seen a lot of VAFA footy but there's one performance that stands out above all others – in the U19's.
Bulleen Templestowe and De La Salle were facing off in Round 16 of the 1982 season and, with both vying for finals, the winner would likely secure third spot and the right to wear the club's home jumper in the first semi-final.
Given the similarity between the two blue and gold guernseys, the honour of wearing the club colours was lost of nobody and provided just as much inspiration as locking in a finals berth (almost).
What ensued was one of the best U19's games ever seen and the start of an incredible Bullants run.
Trailing by 15 points at quarter time, Bulleen surged back with four goals to one in the second quarter and led 6.9 (45) to 5.7 (37) at the main break. This was all but a taste of what was to come as both sides lit up the scoreboard in the second half with another 12 goals to 10 giving Bulleen a 23-point victory 18.18 (126) to 15.13 (103).
Tim 'Nipper' Merrett was the star of the show, with the son of Collingwood FC champion, Thorald, booting eight goals from 15 scoring shots for the Bullants.
This result proved to be the turning point for the Bullants who not only won the elimination final against De La – while wearing their home strip and thanks to another five goals from Merrett – but also edged past Ormond by six points in the preliminary before running over Old Scotch in the decider.
1st Semi-Final (Elimination) Results
| | | | | |
| --- | --- | --- | --- | --- |
| Bulleen-Temp | 3.10 | 11.12 | 14.20 | 16.24-120 |
| De La Salle | 2.1 | 5.2 | 8.5 | 16.7-103 |
BULLEEN-TEMPLESTOWE: Merrett 5, Palmer 3, Barry 2, Jackson 2, Kelleher 2, Chivera, Loth
BEST: Chivers, Delanty, J. Mason, Merrett, O'Mara, Palmer
DE LA SALLE: Waldron 5, Murphy 3, McLoughlin 2, Newton, Ladson, Watts, Knupel, Horrigan, Lagastes
BEST: Waldron, Griffith, Hirons, Newton, Horrigan, Aitken
Preliminary Final Results
| | | | | |
| --- | --- | --- | --- | --- |
| Bulleen-Temp | 1.5 | 6.9 | 10.10 | 13.12-90 |
| Ormond | 0.7 | 3.10 | 6.12 | 11.18-84 |
BULLEEN-TEMPLESTOWE: Chivers 3, Merrett 3, Kelleher 2, Palmer 2, Schultz 2, Costa
BEST: Chivers, Delanty, Jackson, Palmer, Pollard, Walker
ORMOND: R. Amon 3, Rankin 2, Barnes 2, Hill
Grand Final Results
| | |
| --- | --- |
| Bulleen-Temp | 17.11-113 |
| Old Scotch Collegians | 13.9-87 |
BULLEEN-TEMPLESTOWE: Chivers 4, Kelleher 4, Young 4, Palmer 2, Empey, Jackson, Merrett
BEST: Chivers, Delanty, Jackson, Lawther, Merrett, Palmer
OLD SCOTCH COLLEGIANS: Davis 4, Grigg 2, Muller 2, Kay, Campbell, McIntyre, McLean, Patterson
BEST: Elliott, Kay, Campbell, McKinnon, Davis, Patterson