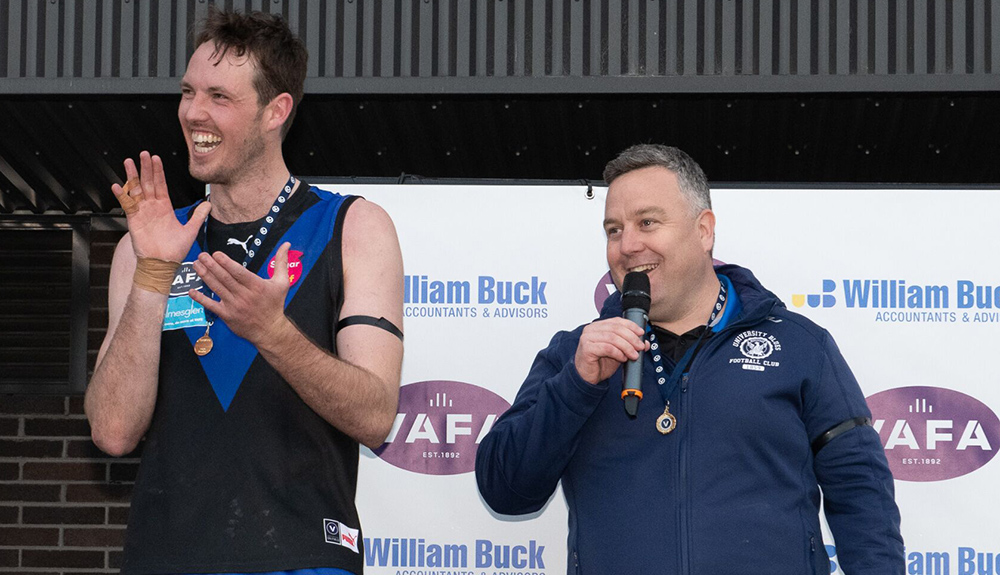 Nick Armistead
After 15 years, the Uni Blues' William Buck Premier drought is over. Coming up against the most dominant team of the past five years, the Blues were clinical as they ran away to a 40-point victory at Elsternwick Park.
From Ben Capra's goliath performance on Jarrad Waite to Luke Russell's 30 disposals through the midfield and Tim Harper's five goals up forward, the Blues showcased a level of composure beyond the realms of community football.
They were certainly assisted by SKOB's missed opportunities in front of goal but to rebound as quickly and precisely as they did gave onlookers a firsthand view of the team Brian Waldron dubbed the "most talented list ever assembled in Amateur football". And right now, who could argue with De La Salle's former President?
Statistically, the Blues had less disposals, less inside 50's, less clearances and 15 less free kicks on Saturday, but took almost every one of their chances with 18 goals from 26 scoring shots. They treated Elsternwick Park's outer wing like the home straight at Moonee Valley, running in waves like it was the final stages of the 2014 Manikato Stakes with Piers Flanagan and Marshall Rippon leading the pack out of the defensive 50.
Two-time Woodrow Medallist and Blues captain Ayce Cordy took it upon himself to ruck 100% of the match while Joe Macula, Tom Batarilo, Tom Young and Kieran Harper were class – pure class. Jeremy Mugavin was a force early as was Josh Green.
Following their off-season recruitment drive, the Blues (and wider VAFA community) knew they had the talent and on Saturday they executed perfectly. As with any club in any sporting code, other teams will now try and emulate the Blues' formula in a bid to compete at the top level.
But with a squad so talented and full of former top-level players, where do they even start?
One of the greatest acquisitions the Blues made, which goes largely unheralded amid the endless array of star power at their disposal, was the appointment of Heath Jamieson as senior coach. Jamieson came from St Joseph's FNC and arrived as a winner.
He'd coached Joey's for six years and claimed three flags from his last four seasons after first leading Queenscliff to a drought-breaking premiership in 2011. When he made grand finals, he didn't lose them.
Jamieson's first call arguably set the tone for his tenure, bringing three-time Joey's premiership players Joe Macula and Ben Capra back to the Blues with him. Both players represented Uni in 2008 before choosing St Joey's and finally playing under Jamieson when he took the reins in 2013. He already had two key cogs that he knew he could rely on.
So, you've got a coach with a winning formula bringing two of his premiership stars to a club boasting former AFL talent the ilk of Ayce Cordy, Tom Young, Jeremy Taylor, Josh Green, Kieran Harper, Piers Flanagan, Ross Young, Clayton Hinkley and Cam O'Shea.
Add Big V players Jeremy Mugavin, Marshall Rippon, Connor Lappin and Tom Quinn and VFL's Paddy Hayes and Tim Harper, you've got yourself a pretty attractive list.
What we do know, however, is that high profile names don't necessarily breed success in the VAFA. Look at the Blues in 2018, battling relegation against Old Scotch in the final game of the home and away season with what many would argue was, at a minimum, a top four side.
If there's one thing we've learnt from the recent success of the Big V program, the key ingredient to potential success from any highly talented side is the buy-in of its players. Stu Powell and George Burbury proved it at representative level, Jamieson and Cordy reiterated it at club level.
Jamieson quickly turned to the reigning Woodrow Medallist as the new custodian of the famous number 12 jumper, in turn giving Cordy greater responsibility off the field while also freeing up outgoing skipper Piers Flanagan and allowing him to focus on leading from defence.
It was a match made in heaven and you need only listen to Cordy's acceptance speech when receiving his second consecutive Woodrow earlier this month to understand he and Jamieson were on the same wavelength.
"I've said it before, I've loved every minute of being down here (at Uni Blues) it's been a fantastic football club," Cordy said.
"I love the way you conduct yourselves and the way everyone is here for the right reasons and everyone's here to contribute to the footy club, not take from the footy club."
Jamieson made no secret of his raised expectations for the playing group, at times forcing certain personnel through the reserves to either find form or send a message for unacceptable behaviour.
Away from the former AFL players, Marshall Rippon reinvented himself from a disenchanted midfielder into a star defender who finished runner-up in the Woodrow while fellow backman Connor Lappin produced a career season, all under the guidance of Jamieson.
Tom Quinn willingly and successfully spent more time in the midfield and the Batarilo brothers combined for 45 goals as alternative, but incredibly important, avenues to goal.
The question everyone will now ask will refer to the longevity of these players after claiming the ultimate prize in community football, but if the post-game celebrations with family, friends and supporters is anything to go by, you'd have to think the Blues will threaten for years to come. Especially with a winner at the helm.