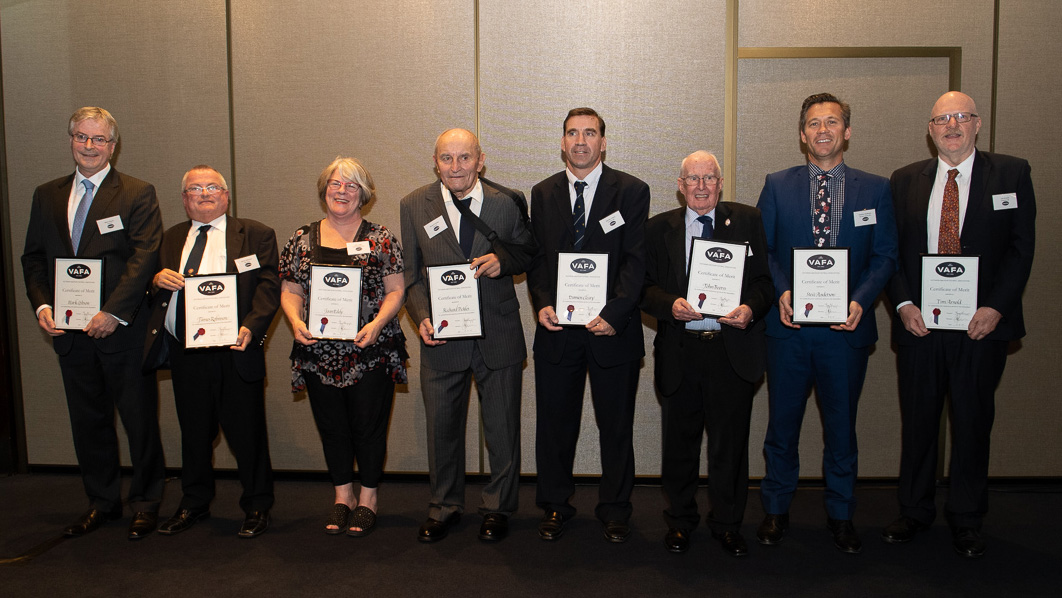 Bruno Conti inducted as VAFA Life Member
Former VAFA President and North Old Boys Champion Bruno Conti was inducted as a Life Member at last night's VAFA Season Launch.
Bruno played 230 senior games for North Old Boys from 1983-86 and 1988-'97, and captained the club for three years from 1994-96.
He was inducted as a Champion of the Big V in 2013 after playing 16 Big V games before becoming a selector for nine years. You can see his full Big V record and video HERE
Bruno joined the VAFA Board from 2005-16; including, being elected as president from 2010-12 after serving as vice-president for three years.
Nancy McTaggart's 50 Years of Service
Nancy McTaggart was recognised throughout the night for 50 years of service to the VAFA – an incredible achievement from the Association's second-ever female Life Member.
For half a century, Nancy has been the VAFA scores recorder, auditing every score from every match to ensure the balance of ladders are correct each weekend.
Certificate of Merit Winners
Earlier in the evening, eight club volunteers were recognised for their outstanding service to the VAFA and their clubs with a Certificate of Merit.
See the bios for all eight winners below:
Steve Anderson (Hampton Rovers)
The Anderson name is synonymous with the Hampton Rovers Football Club, and one of the most recent examples is today's first awardee, Steve Anderson. Steve joined the club as a junior in 1982 and has since played 475 games for the green and gold, including 329 senior matches. As a junior he assisted the committee by marking the ground, operating the scoreboard and cleaning the clubrooms before acting as a reserve goal umpire, timekeeper, boundary umpire, coach and team manager for the juniors. He's been named Best Junior Club Person, served as senior club President, been awarded Life Membership of the Hampton Rovers and is currently Chairman of the Board.
Tim Arnold (St Kevin's OB)
Tim Arnold joined St Kevin's Old Boys in 1973 and played 301 games over 23 seasons. Over the journey, Tim was a member of the club's 1976 Reserve Grade premiership, was named Best Clubman, received the Old Collegians Award and was awarded Life Membership. A number of roles Tim has undertaken includes committee member, assistant coach of the club 18, club reserves runner and Team Manager. He is still an avid supporter and attends most SKOB matches, and is often one of the last people to be enjoying the opposition club's hospitality after each game.
John Boorn (National Bank & VAFA Tribunal)
If you've strayed on the wrong side of the VAFA laws of the game over the past 40 years, there's every chance you've met John Boorn. After finishing his club career at National Bank, John joined the VAFA Tribunal in 1979 – where he has served ever since!  Prior to this, he undertook a multitude of roles at National Bank including club trainer and committee member, and was awarded life membership in 1963. Alongside the late Ian Munro, John assisted significantly at representative level as a trainer, property steward and carnival tribunal member.
Damien Cleary (Ormond AFC)
Damien Cleary joined Ormond Amateur Football Club in 1995 and has since notched up 364 senior games! During his 24 years with the club, Damien has served on the committee for 16 of those years, he's been club secretary, assistant secretary and, more recently, he's been responsible for player registrations and maintenance of game records. He conducts the Thursday night and home game raffle each week, runs the boundary and fills in as club umpire for reserve and thirds games when required. Damien is a Life Member of Ormond, Secretary of the Life Member's Association and is set to break the club games record in Round 3 this season.
Richard Pickles (Kew FC)
Richard Pickles has dedicated 40 years of service to Kew Football Club after first joining in 1979 as Reserve Grade Boundary Umpire. A short period on the committee could not be continued due to work commitments but Dick found other ways to contribute; including, sweeping the sheds after match day and training, assisting in the property room and helping with the canteen. He has since undertaken roles as timekeeper, scoreboard operator, press correspondent, cleaner and VAFA Club Delegate, and has been awarded Life Membership of the club.
Joan Eddy (Fitzroy)
For more than 20 years, Joan Eddy has given selfless service to community football through her involvement with Fitzroy Football Club. From the time Joan brought her son to the Fitzroy-Carlton Auskick at Brunswick St Oval in 1995, she has led from the front as Auskick Coordinator, Team Manager for Fitzroy Juniors and Juniors Secretary. Once her son graduated to U19's with Fitzroy, Joan became team manager for another 2 years, Vice-President in 2009, and has been Fitzroy's universally-respected President since 2010! Joan introduced the club's ritual of acknowledging the traditional owners of the land, officiates their Annual Anzac Day ceremonies & was instrumental in the introduction of Fitzroy's women's teams in late 2014.
James Robinson (Old Scotch)
James Robinson joined Old Scotch Football Club in 1984 straight out of Scotch College. He has been the ultimate Team Manager for almost 5 decades with he club, starting with the U19's, the Warriors and premier reserves. In 2002, James took on the role as Team Manager for the seniors and will enter his 18th straight season this year. James' most significant contribution to the club is professionally managing Old Scotch's teams for 34 years, liaising with VAFA Umpires and he was deservedly made a Life Member in 2017.
Mark Gibson (VAFAUA)
Mark Gibson joined the VAFA as an umpire in 1989, making 2019 his 31st consecutive year as a VAFAUA Member and VAFA Umpire. On the field, with over 650 matches under his belt, Mark has truly done it all! Between 1989 and 1995 he umpired 7 grand finals across D, E and F Sections, and then went on to officiate 6 B-Section and 4 A-Section grand finals. Mark was selected as a representative umpire 7 times and was named the inaugural Umpire of the Year in 2000 before going back-to-back in 2001 and 2002. Off-field, Mark has made an incredible contribution as President of the VAFA Umpires Association, he's a Bob Dunstan Award Winner for outstanding service, and he was awarded Life Membership while being Divisional Field Umpires Coach!