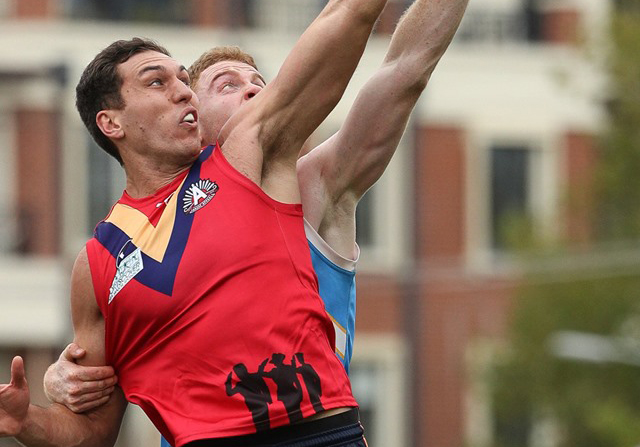 Downie, Defina headline B-D4, U19 B&F winners
Posted on -
Women's
,
Latest News
,
Premier B Men's
,
Premier C Men's
,
Division 1 Men's
,
Division 2 Men's
,
Division 3 Men's
,
Division 4 Men's
,
Unders
,
Featured

In his first year at Old Scotch FC, Tom Downie was named the GT Moore Medallist with 27 votes from his 16 games for the Cardinals. Downie, who is a former GWS ruckman, polled six 3's in total including three consecutive BOG performances from Rounds 3-5. He also kicked 36 goals and finished third in the goal kicking.
Williamstown CYMS' Yuma Hemphill (Premier C) and Preston's Sean Calcedo (Division 1) made it back-to-back wins after claiming the same awards in 2018. Calcedo (21) finished five votes in front of his twin brother Dean (16) but the victory amazingly made it six Association B&F medals for the pair.
Whitefriars captain-coach Kristian Height claimed the Division 2 Fullerton Medal with 23 votes and made it his fourth competition B&F award after previously winning in the Ovens & Murray, Bendigo and Goulburn Valley leagues.
Tom Bell (Manningham Cobras) and Patrick O'Brien (Westbourne Grammarians) tied for the Hutchison Medal in Division 3, while Daniel Chin (St Franics Xavier) edged out teammate and centurion Harrison Coe by two votes in Division 4.
Earlier in the night, Old Camberwell's Eloise Defina was named the Premier B Women's Medallist while Yarra Old Grammarians premiership star Sarah Kerr backed up her BOG display in the grand final with the Premier C Medal.
Lily Goss (Scotch Stars) and Siena Visentini (Old Brighton) tied on 17 votes apiece in Division 1, while Whitefriars' Clare Fernandes went one better than her runner-up finish in 2018 with the Division 2 Medal this year.
Anita Ovenden (Preston Bullants) dished out the performance of the night with 31 votes as she polled in every game except one throughout the 14-round fixture. In Division 4, it was women's football veteran and Glen Eira premiership star Madison Lister who polled eight 3's en route to 26 votes and victory.
MEN'S WINNERS
– GT Moore Medal: Tom Downie (Old Scotch)
– L. Zachariah Medal: Yuma Hemphill (Williamstown CYMS)
– LS Pepper Medal: Sean Calcedo (Preston Bullants)
– J. Fullerton Medal: Kristian Height (Whitefriars)
– P Hutchison Medal: Tom Bell (Manningham Cobras) and Pat O'Brien (Westbourne Grammarians)
– OJ Meehan Medal: Daniel Chin (St Franics Xavier)
WOMEN'S WINNERS
– Premier B: Eloise Defina (Old Camberwell)
– Premier C: Sarah Kerr (Yarra Old Grammarians)
– Division 1: Lily Goss (Scotch Stars) and Siena Visentini (Old Brighton)
– Division 2: Clare Fernandes (Whitefriars)
– Division 3: Anita Ovenden (Preston Bullants)
– Division 4: Madison Lister (Glen Eira)
HOLMESGLEN U19 WINNERS
– Premier: Charlie Ingham (Caulfield Grammarians)
– Division 1: Mitchell Hughes (Old Brighton)
– Division 2: Jack Richardson (Glen Eira)
– Division 3: Jack Nicolo (Preston Bullants)
– Division 4: Will McKenzie (Brunswick FC)
*Feature Photo: Old Scotch FC