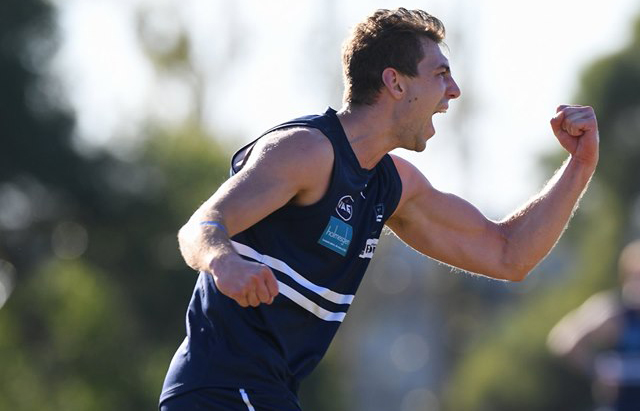 Caulfield Grammarians broke a 34-year William Buck Premier drought when they defeated Old Trinity by 84 points at the Daley Oval. Having last tasted A Grade success in 1987, the Fields put their first three losses of the year behind them as they built a 36-point lead at the final break before exploding with 12 goals to four in the final term. The twin towers of Brett Eddy (6) and Julian Dobosz (4) found form with 10 goals between them and were ably assisted by Isaac Morrisby (4) and Giorgio Varagiannis (3). Ed Weatherson booted four of his own for the T's while Tom Mason was terrific in what was their fourth straight loss to start the year.
It was tipped as the match of the round and it lived up to expectations with University Blues defeating Old Xaverians by four points in a thriller at Toorak Park. Xavs were dominant in the opening term but missed crucial chances on goal and led by 17 points at the first break. The Blues mounted their comeback thereafter with eight goals to two across Q2 and Q3 before Xavs came again in the fourth. Dan Batarilo was a standout for Blues with four goals and a BOG display, while debutant Alex Fasolo ignited the Blues in the third term with three majors. Grant Valles plucked everything in his vicinity in the first half for Xavs and Julian Soccio was the man to lead their fourth-quarter comeback.
It was a big week for Old Brighton with the debut of former number one draft pick Jack Watts, and they didn't disappoint with a hard-fought eight-point victory over Collegians at the Trott. Just two points separated the sides at the last break but it was the Tonners who managed five goals to four in an exciting last quarter. Will Lewis continued his hot form in front of goal with four and took his season tally to 12, while Anthony Zimmerman kicked three in a BOG performance. Watts slotted two on debut. Round 3 Rising Star, Josh Watson, was a standout again for the Lions as was Ollie Jackson with three majors.
Despite kicking 11.23 for the day, St Kevin's OB proved too strong for Old Scotch and ran out 55-point winners at McQueen Park. SKOB struggled in front of goal early with 2.8 in the first term but maintained control of the match by increasing their margin each quarter. Sam Cameron and Josh Wallis were standouts alongside another three goals from Tom Boyd, while Aiden Franetic and Ben Hays were the Cardinals' best.
Old Melburnians got back to their early-season winning ways with a 56-point victory over St Bernard's at Elsternwick Park. OM's blitzed the Snow Dogs in the opening term with eight goals to two and kicked another 11 to five on the back of Ned Nichols' four majors. Al Armstrong returned with three goals while Sean Hetherington and Gus Borthwick were best afield. Dom Sullivan top-scored for Bernard's with three of their seven goals alongside a terrific output from Sam Woods and Liam Farrell.