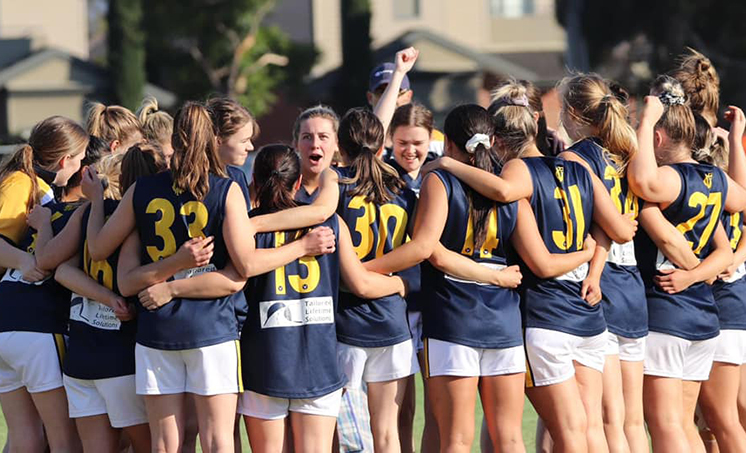 Zac Jennings
A new contender has emerged in Division 1, as the reigning champion again showcased why it's more than worthy of holding that title in Round 8.
Whitefriars OC announced themselves to their Division 1 counterparts with an impressive 18-point victory over Old Brighton. The fast-starting Friars jumped out the gates to hold a 9-point lead at half time, before restricting the Tonners to just one behind in the second half. The win sees Whitefriars jump Old Brighton into second on the table after coming up from Division 2 in Round 4. Michaela Pearson was the standout for Whitefriars, being named best on ground for her performance, while Danielle McCarthy booted two goals. Lucy Grant was the stand-alone goal kicker for Old Brighton, with Sienna Courtney judged best afield for the Tonners.
Whitefriars OC will face the benchmark of Division 1 as they host Old Scotch in a top of the table clash, while Old Brighton will have the bye in Round 8.
Speaking of the benchmark, Old Scotch again flexed its muscle, this time at the expense of Williamstown CYMS. An inaccurate 7.17 didn't impede the Stars' dominance, as they held the CY's goalless for the entirety of the match. Although inaccuracy was on hand for Old Scotch, Alexandra Theodosi still managed to boot six of her side's seven majors, with Lily Goss and Amy Arundel leading the way for the Cardinals. Williamstown captain Shannon Egan was impressive for the CY's in their loss.
Old Scotch will head out to Whitefriars College for it's first encounter of the season against Whitefriars OC, with Williamstown taking on Old Haileyburians at Lofts Reserve.
Feature photo: Whitefriars FC