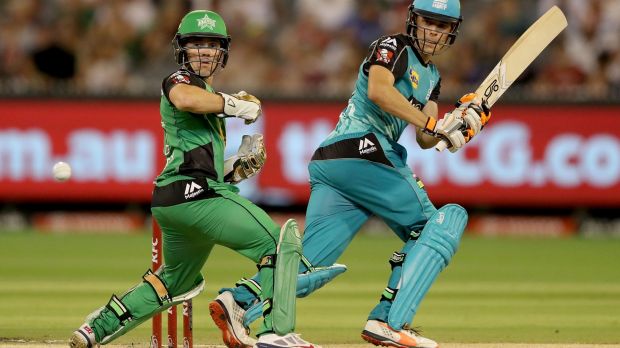 "He was dressed like he'd been plucked from "C-Grade club cricket" but Seb Gotch has shown he has what it takes to make it in the professional game."
Wrong. He was plucked from 'C-Grade' in the Ammos.
Former De La Salle player and newly-appointed Caulfield Grammarians reserves coach, Seb Gotch, caused a stir when he debuted for the Melbourne Stars in their Big Bash League loss to the Brisbane Heat on Tuesday.
Despite making a more-than-handy 30 runs off 25 balls, it was Gotch's wicket keeping attire which caught the attention of most onlookers.
"Gotch, 23, the son of former Fitzroy and St Kilda footballer and veteran VFL coach Brad, got his chance after Peter Handscomb's call-up to Australia's one-day international side, with Stars coach Stephen Fleming instructing Gotch to "bring your gloves to training", Sydney Morning Herald journalist Daniel Cherny wrote.
"After being told he would be behind the stumps against Brisbane, Gotch asked Fleming if he could wear short sleeves rather than the long sleeves usually worn by glovemen. Fleming thought the question was a joke, but teammate Adam Zampa told Gotch to stick to what he knew. "I keep every now and then at club land, and my trademark is the wide brim and the short sleeves," Gotch said.
Former Victorian wicketkeeper and captain, Darren Berry, tweeted his dislike of Gotch's attire, referring to it as "Clubbie stuff, country C grade".
Oh NOOOOOO @sebgotch please No not short sleeves as a keeper. Clubbie stuff, country C grade. At least look the part if taking the gloves ?

— Darren Berry (@ChuckBerry1969) January 17, 2017
"I get along really well with Chuck, I spent a bit of time with him at the Strikers, so I think his comments were a bit tongue in cheek even though it did cut him up a little bit, I think he was still having a bit of a laugh," Gotch said.
The VAFA congratulates Gotch on his BBL debut and looks forward to watching him against the Sydney Sixers on Saturday night, no matter his attire.
Photo: Getty Images