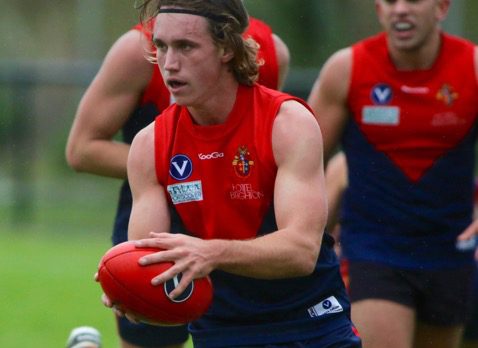 Old Brighton young gun, Harry Hill, was named the 2016 Grill'd Rising Star at the Woodrow Medal and VAFA Awards night at Crown Casino on Wednesday.
Hill starred throughout the 2016 season, finishing runner-up in the Premier B GT Moore Medal on 15 votes. He polled 12 in a fast-finishing last five rounds as his formed mirrored the winning ways of the Tonners in the back half of the season.
Hill was rewarded for his early-season form with selection in the Big Under 19 representative side and shone in his side's loss to AFL Victoria Country, earning the praise of opposition coaches as he was named best VAFA player.
The Rising Star Award has long been an accurate prelude of future football success, with previous winners including two-time Woodrow Medallist Brendan Iezzi (2007), VFL listed players James Fletcher (2015), Anthony Scott (2014) and Nick Wynne (2009) and AFL player Dan Nicholson (2010).
Hill was named in Old Brighton's best on 11 occasions throughout the year and received his Rising Star nomination in Round 16.
What the Club said: "Harry Hill arrived at Old Brighton Grammarians this year, after a decorated career at Brighton Grammar School where he was captain of the school and a dual premiership player.
Harry's reputation preceded him and when he weaved through a pack and goaled for the third time against the Rovers in Round 3, to set up a seven goal lead at half-time, we knew we were looking at our next champion.
Harry has maintained our excitement by playing every senior match in the mid-field, appearing in the best player list in most of them.  He has already kicked 17 goals and set up just as many for his team-mates. Harry is a classy footballer, whose skills set him apart from most other players. He is precise and efficient on both sides of his body, and his instinctive feel for the game enables him to make quick decisions under pressure.
His penetrating passes often release team-mates from tight situations or set them up to score.  He is a strong mark for his size, combining sound judgement of the ball drop with a handy leap.
Consequently, he has already become a focus of opponents' attention as they try to limit his influence. Harry's consistent form led to his selection in the VAFA Under-19 side earlier in the season and he responded by winning the award for best on the ground.
Harry is understandably revered by his peers and many of them have followed him to the Club to continue their success and forge their futures in the Red and Blue.  Harry is crucial to the future of the OBGFC where his courage and taste for the contest will undoubtedly see him lead and become one of the VAFA's most valued players."