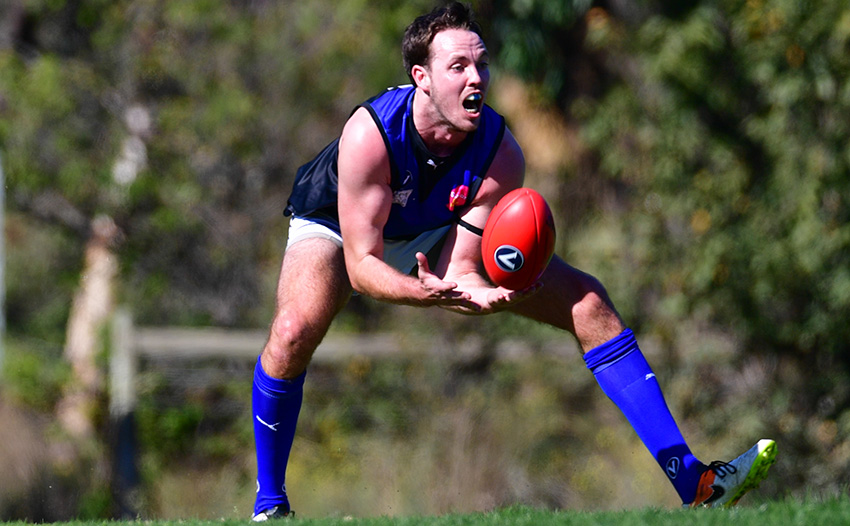 Nick Armistead – @NickArmistead
Listening to University Blues President Tim Rourke on RSN Carnival Saturday afternoon, it was evident the Blues weren't overly enamoured by their opening two performances. They'd beaten Old Brighton in Brighton and Old Trinity at home, but few within the confines of the Pavvy walls were crying 'first William Buck Premier flag' since 2004. While the disappointment of 2018 is still fresh in everybody's minds, the Blues' Round 3 performance against Old Melburnians will have even the most prudent supporters simultaneously clenching their fists in the hope of what could be.
Sluggish first quarters have been the Blues' biggest bugbear of 2019 to date, but they doubled their Round 1 and 2 goal tallies with four on Saturday before slotting 20 of the last 24 goals and running out 105-point winners. Ayce Cordy incited conversation of the 'VAFA's best player' with four majors in the first half before finishing with six from 21 disposals and 43 hit outs. Cordy entered the game with hamstring issues but it mattered little as he rucked, roved and rolled towards a BOG performance and inevitable Woodrow votes. Josh Green added six goals of his own for the Blues while Connor Lappin had 22 disposals and raised his hand as a serious candidate for the Big V's defensive stocks. While the former AFL talent produced for the Blues, it was Big V representatives Tom Quinn and Marshall Rippon who excelled in their respective new roles, with Quinn impressing through the midfield and Rippon's elite ball use a highlight off half back. Despite consistently finding themselves at the bottom of a Blues' scrimmage, Gus Borthwick and Tom Paule collected 12 clearances between them. They, along with Josh Freezer, fought valiantly for the duration of the match as they will eagerly await the return of Al Armstrong as a crucial target up forward.
As Australian cricket prodigy Will Pucovski duly tweeted on Saturday afternoon, "for those who were worried, Harry Hill is BACK". Pucovski's tweet came after Hill blew the second term apart with 10 disposals and two goals as Old Brighton notched their first win of the season against St Kevin's OB. The Tonners, whose two losses came by just 10 points each against Blues and De La, were well-led by Hill (24 disposals and three goals) and Nic Pavlou as he racked up a season-high 37 possessions. Prior to the match, the social media kings at Brighton announced the starting 22 with names such as Michael Karayannis, Elliot Le Grice and Ari Sakeson strengthening their line-up. The loss is SKOB's second in a row after they fell to Old Xaverians in Round 2. Mitch Brown, Nick Wood and Gerard Gleeson form the most powerful midfield group in the competition but were all unavailable to play but Cal Matheson (24) and Jack Holden (22) stood up in their absence.
Despite losing Trent Zimbachs, Fraser Cameron, Kalem Post and captain Courtney Hylton from their Round 2 team, Collegians officially kick-started their 2019 campaign with a 29-point victory over Old Carey at Harry Trott Oval. The loss of key personnel was offset by inclusions the ilk of Lachie Ferguson, Nathan Boucher and first-gamer Nick Hogan. Ferguson was particularly exciting to watch as he kicked two goals from 20 disposals while Jim Bazzani dished out a performance worthy of three votes with 28 touches, two goals and 10 marks. The Panthers weren't without their own changes as midfielder Danyon Reinbold debuted for Box Hill Hawks on Saturday, but they welcomed Liam Mackie back into the 22. It was another case of leather poisoning for Sam Cust who had a game-high 32 disposals while Kristian Jaksch showed why he is one of the most feared forwards in the VAFA with four goals from 14 touches.
It was another day, another match-winning first quarter for Old Xaverians. After booting 12 goals (6 and 6) in their opening terms from Rounds 1 and 2, the Xavs continued their dominance with five goals to one en route to a 54-point victory over Old Trinity at the Daley Oval. They've now kicked 17 goals to two in first quarters in 2019 at 5.6 per game after averaging just 2.8 goals in first quarters last season. Matt Margin was the main culprit with three of his five goals in the opening term while Merlo starred with 25 disposals. From a Trinity perspective, they've now lost three consecutive games and sit 10th as the only team without a win yet in 2019. Scoring is proving difficult as they average just 62ppg while giving up 103 – the second-most of any side. Jack Hunt, who returned from a Round 2 concussion, was outstanding for the T's with 28 disposals and seven inside 50's while off-season recruit Austin Hodge (Gippsland Power) had 18 and a goal as he continues to impress in his first year at the club.
It's not getting any easier to travel to the Snake Pit in 2019 as De La Salle found out when they lost to St Bernard's by 52 points. The ladder leaders were unrelenting in their pursuit of maintaining an unbeaten run, extending an 11-point half time lead with seven goals to one in the second half. Adam Bentick was simply unstoppable as he accumulated 29 disposals, nine inside 50's and a goal as he continued his elite early season form. Charlie Vague (25) and Connor Riley (23) would excite the most unexcitable Snow Dogs fans with their ball-winning abilities, although I don't believe unexcitable Snow Dogs fans exist. De La were gallant for a half of football but could not sustain the intensity required as they await the return of Jake Williams and Tom Humphrey. Hugh Nicholson was De La's best yet again with 23 possessions and Sean Fisher kicked multiple goals for the third week in a row.