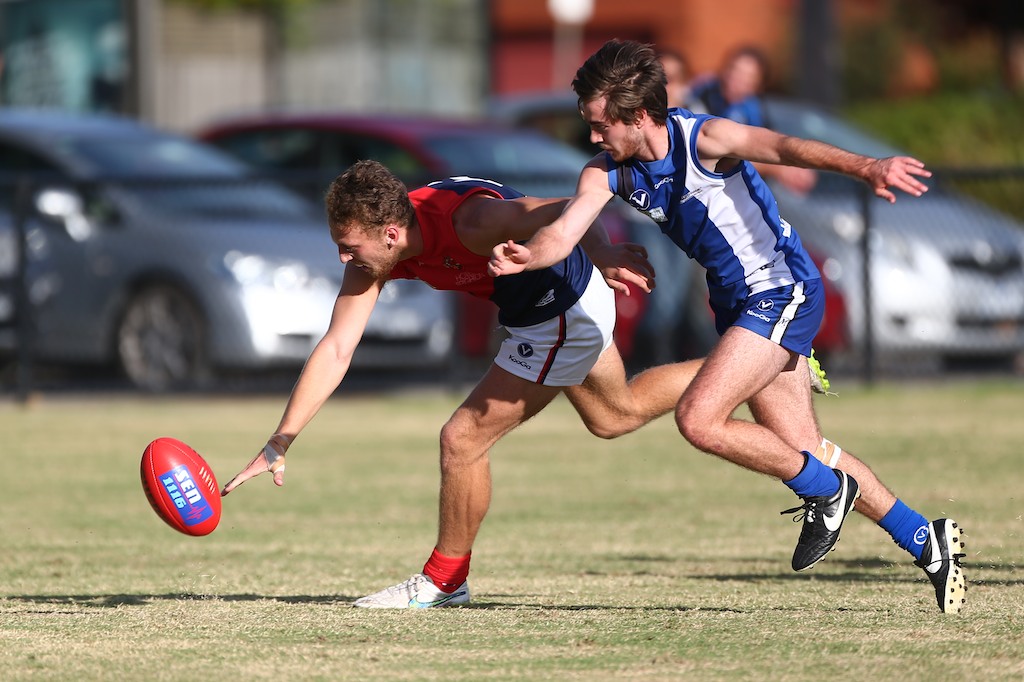 David Chalmers

@DAChalmers81
You know the old saying "Looks can be deceiving"? I get the feeling this may be applicable in the wash-up of Round 2 in Premier B. Although at first glance all we see is four pretty lopsided scorelines, they may not tell the full story of where the clubs are really at, time will tell. As a newcomer to Premier B, I was delighted to get four out of five tips correct first up, with my only slip-up being AJAX's two-goal victory over Parkdale. However, I know the section has a reputation for being competitive and even, so I'm sure picking a winner won't be as straightforward every week. As a statistically-minded person, I noticed a couple of interesting things come out of this round: Old Brighton have achieved the rare feat of kicking the same score two weeks in a row: 16.17 (113). Also, while Parkdale might be 0-2, it's accuracy in front of goal that has cost them both times. While they have been wasteful (4.10 and 11.15) their opponents have also been 'dead-eye Dicks' on both occasions, kicking 10.3 and 15.3.
The 'dog-to-human ratio' was high at Glenhuntly Oval as a small, canine-friendly crowd watched Caulfield at home for the second week running, this time playing host to Old Melburnians. Both teams were coming off a win first-up and both fielded drastically different line-ups after being hit by injuries the week before. Caulfield kicked with the wind in the first quarter and controlled the play early on, although it took them twelve minutes to get on the board through Keegan Stewart and captain Tom Small. Stewart was a focal point up forward, kicking two first-quarter goals and was the target of some physical attention from the Melburnian's defence. Caulfield coach Wayne Oswald urged his players to disregard the breeze as a factor in the second, but Old Melburnians absolutely dominated, kicking 6.3 and keeping the 'Fields scoreless. Oswald kept his players in for a long time at the break and they came out with renewed effort and spirit, although it didn't translate to impact on the scoreboard. The two teams traded behinds and could only manage one goal each for the term. Old Melburnians piled on 7.5 to 2.0 in the last quarter and ran out comfortable 73 point winners. Caulfield vice-captain Tim Nixon and Clay Williams were again standouts, seemingly involved in everything.
Old Brighton, fresh from a 77-point first-up win against Fitzroy, travelled to Central Reserve to take on Mazenod. The Tonners were a little slow to start as both sides fought to gain an edge in perfect conditions.  Once Tom Skewes marked and converted from the pocket, they found their rhythm and raced away with a six-goal-to-one first quarter and a 33-point lead at the break. Harry Cannon goaled twice from long set shots in the second quarter and Old Brighton found themselves with a 55-14 lead. Just when the Nodders seemed close to capitulation, they managed to kick the next three goals to get back in the game. Mazenod goaled from the first clearance of the third term, but the Tonners quickly responded. They finished strongly despite losing two players to injury by quarter time. Tonners spearhead Dan Anthony finished with six goals, while for Mazenod, Muling kicked three and inclusions Tom Chambers and Joseph Canavan were both among the best.
Hampton travelled to Brindisi St Oval to face St Bedes/Mentone, although they knew they'd face a greater challenge against the Tigers who were pipped in an epic match-of-the-round against SKOBs. Both teams managed to maintain a settled line-up. The Rovers started with the wind but failed to take advantage, finding themselves trailing by eight points at the first change. The Tigers extended their lead to four goals at the main break and came out determined to maintain their advantage. Inaccuracy in front of goal proved costly as the Rovers kicked 7.3 to the Tigers 2.6 to remarkably snatch a three-point lead at the final break. This was never going to be enough, and the combination of the wind advantage plus tired legs, resulted in the Tigers finishing with a mammoth 9.7 final term to run out 40-point winners. Once again all three Tyquin boys featured heavily for the Tigers and Luke Kowalski kicked nine goals, while Matthew Robbins kicked four for the Rovers and Adam McNeil and captain Leigh Fletcher also led the way.
Fitzroy came away licking their wounds after a tough first-up assignment against Old Brighton, only to run into a St Kevins team fresh off a thriller against the Tigers. Both sides made several changes to their Round 1 teams and Fitzroy got the early jump, kicking 5.2 in the first quarter which almost surpassed their entire score of 5.6 against the Tonners last week. SKOBs bounced back in the second, kicking four goals and holding the Roys to their second goalless quarter in as many weeks to take the lead at the main break. They were rarely troubled in the second half, kicking nine goals to four and recording an eight-goal win. St Kevins were again well-served by Salopek (three goals) and Lynch (four), while Gerard Gleeson made the most of his return to the side by chipping in with three. Dylan Patcas was the main target up forward for the Roys and finished with four goals.
Parkdale faced AJAX at Gary Smorgon Oval, with both sides considering themselves a fair chance to open their 2015 accounts. The Jackas got off to a great start with a 7.0 first quarter. In reply the Vultures kicked 7.7 in the second to trail by three points at half time, despite having seven more scoring shots. AJAX scored four goals to one with the wind in the third and the Vultures could only manage 2.4 in the final term, allowing the Jackas to hold on by two goals. AJAX made three changes to their side and got better value for money, with inclusions Simon (three), Burstin (two) and Marks (one) combining for six goals.
Round 3 Tips:
Hampton Rovers v Old Brighton
St Bedes/Mentone v Parkdale
Fitzroy v AJAX
Mazenod v Caulfield Gr
Old Melburnians v St Kevins