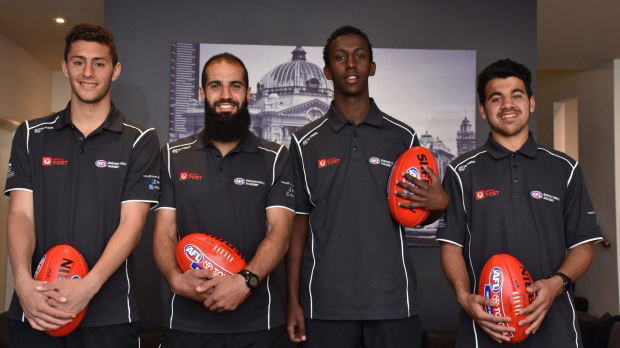 UHS-VU/Flemington premiership player and best on ground medallist, Mohamed Mohamed, was recently named joint winner of the 2015 Bachar Houli leadership medal at the Bachar Houli AFL Academy Camp.
Voted on at the conclusion of the camp and by all those who participate, the leadership medal is awarded to those who possess 27 characteristics Houli believes represent "the wall of success", such as pride, honesty, ability and trust.
"It's a good feeling to be recognised for leadership and for the boys to get around me," 17-year-old Mohamed said.
It is the second medal of note attained by Mohamed in recent weeks, after the Kenyan-born natural talent received best on ground honours in UHS-VU/Flemington's recent 71-point victory against Ivanhoe in the VAFA Colts decider.
Despite heading into the match as underdogs, Mohamed and his teammates strung together four dominant quarters to run out the match as comfortable victors.
Mohamed understands the importance of individual honours, but admits he plays football to garner team success.
"It was a good feeling (being named best on ground) but the main thing was just winning the premiership with the boys, that was probably the best feeling," he said.
"It's good to win individual awards but I always think the team awards are better."
UHS-VU treasurer, Tony Boyce, recently told VAFA media of the young gun's introduction to the club when he made the move from West Coburg earlier this year.
"He had trained several times with us prior to this year," Boyce said.
"As soon as he started training with us this year he bonded extremely well with our first year coach, Marcus Butera.
"Based on what he was learning at UHS/Flemington, he decided to play with our Amateur club."
Mohamed's talent and far-reaching potential has been noticed by the Calder Cannons in the TAC Cup, where he has spent the 2015 season in their development squad and is currently trying out for the senior team.
It has been a highly successful season for UHS-VU/Flemington Colts, with Esubalew Ramsay completing the triple victory by taking out the VAFA Colts league best and fairest on 18 votes to sit alongside their premiership and Mohamed's best on ground medallion.
The VAFA congratulates both Mohamed and Ramsay on their outstanding achievements and wishes them the best of luck in their Australian rules careers.