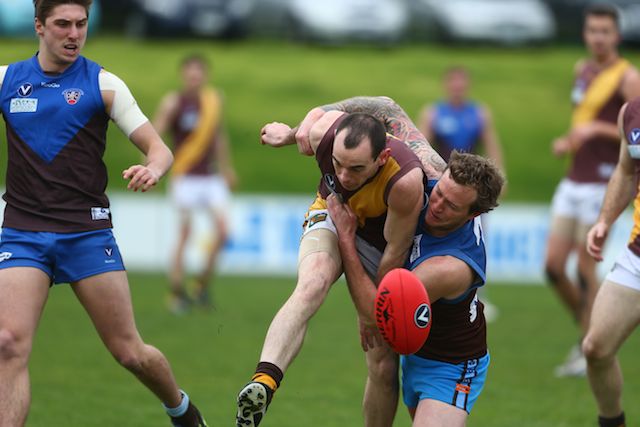 The modern day Ormond/Kew rivalry took another turn as the Monders kept their hopes of avoiding relegation alive with a 22-point win at E.E. Gunn Reserve. They held the lead at every change throughout the day with Rob Chisholm's bag of five goals the highlight. Luke Gogis continued his breakout year at senior level with a BOG for the Monders, while fellow U19 Big V representative James Landman chipped in with two goals. Jack Delbridge and Rob Maibaum (three) stood tall for the Bears as they slumped to their third consecutive loss.
Caulfield Grammarians held on in the dying moments of their Premier C blockbuster against Peninsula and ran out six-point winners at Glenhuntly Oval. Unbelievably, the Fields registered 17 scoring shots (5.12) to nil in the opening term, before an improved effort saw the Pirates bring the game to within a goal. William Barker (four) and Declan Reilly starred for the Fields as they return to the top of the ladder, while Brett Brisbane and Shaun Payze kicked three each for the third-placed Pirates.
A nine-goal to two second half helped Old Camberwell to an amazing 19-point victory against Old Ivanhoe at Gordon Barnard Reserve earlier today. Trailing by 30 points after kicking 1.11 in the opening two terms, the Wellers dominated possession and increased their accuracy in front of goal as eight players shared their 10 majors. Riley Verbi was irrepressible as he was awared BOG honours for the Wellers, while Adrian Del Monte kicked another bag of four for the Hoes. The win keeps the Wellers a game clear of relegation as they sit seventh with Marcellin, Oakleigh and Ormond below them.
Marcellin kept their chances of avoiding relegation and remaining in Premier C alive with a 15-point win against Williamstown CYMS. Daniel Cullinan (three) and Ash Viney (three) each led the way on the scoreboard for the Eagles, and Patrick Lunn did damage in a starring performance. Robert Chan and Joel Hogarth were the CY's best as they now fall 10 points behind the Hoes can no longer push for finals.
Oakleigh laid claim to the upset of the round as they came from eight points down at the first break to run over Mazenod by five goals at Scammell reserve. Trevor Bromley was at his goal kicking best for the Krushers, booting five alongside Aaron Cloke's three. Liam Gillard and Joshua Paola were dominant around the ground, while Nick Thomas was named the Nodder's best. The loss means the Nodders fall from first to second on the ladder, while the Krushers are still just half a game behind Marcellin.