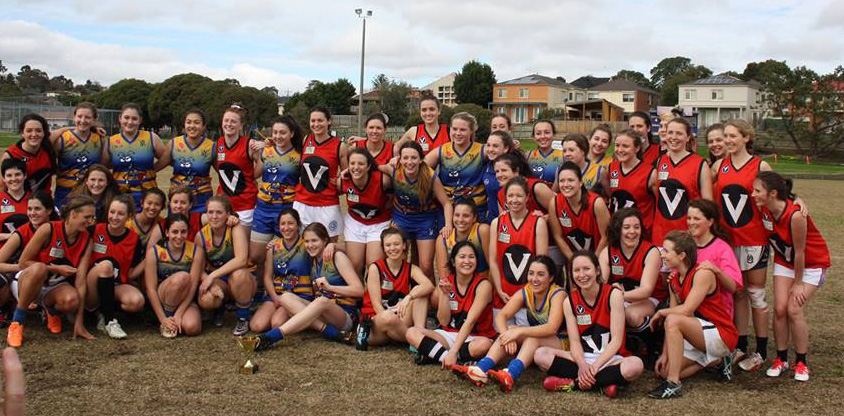 Bulleen Templestowe's women's side retained the Winning Edge Cup in their replay clash against West Brunswick over the weekend, defeating the valiant Westies by 31 points at Ted Ajani Reserve.
Led by a best-on-ground performance from Laura Mayne, the Bullants registered 14 scoring shots and held strong defensively as the Westies continued to apply pressure until the final siren.
Both clubs have undergone a meteoric rise in numbers since they first met in Round 5 of the VAFA season, with the combined 19 players who partook in the compromised AFL 9's match earlier this year increasing to 43 on Saturday.
"Since then (Round 5) both clubs have put in significant work to develop their respective women's teams and as a result Bulleen Templestowe fielded a side of 19 with the West Brunswick side comprising 24 players," Bulleen Templestowe secretary Russell Wallis told VAFA Media.
"At the player's request, this match was played on the full oval under normal VAFA rules."
Wallis said Saturday's game was a great opportunity for Bulleen Templestowe to showcase their intentions to field a team in the proposed VAFA women's competition next year.
"The whole club, committee and playing group alike, are excited at the prospect of expanding the club to include a women's team and Saturday's game was a great step towards this," he said.
"We see this as allowing us to fulfil our objective to provide an opportunity for everyone in our area to play football. It also completes the pathway to senior football for those girls currently playing with the Bulleen Templestowe District Junior Football Club whose support was vital to the success of Saturday's match."
The number of women in West Brunswick's squad has grown astronomically since an open invitation was released ahead of their first match against the Bullants. Under the leadership of playing coach, Sarah Kenny, more than 30 enthusiastic women have been attending weekly Thursday night training sessions after commencing with just one attendee this year.
"The way the players have worked together to develop their skills and build a team culture has been nothing short of exceptional," Kenny said.
"Saturday was the culmination of all of our hard work over the past few months and it was a fantastic day for women's footy at West Brunswick."
West Brunswick is now looking forward to an exhibition match against Swinburne University on August 13, while Bulleen Templestowe is hoping to arrange another match before the end of the season.
Anyone interested in playing football should contact one of the following:
Bulleen Templestowe: Bruce Traplin M: 0409 386 251 E: [email protected] or Russell Wallis M: 0410 335 216 E: [email protected]
West Brunswick: Bridie Walsh M: 0488 123 084 E: [email protected]