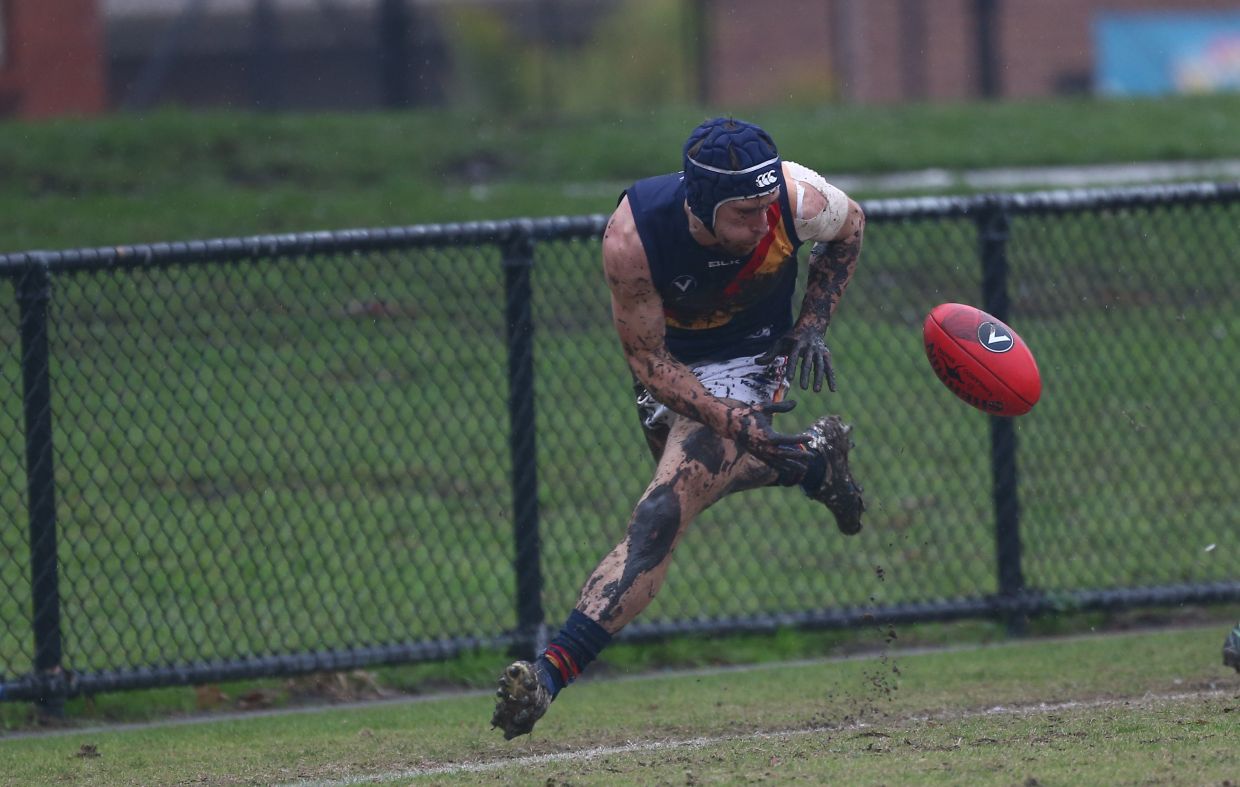 Beaumaris lost top spot of Premier B after they fell to Old Brighton by 50 points at Banksia Reserve. The Sharks failed to trouble the scorers more than once in the first half (one behind) as they fell to a 60-point deficit and were unable to reign in the young and exciting Tonners unit. Harry Hill backed up last week's Rising Star nomination with four goals, while fellow nominee Tom Fisher led from the front with a best-on-ground performance alongside Ben Austen and Josh Dickerson. Joel Di Natale kicked two for the Sharks as just two players (Jack Gabron-Uhe and Tim Cumming) were named in their best.
St Bedes/Mentone Tigers snatched top spot on the Premier B ladder with a commanding 65-point victory over Hampton Rovers at Boss James Reserve. 35 scoring shots to 15 told the story of the day as George Rowlands (four) and James Tyquin (three) getting on the end of endless supply from the Tigers' midfielders. Alex Smout and Johnny Cayhan led from the front, while Samuel Clements fought hard for the Rovers.
Old Scotch went one step closer to solidifying a finals berth as they defeated Fitzroy by 55 points at Brunswick Street Oval. Despite trailing the Roys by 10 points at the first break, the Cardinals nailed 11 of the next 13 goals to run out the match. Jack Bull and Ash Lim were relentless as the Cardinals' best, while Tom Havers and Jono Daggian kicked four and three goals, respectively. Peter Baccanello was named the Roys best player as they now fall to fifth spot on the ladder and half a game outside the four while the Cardinals return to third.
Monash Blues went half a game clear in fourth spot on the ladder after they defeated Parkdale Vultures by 27 points at Frearson Oval. Leading by five points at half time, the Blues kicked seven goals to four in the final two terms as Andre Headberry (four), Gareth Taylor (two) and Nicholas McConville (two) found the scoreboard alongside a best-on-ground performance from Big V representative, Maddison Hardiman. Daniel Moloney and Josh Manning (three) were valiant for the Vultures.
Ajax put a line through any chance they had of being relegated from Premier B with a hard-fought five-point victory against Old Haileybury at Princes Park, Caulfield. Leading by 20 points at half time, the Jackas were put to the sword by the Bloods as the nailed seven goals and brought the margin to within seven points at the last break. However, the Bloods were unable to get over the line as the Jackas held firm in the clinches, with Nick Marks (BOG) and David Fayman (five) dominating throughout.  Bradley Caplan added four goals for the Jackas, while Nathan Waite kicked four of his own for the Bloods. The loss means the Bloods will return to Premier C in 2017.