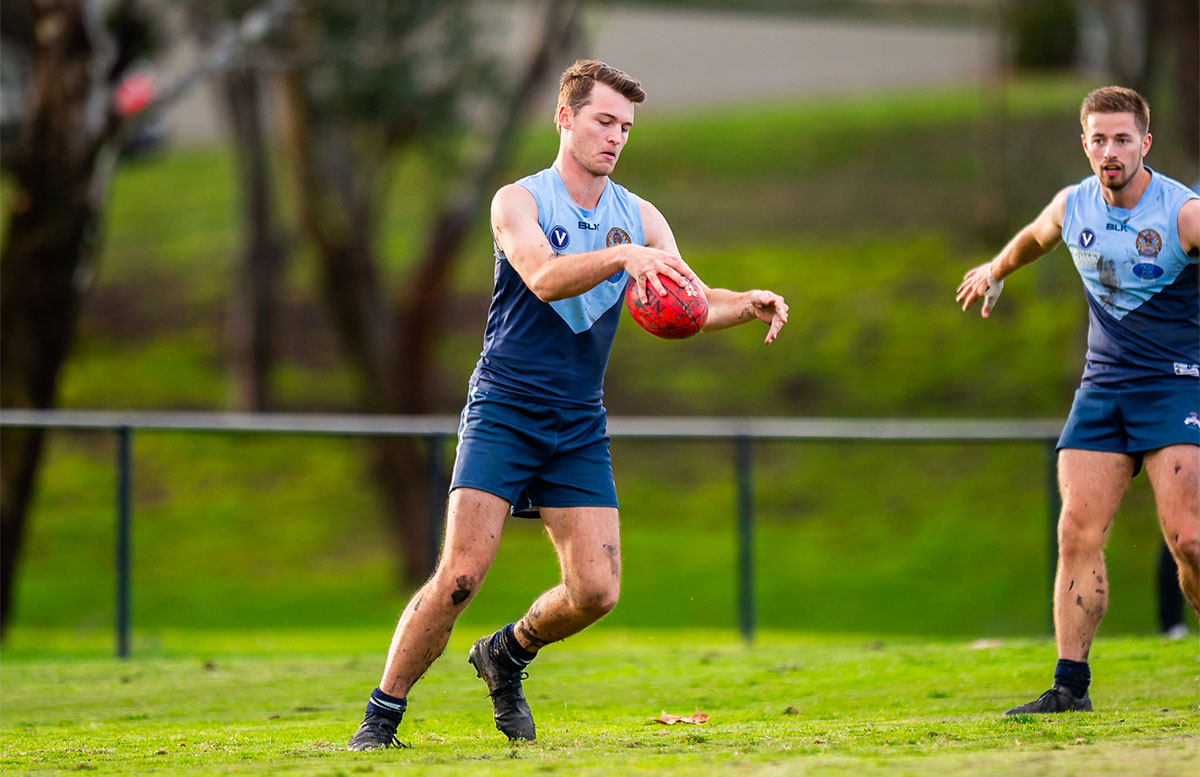 Mitch Dyer
Well, what a time for footy to be back in action! In classic Melbourne fashion the floodgates opened in the early afternoon for some classic wet weather footy, but it didn't seem to affect some of the high scoring and high soaring teams here in Division 1, so let's get stuck into it.
Let's kick things off with one of two demolitions here to begin the year in Division 1, with the class of Old Camberwell showing through with a thumping 100-point win against St Mary's Salesians out at the famous Gordon Barnard Reserve. As I said in the pre-season write up, this Old Camberwell team are the Coupe Degras of the competition and picked up right where they left off last year, and it's important to note they did it without the LS Pepper Medalist in Riley Verbi. It was a goal scoring frenzy from the Wellers with five men kicking multiples, the best of the lot being Ben Hart also claiming the BOG status for the round one clash. A lot to be happy about for Old Camberwell and a bit to reflect on for St Mary's, but the positive to take away from it all is that it's only round one, and can only be up from here!
We have to turn our attention now to the game of the round I was super intrigued with PEGS taking on Old Peninsula given I called Pegs the big danger team of the competition, and they showed why. Taking the scalp of Peninsula by a solid 61 point margin, this Pegs team kept the theme of high scoring football with nine different feet sinking through 6 points or more, just showing that scoring is never going to be the issue of the year but more so keeping this type of consistency. It's a hard slog up against Pegs Let alone the men from the Peninsula tracking down the notoriously windy Pegs Sporting ground – there was some spark in the last with three straight majors, but just seems to be the issues of defense the side had last year might haunt them again in 2022, but I'm happy to be wrong!
Rising from Division 2, Glen Eira was always going to be an interesting round 1 game, just in terms of seeing whether they can match it and when put up against Prahran Assumption it was a great baptism of fire to test it. Out at Toorak Park, Prahran was able to keep Glen Eira scoreless in the first but didn't last too long with it all tied up heading into half time. A big scoring third quarter and with the boys run off their feet considering it was a thirty-six minute quarter meant that the 1 goal advantage for Glen Eira meant the fitter team in the last would get the chocolates, resulting in the gut running midfield lead by Xavier Verdnick would do enough to run out 13 point winners in their division 1 debut. It's important to note Prahran Assumption were fourth place finishers in the league for 2021, so these will be two teams to watch
This is the second of the two demolitions for the opening round as Kew took on Therry Penola down at Victoria Park to kick things off. You hear a lot about hot starts and how much they can set the tone for a game, and with a 44 point opening quarter it was safe to say the
game was going to be at the Mercy of this Kew outfit lead by an eventual four goal haul from Lachie James. Therry Penola fought hard keeping Kew to only 1 goal for the second term and went into the half 20 points down, but the class of Kew and their 9 goal final term just showed that they truly are a force to be reckoned with, eventually running away with the four points as 74 point winners to kick off their 2022 campaign.
Our final game of the round was always going to be the hardest to tip and the hardest to call, and it absolutely did not disappoint between Whitefriars and Oakleigh down at Whitefriars College oval. This was a huge upset if you run the data of the 2021 season with the Friars only losing 1 game and sitting second on the table, with the flip side of that being the 9 loss Oakleigh sitting at second last. I said it in the pre-season if Oakleigh could get some defenders they would become a team to be scared off, and that's exactly what's happened with Aaron Cloak doing his part with 5 majors, and Oakleigh able to defend well enough to sneak home as 7 point winners. In the end the win did not come easy, heading into the last 30 points up and only managing to hold on to win by 7, the 6 goal haul from Whitefriars showed the fight of why they were second on the table last year… but back to the drawing board for round 2 to figure out what went wrong and what to improve.