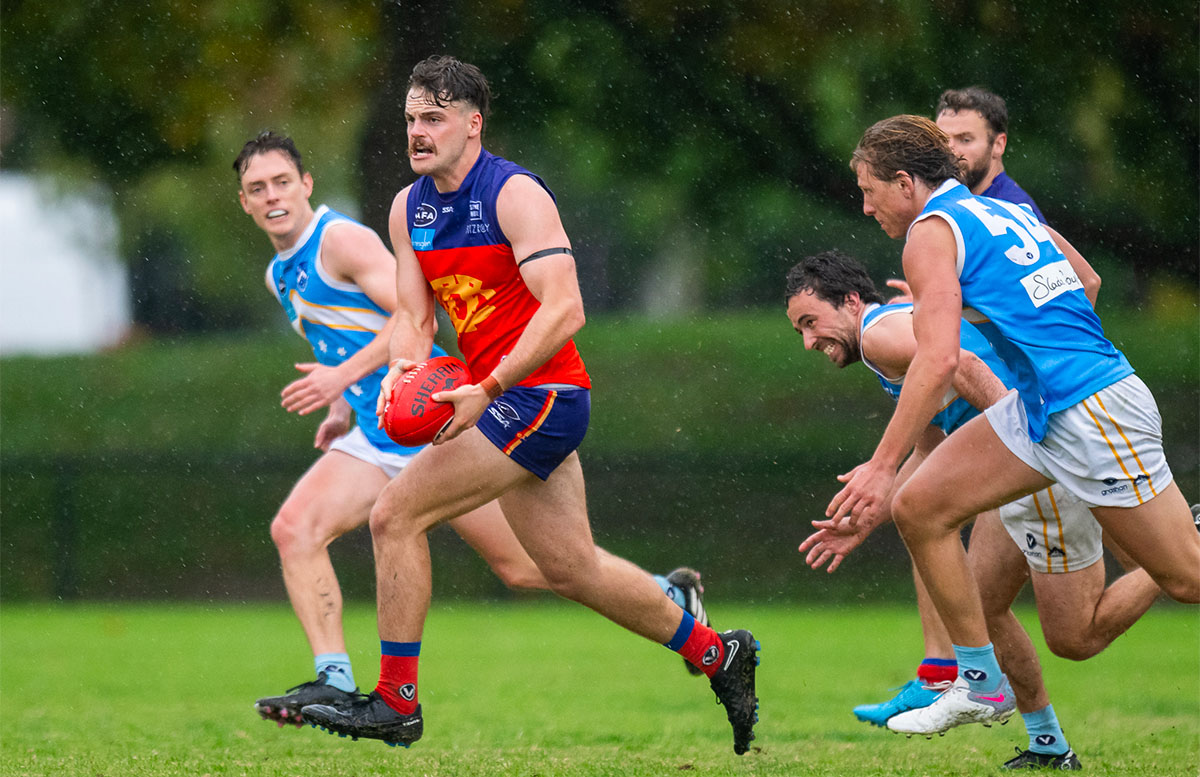 Josh Heriot
Premier B footy is in full swing after a wet and windy start to the season. There were some big wins across the board in premier B Men's which has raised some eyebrows and has already rattled the competition early.
St Bedes/Mentone Tigers began season 2023 in flying form with a 40-point win over Ajax. Trailing at quarter time, the tigers hit their straps during the second term booting four goals to one to claim a handy 16 point lead. The second half saw the Tigers pull away and up forward it was James Mangoni and Brayden O'Toole who both hit the scoreboard each kicking four majors for the afternoon.
Meanwhile for Ajax, Kane Nissenbaum was sharp in front of goal as he kicked three goals to get his year underway. The next big test for SBMT will be this week as they play Beaumaris and its tipped to be a belter with the Sharks also registering a round one win.
The biggest win of the round came from Fitzroy at the Brunswick Street Oval with a huge 95-point win over last years Premier C premiers, Monash Blues. The Blues were kept goalless in the first half of football and finished with just one major for the afternoon. It was certainly a tough beginning for the Blues, and they have a massive round two clash against last years runner up for Premier C, Old Geelong.
Meanwhile, it was a positive start for the Roys with 10 individual goal kickers for the afternoon. It's a blistering start to the season for Fitzroy after they finished fourth last year and lost in the first week of finals to last years premiers Haileybury.
This week St Bernard's also recorded a significant win beating Williamstown CYMS to the tune of 89 points. The Snow Dogs kicked 21 goals for the afternoon with 14 of them coming from the first half. St Bernard's midfielder Ben Huggard was best on ground for the Snow Dogs with 28 disposals and three goals.
Meanwhile, Luke Di Lizio and Dom Sullivan each kicked three goals. The Snow Dogs have a proven track record with rebounding after relegation and they started this season off magnificently. This week, they head to their home ground, the Snake Pit, against De La Salle.
Meanwhile, Old Geelong kicked off their 2023 campaign with a tight loss to Beaumaris at Como Park. The Sharks flew out of the blocks to begin with six goals in the opening term and keeping Geelong to just the one behind. From quarter time, Geelong were able to cut the margin and keep the Sharks to just one goal in the second quarter.
Three quarter time saw the game hanging in the balance with just one point separating the two sides before Beaumaris kicked away in the final term to win by 16 points. It was a productive start for Geelong who come up from Premier C and they can take a mountain of confidence into their grand final rematch against Monash Blues in round two. Connor Murphy was clinical on field for the Sharks as he was named amongst the best with star midfielder Jack Nardino kicking two majors for the afternoon.
The final game to complete round one was De La Salle and Old Trinity with premiership points heading the way of De La Salle. This was always going to be a fascinating game to see how Trinity would fair in their opening Premier B game. For Old Trinity, Hugo McGlashan, Sam Mason, Charles Beasley, and George Belcher will be utilised by Coburg in the VFL and it seemed they may be lacking on field presence with their absence.
Of Course, they were aided by star ruckman Harry Thompson, but it wasn't enough with De La Salle powering away to a 48-point win. It was a busy day down forward for Trent Shannon who provided potency with six goals and a best on ground performance and for De La Salle, their round one performance will give them a world of confidence for what could be an exciting year.
So, what can we look forward to this weekend.
Round two promises to be absolutely huge with fascinating matchups in each Premier B game. The Premier C grand final rematch will see Old Geelong travel out to Monash and they'll be looking to claim bragging rights after the disappointment of last season. Monash Blues will have to respond in a big way after their disheartening start and this is a major test for them early on in the season.
Ajax will host Old Trinity with both teams coming off a loss to begin the season. Trinity will have to lift if they are to overcome Ajax and but it is such a pivotal game for both clubs with the loser having to confront two early season loses which can be extremely deflating.
After both teams gaining major recruits over the off season, Beaumaris and St Bedes/Mentone Tigers shapes up to be an intriguing contest. It could very well be match of the round and it's a major test for the Tigers to prove themselves to the rest of the competition that they are and will be a major threat.
Meanwhile the final two games will see traditional Anzac rivals take to the field with Fitzroy to host Williamstown CYMS and De La Salle to travel to the Snake Pit to face on St Bernard's with both games having the potential to be close encounters.