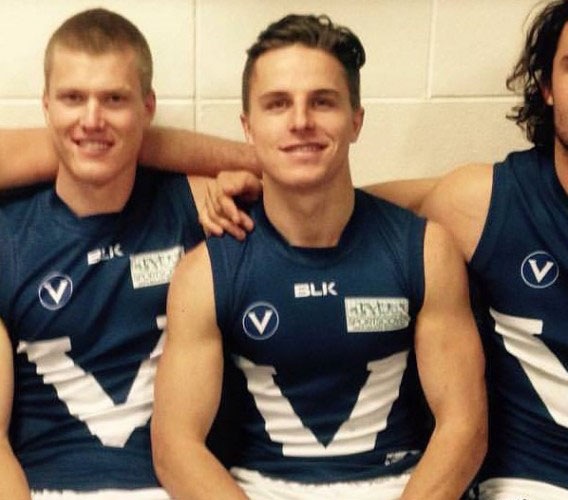 Peninsula's James Fletcher was crowned the 2015 Club Warehouse Rising Star at the VAFA Woodrow Medal and Awards Night at Crown Casino last night.
After being shortlisted with four other nominees, the winner was decided upon by a panel of VAFA experts, with Fletcher getting the nod ahead of young guns Jordan Quaile, Andrew Sloan, Adrian Indovino and Seb Nicolosi.
Appearing in all 18 home and away matches this season, Fletcher has led from the front and appeared in the best players 14 times. Earlier in the season he lit North Hobart Oval alight with a dominant display for the Big V U23's and was recently named on the wing in the Premier C Team of the Year.
The VAFA congratulates Fletcher and all 2015 Club Warehouse Rising Star nominees on an outstanding season.
What the Club said:
"In his first of VAFA football with the Pirates, James quickly established himself as one of the premier players in the competition. Mixing his commitment and work rate with elite skills James was instrumental in the club getting a fast start to the season winning 4 of our first 5 games including a stand out performance against Old Camberwell where James had 40+ possessions, 8 tackles and kicked 2 goals. He continued his fine form and as the season grew became a leader within the club. His fine form led him to his inclusion in the under 23 state squad, for which he was ultimately selected and performed very well amongst older and more experienced representative footballers. The achievement is all the more noteworthy considering that James was still eligible for the under 19 side.
Having bought into the culture of the Pirates and the VAFA throughout the course of the year James' football has gone from strength to strength as his confidence and leadership skills have grown he has become more comfortable not just leading by actions but also by words, setting a tone on the training track, in games and with his rehab – engaging all players throughout the club. With the club B&F count to be held this week it is anticipated James name will be near the top of leader board. The Pirates are excited to have James Fletcher as our first ever winner of the young gun and as a committed Pirate "through and through" look forward to long and successful career in the Blue and Tan."