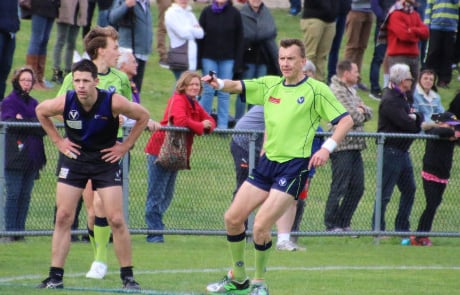 The VAFA Umpiring Department is pleased to announce the appointment of Russell Davidson as Field Umpire Senior Squad Coach.
Rusty, as he is known around the VAFA landscape, has an exceptional on-field record where he will go down as one the best field umpires of the modern era.
He replaces Peter Marshall in the role and will be responsible for the coaching, management and development of the umpires in Premier C and our senior divisions across the competition.
In recent years, he was appointed by the AFL to manage the national female umpiring academy where he coached and developed the nation's top female field umpires in their bid to officiate in the AFL Women's competition.
Russell will work closely with field umpire's head coach Tony Hales in continuing to push the best umpires to the Premier sections and his experience in umpire development will be a huge asset to the VAFA.
Umpire Operations Manager Matthew Dervan said, "acquiring a person the calibre of Russell back into the VAFA Field Umpiring program is a huge positive for our competition".
"This appointment is in line with the competition's commitment to providing the best coaches for our current umpiring group.
"The opportunity our field umpiring group has to be exposed and developed by one of the VAFA's greatest umpires is a huge positive as we continue to strive to provide the highest standard of officiating for the VAFA."
Outside of football Russell can be seen at the school yards of Haileybury College and is a passionate family man with his wife Samone raising their three children Michaela, Charlotte and Ned.
We congratulate and welcome Russell back into the VAFA umpiring team and offer our sincerest thanks to Peter Marshall for his outstanding contribution last year.
Russell's Umpiring Career
VAFA Umpire 2005-14
220 VAFA Games
Holds the record for field umpires, umpiring 7 Premier (A Grade) GFs (2006-11, 2014)
12 representative appointments for the VAFA
VAFA Umpire of the Year in 2006 and 2014
VFL Umpire – 1991 to 2000, umpiring 106 VFL senior matches
Past President of the VAFAUA in 2009 & 2010
VAFAUA Life Member