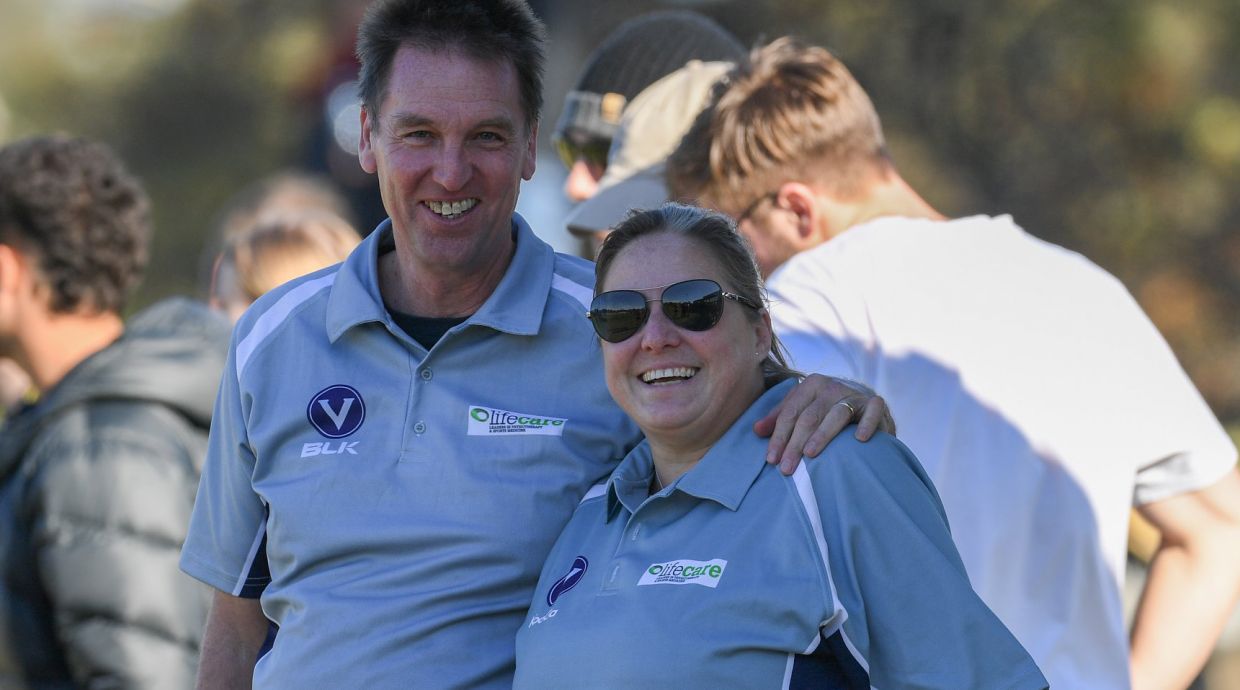 The VAFA is pleased to announce seven 2020 Certificate of Merit Awardees, each of whom have been recognised for their outstanding service to the VAFA and their clubs.
Despite being unable to receive their awards at this year's VAFA William Buck Season Launch, each winner will be presented with their certificate later this year.
Kylie da Fonte (MHSOB)
Since joining MHSOB in 1999 as Club Trainer, Kylie has provided endless support to both he Unicorns and VAFA in a variety of roles, including committee person, secretary and VAFA representative football program trainer. As an example, in recent years she has been directly responsible for liaison with the VAFA; all team nominations, registrations and clearances; medical personnel and supplies; Auskick program and Club Luncheons. Kylie is a three-time winner of the MHSOBFC Outstanding Club Person Award, was inducted as the first female Life Member of the club and received a VAFA 125th Year Club Award for Service to MHSOBFC.
Phil Skeggs (Ivanhoe AFC)
Phil's involvement with Ivanhoe Amateurs spans 50 years. As a primary schoolboy at East Ivanhoe who grew up on The Boulevard, Ivanhoe Amateurs was his local club where he ran boundary, operated the scoreboard and goal umpired – all for a pie and a drink. As an adult, Phil joined the committee in 1995 and has not looked back, organising club luncheons and trivia nights, and dedicating up to 20 hours per week with his core role with press and publicity. His match reports to local papers have been a constant and earned him three press correspondent awards from the VAFA and a club life membership. It started with hand-typed match reports, live-to-air community radio reports, pioneering a live C grade grand final match broadcast with Harry Beitzel on InnerFM in 1995, and a two-year stint hosting the Ammos Show on 96.5 InnerFM with another VAFA Certificate of Merit recipient Don Blackwood in the late 1990s. He has been the club photographer since 2007, helps with social media and has continued filing regular match reports and news pics for Heidelberg Leader.
Stephen Manning (Ormond AFC)
Stephen has been involved with the Ormond Amateur Football Club for 20 years.  He was a supporter and actively involved in social functions from the year 2000before joining the committee in 2003 and has been on the general and executive committees since that time. Stephen was Ormond VAFA Delegate for three years and has been the Club Secretary for the past 15 years. He assists on match days as Umpire Escort, assisting the team managers when required, and assisting with match day luncheons.  He assists behind the bar on Thursday nights and after-match functions.  He has taken responsibility for collecting the Amateur records from the VAFA and distributing these at the Club over several years. For everything he's contributed, Stephen was made a Life Member of Ormond AFC.
John Robinson (VAFA)
John has been involved with the VAFA for over 20 years in both an administrative and umpiring capacity. His roles have included VAFA Match Day Manager, VAFA finals Timekeeper, Representative Football Property Steward and Timekeeper, and VAFA Goal Umpire. His timekeeping has certainly been his one wood, amazingly having done it for more than 80 Big V games. He is also a Life Member of the VAFAUA. John's contribution to the VAFA has been immense over many years and we congratulate him on his Certificate of Merit.
Scott Williams (Caulfield Grammarians)
Scott Williams has been at Caulfield Grammarians FC for 32 years after first joining the club in 1988. He has served on the Caulfield committee as Honorary Secretary for 25 years and has been Club Umpire for the past 20 seasons as well as match day operations manager for the senior side. If that wasn't enough, Scott and his wife have kept the pundits fed by operating the club canteen – one of the best in the VAFA.
Terry Symons (Parkdale Vultures)
Terry Symons played for one of Parkdale's formation club St Pats Mentone in the early 1980's and quickly established himself as one who embraced the club and the involvement. Joining the committee soon after commencing, he became Club Secretary in the late 1980's and was awarded Life Membership in 1989. In 2004, St Pats and Parkdale FC combined to form the Parkdale Vultures, Terry was instrumental in supporting the merger and more importantly making it work for all. Terry served on the PVFC committee for many years and was Club Treasurer from 2014 to 2019. More recently, Terry was the major force in Parkdale establishing a women's team in 2019 and will continue in his Assistant Coaches role in 2020. One of the measures of a person's contribution to a club is the Best Club Person Award, Terry has won and deserved this award a record six times at Parkdale; 1985, 1986, 1987, 1988, 1994 and 1995.
John Pilkington (VAFA Tribunal)
John Pilkington commenced his tenure at Old Scotch in 1967 where he played for seven years and formed part of the 1967 A Section Reserve and 1969 B Section Reserve premierships. He has sat on the VAFA Tribunal for 30 years now and has chaired it for the past 25! He continues his service to this day and is currently Chair of the Appeals Tribunal.