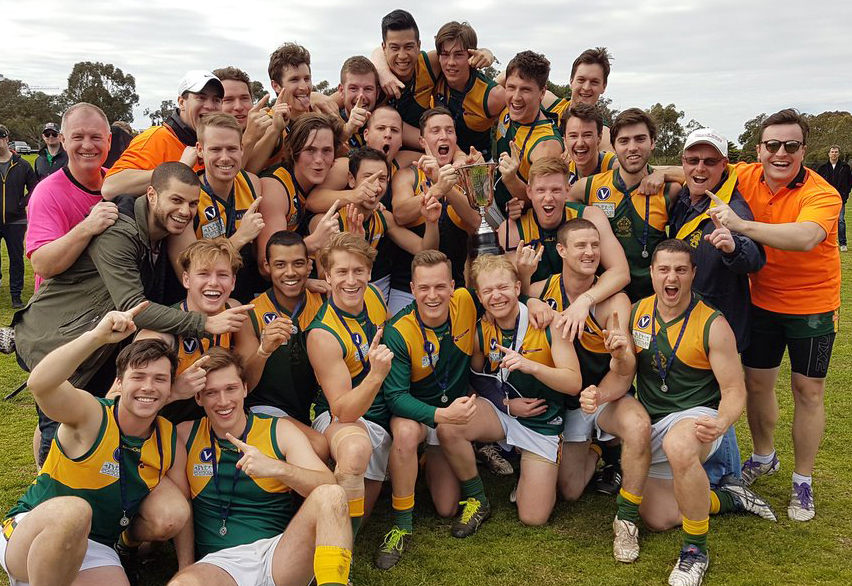 Old Trinity pulled off a miracle win in the Premier B Thirds Grand Final earlier today, coming from 19 points down at the last break and running over De La Salle at Sportscover Arena.
Trailing at every break throughout the match, the T's rarely threatened until a Dayne Coulsen-Hoffacker and Jeremy Smith-led comeback in the fourth ignited the entire playing list and predominantly green and gold crowd.
While De La did their utmost to stem the flow of play, they were unable to curb the T's high-paced ball movement in the clutches as captain Riley McDonald kicked the go-ahead goal and his third for the day with two minutes remaining on the clock.
David Cowley and Smith kicked two goals each for the T's, while De La had contributors all over the ground. Coulsen-Hoffacker received the best on ground medallion for his standout display across the ground and fourth-term heroics.
De La lost just one home and away match throughout the season, while the T's fought their way through to the grand final after commencing the finals in fourth spot on the ladder.
Premier C Thirds Grand Final
Caulfield Grammarians capped off a stunning season in Premier C Thirds with a 39-point grand final victory against Marcellin at Sportscover Arena.
Led by best on ground medallion recipient, Jeremy Anderson, and a five-goal haul from Andrew Strain, the Fields kicked 13 of the last 19 goals after an even first term.
Callum Hogan (two) and Matthew Linklater offered sensational support to Anderson and Strain as they starred around the ground for the Fields, while Sam Ayoub top-scored for the Eagles. Callan Stewart and Michael Mascitti were fantastic for the Eagles as they gave a valiant effort in the face of injury and cramp.
Three players were stretchered from the field during the hard-fought match-up, while a number of players struggled to run out the high-intensity game after they suffered cramp.